Michigan State vs Notre Dame recap: Final score, highlights, more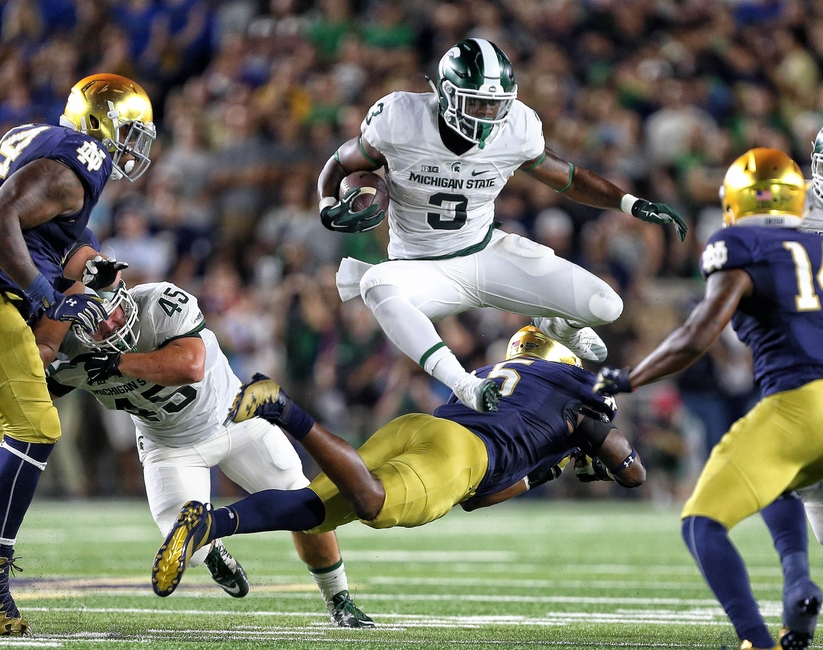 Who were the top performers from Saturday night's Michigan State vs Notre Dame game in South Bend?
Saturday's Michigan State vs Notre Dame game seemed like a must-win for the one-loss Irish and a chance to gain some early-season momentum for the Spartans. Michigan State got off to  a sloppy start in the rivalry, allowing a 100-yard touchdown return on the opening kickoff, but it was nullified due to an illegal block in the back.
Must Read: Michigan State Football: 10 bold predictions for 2016 season
DeShone Kizer still managed to lead the Fighting Irish on a long touchdown drive later in the first quarter, giving Notre Dame a 7-0 lead. Michigan State's defense was struggling, but Mark Dantonio got his team back to the physical style of football.
The momentum was on Michigan State's side and Donnie Corley ended up catching his first career touchdown pass in the second quarter and then the Spartans added a two-point conversion. Another Spartan touchdown by R.J. Shelton, on a shovel pass made it 15-7 at the half.
Michigan State scored a touchdown to go up 22-7 in the third quarter and a Jon Reschke interception on the following drive was an even biggest momentum-booster. Michigan State added two more scores, making it 36 straight points but Notre Dame halted the run with a touchdown pass from Kizer to Equanimeous St. Brown.
Notre Dame came within just eight points in the fourth quarter, but Michigan State held off a huge comeback, winning 36-28.

36

Notre Dame
Fighting Irish
28
Three stars
1. Tyler O'Connor: You can't blame the fifth-year senior for the conservative play-calling. He finished with an impressive line of 241 yards and two touchdowns on 19-of-26 completions to go along with 43 rushing yards.
2. Gerald Holmes/LJ Scott: The running back duo combined for 198 yards and three touchdowns on 35 carries. The big play was a 73-yard touchdown run from Holmes in the third quarter.
3. Donnie Corley: The true freshman wide receiver is here to stay. He is way ahead of progress after catching four catches for 88 yards and a touchdown.
Highlights
What's next?
The Spartans will play yet another tough matchup against No. 9 Wisconsin next Saturday in East Lansing to open Big Ten play. The Badgers struggled with Georgia State in Week 3, but they'll be ready for Michigan State.
This article originally appeared on