Michigan State vs Notre Dame recap: 3 things we learned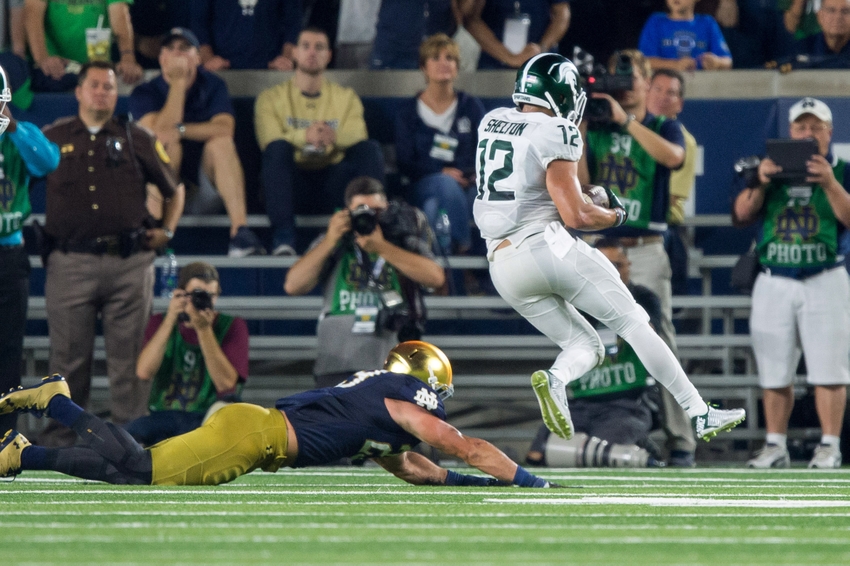 What did we learn from Saturday evening's Michigan State vs Notre Dame game in South Bend?
Notre Dame came into Saturday's night with a three-game win streak in the rivalry, but the No. 12 Spartans were hungry to prove doubters wrong. No one was giving Michigan State much of a chance to beat Notre Dame on the road, but that's just what they like: underdog status.
The Fighting Irish opened with a 100-yard kickoff return for a touchdown, but it was nullified by a black in the back penalty and the Spartans were given new life. DeShone Kizer did eventually punch the ball into the end zone for Notre Dame, giving it a 7-0 lead, but Michigan State responded with a second-quarter touchdown pass from Tyler O'Connor to freshman Donnie Corley.
Add a two-point conversion and the Spartans took an 8-7 lead and quickly regained the momentum. The Spartans scored another touchdown to make it 15-7 at halftime, thanks to an R.J. Shelton shovel pass reception and run.
The second half started much the same way as Michigan State scored two touchdowns on Gerald Holmes and LJ Scott touchdown runs. The Spartans were playing tough, physical, ground-and-pound football and the Fighting Irish couldn't seem to stop them or move the ball on the defense.
Michigan State took a 36-7 lead in the middle of the third quarter thanks to a huge 73-yard touchdown run by Gerald Holmes. DeShone Kizer answered right back with a nice, quick drive and a touchdown pass to Equanimeous St. Brown.
Conservative play-calling on both sides of the ball for Michigan State led to another Notre Dame touchdown as the Irish pulled within two scores with just about 11 minutes to go in the game. The Irish added another score to make it 36-28, but Michigan State closed it out with a nice eight-point victory.

36

28
Here's what we learned from the big Michigan State win.
1. Conservative play is Michigan State's weakness
Michigan State took a huge 29-point lead in the third quarter and all looked to be in the bag for the Spartans, but conservative play was the difference between ending the Irish hopes and keeping them alive. If Michigan State wants to have a shot at a national title or a conference crown this season, it will need to keep doing what makes it successful. In this case, it would be blitzing and taking advantage of a struggling Notre Dame secondary.
2. Donnie Corley is ahead of schedule
The true freshman wide receiver had his best game yet, stepping up for Michigan State and catching four passes for 88 yards and a touchdown. His touchdown catch was reminiscent of the Michigan high school state championship game as he wrestled the ball away from a Notre Dame defender in the end zone. He will be a focal point of this offense for the rest of the year. He's far ahead of schedule.
3. DeShone Kizer is elite when he wants to be
Kizer did whatever he wanted against Michigan State's secondary in the third and fourth quarters. He finished with 344 yards and two touchdowns when he finally got comfortable and aired it out. If he can remain consistent and stick to what he is used to, he can be the best quarterback in the nation.
Highlights
Michigan State has a tough game next week as well as No. 9 Wisconsin team comes to town while Notre Dame will face Duke.
This article originally appeared on