Michigan State Spartans ranked No. 245 in FanSided Fandom 250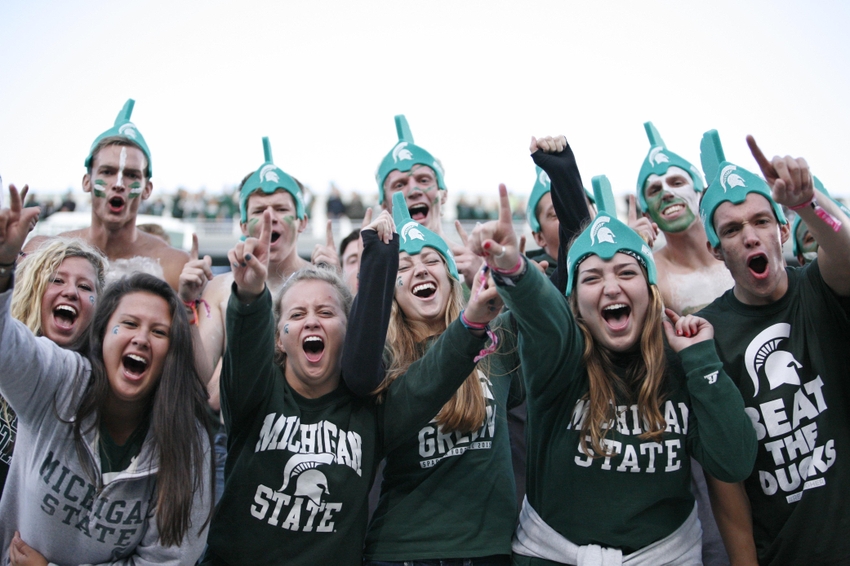 The Michigan State Spartans fan base came in at No. 245 in the FanSided Fandom 250. Is this too low?
It ain't easy being a fan. Followers of the Michigan State Spartans know that all too well this year. In the past calendar year, Michigan State lost to Alabama 38-0 in the Cotton Bowl, dropped out in the first round of the NCAA Tournament despite being a two-seed and went 3-9 during the 2016 football season.
Must Read: MSU Recruiting: 5 bold predictions for December
The Spartans have not had the ideal year, but the fans have still been ranked in the top-250 in the world by FanSided. It's a special honor to make the newest list on the internet, ranking all of the fan bases, showing just how great Spartan fans truly are.
Michigan State came in at No. 245 on the FanSided Fandom 250:
The Michigan State Spartans have one of the more successful athletic programs in the country, and they also have one of the better fanbases. Spartans fans are right up there with the most loyal fanbases in the land. They have to be, really, given the domineering presence of the Michigan Wolverines.

There are those who will always see the Spartans as Michigan's little brother, but their fans couldn't disagree more. In their eyes, Michigan State is the best school in the state, and the best school in the Big Ten, as well.

In recent times, we've seen the vigor and passion of Michigan State's fans in full force, as they've enjoyed plenty of success on the basketball court under the direction of Tom Izzo, and a little more on the gridiron thanks to head coach Mark Dantonio. Two years ago, when the Spartans football team went to the Rose Bowl, a whole sea of green travelled to Pasadena in support, further showcasing the love these fans have for Sparty.

There may be no way for some folks to fully separate the Michigan State fandom from its relationship with the Wolverines, but when the Spartans are playing, and their fans are cheering them on, they certainly don't feel like anyone's younger brother.
Do you think this ranking is too low? It's quite the honor to even make the top-250 list, but there is room for improvement. Let's improve that number next year and show why MSU fans are the best out there.
This article originally appeared on