Michigan State Recruiting: When will top cornerbacks join 'No Fly Zone'?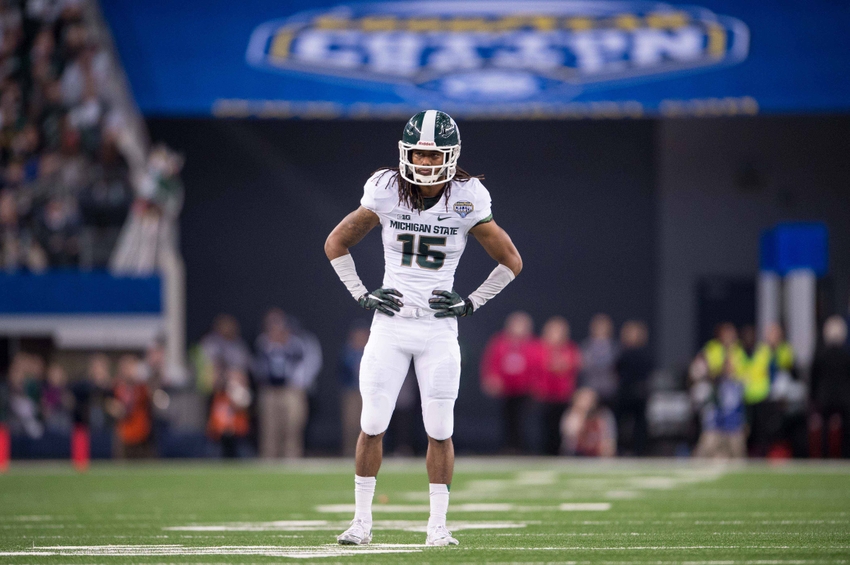 Michigan State recruiting has been a disappointment for Spartan fans hoping to see the Midwest's top-rated cornerbacks join the green and white.
Michigan State's "No Fly Zone" defensive backfield produced consecutive first-round picks in 2014 and 2015 in the form of Darqueze Dennard and Trae Waynes. Considering both players came to East Lansing as lowly-ranked three-star recruits, MSU fans grew giddy envisioning what the coaching staff would do with the more college-ready corners undoubtedly lining up to join the green and white. Michigan State recruiting has disappointed.
Must Read: MSU Recruiting: 7 must-get 2017 football targets
Fast forward to 2016 and it appears that feat has not resonated with high schoolers the way it should have.
Since 2014, when Dennard won the Thorpe award for the nation's top defensive back, Michigan State has been a surprising bridesmaid in the courtship of nearly every highly-rated corner on its board. Counting just the Midwestern prospects, this list includes 2014 four-stars Damon Webb (Detroit), Marshon Lattimore (Cleveland) and Parrker Westphal (Bolingbrook, IL), 2015 four-stars Eric Glover-Williams (Canton, OH) and Shaun Crawford (Lakewood, OH), 2016 four-star Lavert Hill (Detroit) and 2017 four-stars Ambry Thomas (Detroit) and Amir Riep (Cincinnati).
That group, while impressive in its own right, does not include the other five-star and four-star corners from other areas of the country who also overlooked MSU.
While it would be naive to think MSU would land the majority of these recruits, losing out to Michigan and Ohio State in the 2016 and 2017 classes for Hill, Thomas and Riep definitely stung. All three players showed significant interest in playing for MSU, but all decided to join the Spartans' biggest rivals, instead.
This isn't to say that MSU has not signed quality cornerbacks in any of these classes. The commitment of Josh Butler, a four-star corner in the 2015 class from Texas, was a statement victory on the recruiting trail when you consider MSU does not typically land highly-ranked players from outside of the Midwest.
With an offer list that included Baylor, Clemson, Notre Dame, Tennessee, Texas A&M and UCLA, it's clear that Butler could have gone just about anywhere to play college football. In that same class, MSU also signed Tyson Smith out of West Bloomfield, MI — a recruit who graded out just below four-star status.
Last year's recruiting class, meanwhile, included corner Austin Andrews, who had offers from Louisville, Pittsburgh and Wisconsin, but also two four-star receivers in Justin Layne and Donnie Corley who played cornerback this season as true freshman. While Corley appears more likely to play primarily on the offensive side of the ball, it's highly possible MSU will keep the 6-foot-3 Layne at corner to create matchup problems.
As for the 2017 class, MSU holds a commitment from an intriguing corner in Josiah Scott (Fairfield, OH) and is in a good position with Yusuf Corker and Meshael Custis, corners from Georgia, and Ameer Speed (Jacksonville, FL) — all of whom have offers from some of the nation's top programs.
Given this, and MSU's proven ability to coach up its defensive backs, it appears Michigan State is in good standing at the cornerback position, regardless. Still, one can dream at the prospect of an MSU defensive backfield loaded with the Midwest's top corners.
This article originally appeared on