Michigan State Recruiting: Top 10 football targets for 2018 class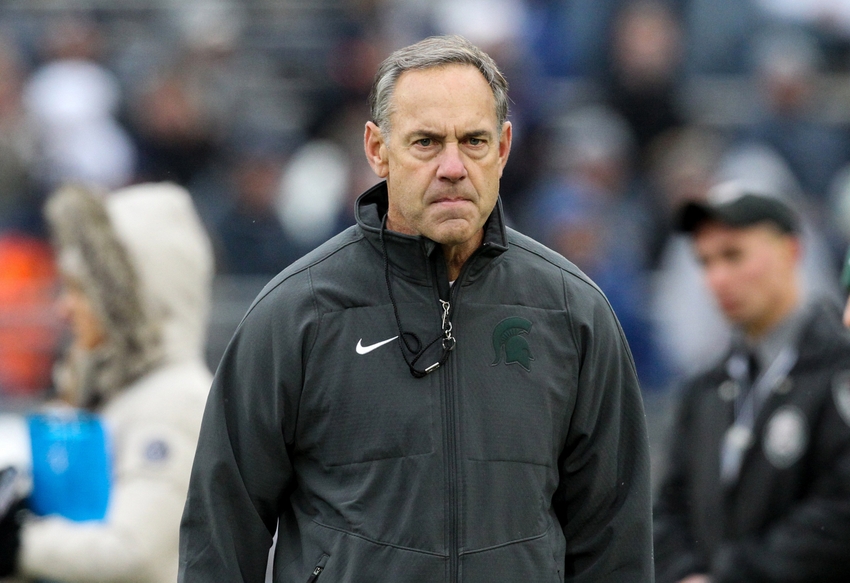 Michigan State recruiting could have a good year in 2018 and here are the Spartans' top 10 targets to keep an eye on.
Now that the 2016 season has come to an end, it's time for Mark Dantonio and Michigan State recruiting to do some major work. While the focus will be on the 2017 class, it's never too early to get a jumpstart on 2018.
Dantonio still has 5-7 spots left in his 2017 class which could allow for some supremely talented players who are still on the radar to commit, but whatever he can't get this year, he will try to aim for similar positions in the 2018 group.
It's tough to recruit after a 3-9 season, but it's clear that the coaching staff did a great job of communicating with current commits that it was just one bad year and therefore no de-commitments took place.
Let's take a look at 10 guys who should be top priority in 2018. Keep in mind, the Spartans currently have just one 2018 pledge in four-star athlete Xavier Henderson.
10. Marquan McCall, 4-star OG (Oak Park, Mich.)
Having seen Marquan McCall play in person, I can say that he lives up to the billing as the state's No. 1 prospect for 2018. The Spartans desperately need help on the offensive line, and the 6-foot-3, 280-pound Oak Park-native could provide just that.
McCall might just be one of the best-kept secrets in the Midwest as he has just 13 offers, but his film is impressive. He overpowers opposing linemen and he is athletic enough to get out in front and block for a speedy running back.
Near the end of the 2016 season, Michigan State showed improvement on the offensive line, but Brian Allen, a star guard, will be graduated by the time McCall gets to college. That could open the door for him to contribute right away.
Michigan and Tennessee are the main competitors for his services, along with MSU, and it could come down to an in-state battle. McCall is ranked the No. 76 overall prospect and third-best offensive guard in the 2018 class, according to 247Sports.
9. Joseph Scates, 4-star WR (Dayton, Ohio)
There were rumors swirling a week ago that four-star receiver Joseph Scates was going to be the next commitment in the Spartans' 2018 class, but nothing has come of that just yet. He is currently a strong Spartan lean and he could be the first receiver to commit to the 2018 class.
It was tough to put either Micah Jones or Scates in this spot because both are top priorities on the Spartans' recruiting board, but the latter is more likely to commit first. Reigning from Ohio, you'd think he'd be an Ohio State lock, but the Buckeyes haven't really been recruiting him that hard.
Scates, a Dunbar, Ohio, native, stands 6-foot-3 and weighs 175 pounds. While he could afford to add a little meat to his bones, he has ideal height to be a force at the next level. He is athletic, has speed to burn and often times makes opposing corners look silly.
Like I said, though, he needs to add some weight in order to be able to hang at the next level with physical defensive backs and avoid injury. He currently ranks as the No. 201 overall recruit and 29th-best receiver in the class. He is hearing primarily from MSU, but has 11 offers.
8. Dallas Gant, 4-star LB (Toledo, Ohio)
A few months ago, four-star linebacker Dallas Gant said that he saw Michigan State atop his list of possible schools. Now, it's looking much more likely that it's a three-team race between the Spartans, Ohio State and Notre Dame.
It just so happens that plenty of Ohio-based recruits come down to a final three of MSU, OSU and Notre Dame, so that's not much of a surprise. Those three programs have recruited the Midwest very well over the past decade.
Gant reigns from Toledo, Ohio, and is one of the country's best linebacking prospects in the 2018 class. The Spartans may be looking for replacements by the time he gets to college as Chris Frey, Jon Reschke and Shane Jones will have graduated, Andrew Dowell will be a senior and Joe Bachie will be a junior.
Imagine a linebacking corps with Bachie, Dowell, Brandon Randle and Gant. That's an athletic group that could also be the Big Ten's best unit.
There might still be a long way to go for this kid, though, until he decides. He's ranked the No. 58 overall prospect and second-best outside linebacker in the class. Pittsburgh and Penn State are also in the mix for him.
7. Houston Griffith, 4-star CB (Bradenton, Fla.)
Another kid who happened to transfer to IMG Academy in Bradenton, Fla., happens to be Houston Griffith, a top Michigan State target for 2018. He was originally from Mount Carmel High School in Chicago, but decided a transfer to IMG would help out his football career.
Griffith isn't the first to transfer to IMG Academy as there have been numerous kids outside of the state of Florida who have done so. One of the best recent examples happens to be KJ Hamler, a 2016 receiver target.
The Spartans were one of the first programs to offer Griffith back in January, which may just resonate well with the kid. Michigan State was in on him before his recruitment really took off and now he's considered one of the best prospects in the country and a highly-rated four-star.
Just like Gant on the previous page, Griffith's recruitment could come down to MSU, Notre Dame and Ohio State. Those seem to be the three schools pursuing him the hardest and he's showing mutual interest.
With Vayante Copeland entering his senior season in 2018 along with Tyson Smith, Justin Layne and Josh Butler set to be juniors and a crop of young talent competing for time, Griffith could be the next shutdown corner to play early for the Spartans. He's ranked the No. 42 recruit and seventh-best cornerback.
6. Michael Dowell, 4-star S (Lakewood, Ohio)
The brother of current Spartans Andrew and David Dowell, Michael Dowell could be a nice addition to Michigan State's secondary.
Michigan State likes to keep recruits in the family, and the coaching staff has done a good job of that over the past few years. In fact, it all started with the Bulloughs. Max, Riley and now Byron have joined the program. Then it was the Allens led by Jack, now Brian and then Matthew who committed in 2016.
The Panasiuks have been the newest group of brothers and it could be Michael Dowell to join his twin brothers next year.
Andrew has been a star linebacker for the Spartans while David has been hoping to earn some playing time in the secondary. We could see two Dowells starting at both safety positions in the near future if Michael picks the green and white.
The 6-foot-0, 195-pound safety from Lakewood, Ohio, might just be the most athletically-gifted of the three. He has great speed and coverage ability and could be on his way to following his brothers' footsteps soon.
Dowell ranks as the No. 155 overall prospect and 11th-best safety in the 2018 class.
5. Kalon Gervin, 4-star ATH (Detroit, Mich.)
If you're Michigan State, you have to prioritize a guy like Kalon Gervin who is from Detroit and who could help establish a Cass Tech pipeline like the Spartans have done with Demetric Vance and Jordan Reid in 2016 and 2017, respectively.
Of course, Michigan is going to be the main competition for the four-star athlete who primarily plays in the defensive backfield. Michigan has been right there with the past number of elite recruits from Cass Tech such as Jaylen Kelly-Powell, Jourdan Lewis, Donovan Peoples-Jones and (nearly) Mike Weber.
Gervin is one of the top athletes in the class and he could just be the No. 1 player in the state of Michigan in 2018 before it's all said and done. He most recently visited Wisconsin back in October, but he took a trip to East Lansing the week before.
Coming off a Division 1 state title last week, Gervin proved that he can hang with the big boys even though he's just a junior. He played primarily quarterback this season and he showed the type of speed to stick to a receiver that will pay off at the next level. That, and he is aggressive — like a Darqueze Dennard or Trae Waynes.
The latest Cass Tech star is rated the No. 147 prospect and sixth-best athlete in his class. Michigan and Oklahoma are also keeping in close contact.
4. Malik Vann, 4-star DE (Fairfield, Ohio)
When three-star cornerback Josiah Scott committed to Michigan State, he made it clear that one of his top priorities would be getting four-star 2018 teammate Malik Vann to join him. Fairfield High is just loaded with talent, as you'll soon find out again on this list, and Vann is potentially Michigan State's top defensive target in 2018.
If you've been paying close attention to recruiting over the past few months, it's clear that Vann likes Notre Dame and Ohio State as well. In fact, the Fighting Irish are the presumed leader for his services as he plans to commit in June of 2017.
According to Luke Srodulski of Landof10, who spoke to Vann, the Spartans will be a major factor in his recruiting process moving forward.
MSU will get Vann back on campus in the spring, likely staying overnight with Scott, who will enroll early. The Spartans will look to maintain the lead they've built, along with another Midwestern school.

"For most of my recruitment, it's always been them and Notre Dame for the most part," Vann said, "but some schools are starting to come up the list as I take my visits and stuff. We'll see."
Vann is one of the best defensive ends in the class, standing about 6-foot-2 and weighing in at nearly 245 pounds. He ranks as the No. 288 overall prospect and 11th-best strong-side defensive end in the class.
3. L'Christian Smith, 4-star ATH (Dayton, Ohio)
One of the best two-sport athletes in the 2018 class has to be four-star athlete L'Christian Smith from Dayton, Ohio. Michigan State actually stands a good chance to steal him away from his home state. Why? Messiah deWeaver is his good friend and former high school teammate.
Having that kind of draw could really set the Spartans apart from the pack. Smith and deWeaver have the familiarity already and that could help Dantonio convince him that the connection will be there in the future. Heck, deWeaver could even be the starting quarterback in 2017, giving him a full year of experience before Smith gets to campus.
While he's listed as an athlete on 247Sports, he's more of a wide receiver than anything. He stands 6-foot-6, 205 pounds and has the size and athleticism to be one of the best pass-catchers in the class.
A 6-foot-6 receiver is something quarterbacks dream of. Throwing it up in the red zone to a guy who towers over defensive backs is an ideal scenario. Ohio State is Michigan State's main competition to land him.
Smith is ranked the No. 98 overall recruit in the class, the third-best athlete and the third-best prospect from Ohio.
2. Jackson Carman, 5-star OT (Fairfield, Ohio)
Many of the recruits Michigan State is after in 2018 are Ohio State-leans because of where they reside. Five-star offensive tackle Jackson Carman fits that mold as well, but the Spartans might be able to use the idea of playing with high school teammates at the next level, yet again, to lure Carman.
Right now, Michigan State has Josiah Scott from Fairfield committed in its 2017 class and he's enrolling early in January. If the Spartans can get Carman, and Malik Vann, on campus after that for Scott to show them around and talk up the program, it could be a game-changer.
Michigan State is in desperate need of offensive line help, and that's no secret. The Spartans had a rough year in the trenches, but they came along near the end. Guys like Tyler Higby, Thiyo Lukusa and Cole Chewins all stood out for Michigan State and the future looks bright.
However, adding a 6-foot-6, 290-pound stud like Carman would be huge. He could come in and start at left tackle from day one and make the Spartans' offensive line great again.
Carman is currently ranked the No. 14 overall prospect, third-best offensive tackle and top prospect from Ohio. He's also hearing from the likes of Alabama, Clemson, USC and Michigan, along with Ohio State.
1. Jaelen Gill, 5-star RB (Westerville, Ohio)
Jaelen Gill is one of those "if only" type of recruits that the staff will do everything in its power to snag in 2018, but he could be looking elsewhere.
Must Read: MSU Recruiting: 5 bold predictions for November
After watching his film, it's apparent that Gill has incredible vision and an even better burst through the hole. He has breakaway speed and if he gets into the open field, almost no one is going to bring him down. Like LJ Scott before him, he has a little Le'Veon Bell to him, but with more speed.
Michigan State has been one of the bigger players for him since his recruiting process started, but being from Westerville, Ohio, you have to realize that the Buckeyes are likely going to be the team to beat.
With LJ Scott heading into his senior season, if he's still around, and Weston Bridges potentially being the only other running back on the roster, with Madre London as well, Gill could potentially see the field in an expanded role from day one. Ohio State might not have the same to offer with Urban Meyer reloading each year.
Gill is ranked the No. 25 player in the class and the second-best all-purpose back. He's also hearing from schools like Michigan, Notre Dame, Tennessee and UCLA.
This article originally appeared on