Michigan State Recruiting: 7 must-get 2017 football targets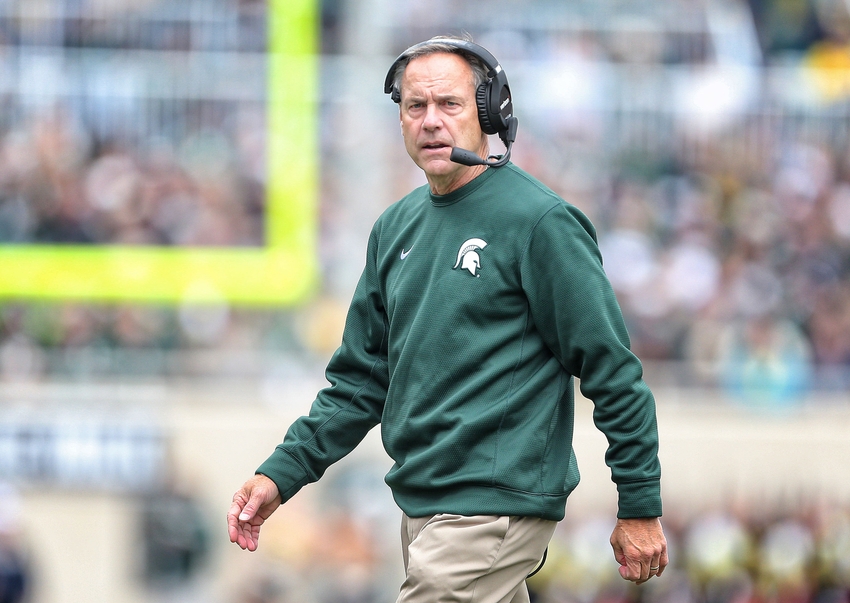 Michigan State recruiting has room for a handful of additions to its 2017 football class and here are the seven realistic options.
It's been a long season for Michigan State on the gridiron, but the recruiting is set to heat up over the next couple of months. Michigan State recruiting hasn't taken a hit like it did last year around this time, which as been a major positive for Mark Dantonio.
Last year, the Spartans lost a few guys to de-commitment. Two have since re-committed such as 2017 prospect Hunter Rison and current true freshman Naquan Jones. Abdul Adams and Jonah Morris went a different direction and committed to Oklahoma and Indiana, respectively.
Even with a 3-8 season in progress, the Spartans have managed to keep all of their commitments and that's a major plus. Michigan State has created a family atmosphere even during the rough times, and that's attractive for recruits. Plus, these kids have known Michigan State to be a successful program over the past decade anyways.
There is still room for 5-7 more commits in the 2017 class and here are five realistic must-have prospects remaining. There are others who are considering MSU, but realistically will go elsewhere who weren't included on the list.
7. Tyler Johnson, 4-star TE/DL
The son of former Michigan State defensive line standout Bill Johnson is serious considering making East Lansing home. He visited last weekend and had nothing but good things to say and it was an opportunity for him to see what his dad loved so much about the school.
Legacy recruits like this are always imports, especially when they can fill voids at key positions such as on the defensive line. The Spartans desperately need to add depth on the line with all of the departures last season and an upcoming absence of Malik McDowell.
Although Johnson has said that he would like to play wide receiver at the next level, he also acknowledged the fact that he can play on the line. He has an ideal 6-foot-4, 245-pound frame that could add a little weight in order to fit in on the line.
Johnson is ranked the No. 248 overall prospect in the 2017 class, according to 247Sports.
6. Jaylen Harris, 4-star WR
No, the Spartans don't need any more receivers seeing as there is one higher on this list that is an even more like addition, but when you have a chance to get a guy like four-star Jaylen Harris, you don't pass that up.
Harris has been one of my favorite receivers over the past couple of classes because he not only has strong hands and solid route-running ability, but he has ideal size. Not many receivers stand 6-foot-5, 210 pounds, but Harris breaks that mold of the typical collegiate wide out.
Just throwing the ball up in the red zone to a guy like Harris could account for a serious advantage, offensively. Imagine Harris, Donnie Corley, Cam Chambers, Hunter Rison and Felton Davis III in the receiving corps. That's an incredible crop of talent that can not be defended with ease.
The four-star wide out from Cleveland Heights, Ohio, is down to five schools right now. It's Ohio State, Penn State, Alabama, Tennessee and Michigan State. The Spartans may be a long-shot to land him, but there's always that chance. Ohio State leads now, but anything could happen.
Harris is ranked the No. 164 overall prospect and 26th-best receiver in 2017.
5. Lynn Bowden, 4-star ATH
The tides have turned drastically lately for Lynn Bowden. After almost seeming like a Michigan State lock, the four-star athlete from Youngstown, Ohio, has since seen the momentum swing from the Spartans to the Kentucky Wildcats. The word on the street is that the Wildcats lead for him, but his recruitment has been tough to pinpoint.
Kentucky offered the electric quarterback/running back/do-everything player from Warren G. Harding High just two weeks ago, but that may have been a game-changer. It's not just because the Wildcats were the offer he was waiting for, but they may have given him the word that he could play a certain position at the next level for them.
Michigan State might be looking at him as more of a running back or wide receiver option, maybe even a secondary player, but he has been playing mostly quarterback at the high school level. There's a chance that he wants to stick to that position in college.
Either way, the Spartans should make a serious effort to land the elite athlete from Ohio seeing as he could bring a ton of electricity to both sides of the ball. He's one of the most explosive runners at the high school level and his highlight reel is incredible.
Bowden is ranked the No. 118 overall prospect and eighth-best athlete in 2017.
4. Deron Irving-Bey, 4-star DE
Just like Tyler Johnson has the ability to do, Deron Irving-Bey could give the Spartans a major boost on the defensive line. The future is bright with that position group, but if the 2016 season is any indication, Mark Dantonio isn't afraid to play true freshman on the defensive line.
Irving-Bey and the Michigan State coaching staff have a strong relationship and the Spartans were one of the first schools to recognize his talent and reach out to him. He has since shot up the recruiting rankings and it looks like the Michigan Wolverines may be the main competition to land him.
The Army All-American Bowl invitee will probably wait a little bit to make his decision, but it's getting closer to that time. He has spoken very highly of Jim Harbaugh and Mark Dantonio, but chances are he would play more for the Spartans early than he would for the Wolverines.
All Irving-Bey has to do is talk to Auston Robertson, Josh King and Mike Panasiuk about early playing time and he might just crack the starting rotation by the end of his freshman season.
The Flint-native is ranked the No. 295 overall prospect and 14th-best strong-side defensive end.
3. Thayer Munford, 4-star OT
Probably the biggest long shot on this list, four-star offensive tackle Thayer Munford was just offered by Michigan State last week after he took an unofficial visit to East Lansing. Seeing the Spartans dominate Rutgers isn't exactly an eye-opener for a new recruit, but he did see an offensive line that could use some fresh blood right away.
Right now it looks like Pittsburgh might lead for his services, but the Massillon, Ohio, native might just be waiting for that offer from Ohio State. The Buckeyes have that kind of grip on kids in their home state and we might not hear a decision from Munford any time soon.
However, an offer from Michigan State has to shake things up a bit. If he doesn't get offered by the Buckeyes, he could join the Spartans and show Urban Meyer where he went wrong by not giving him a look.
Standing 6-foot-5.5 and weighing in at 320 pounds, Munford would be an unbelievable addition to the 2017 class. The Spartans desperately need help on the offensive line moving forward and he would be a nice add-on to a line with Tyler Higby, Thiyo Lukusa and Cole Chewins for the next few seasons.
Munford is ranked the No. 228 overall player and 28th-best offensive tackle in 2017.
2. KJ Hamler, 4-star WR
The battle for four-star receiver KJ Hamler is heating up. Right now, it seems like the two finalists to land the speedy slot receiver who resembles R.J. Shelton are Oregon and Michigan State. For some reason, the Ducks have been his childhood favorite, but Michigan State is the hometown program that he has been comfortable with for years.
Hamler grew up wanting to play in the explosive Oregon offense and that hasn't changed over the past couple of years. Oregon could really use a dynamic player such as him, but the Ducks may have cooled on his recruitment since he tore his ACL.
Transferring from Orchard Lake St. Mary's to IMG Academy in Bradenton, Fla., was a smart move for his football career, it seemed, but he suffered the devastating knee injury early in the season and didn't get a chance to prove himself. On top of that, he has to watch his former team play in the Division 3 state championship on Saturday.
There's always a draw of playing close to home where friends and family reside, but there's something about Oregon that is pulling him in that direction. The Spartans could use a dynamic receiver like Hamler in the offense with Shelton departing.
Hamler is ranked the No. 314 overall prospect and 43rd-best wide receiver.
1. Ambry Thomas, 4-star CB
The No. 1 must-get 2017 recruit is a no-brainer. Ambry Thomas is the kind of talent who could change the look of an entire defense. He's considered the second-best prospect in the state of Michigan behind Detroit Cass Tech's Donovan Peoples-Jones who has MSU in his top-five, but is likely headed elsewhere.
Must Read: MSU Football: Top 50 players in school history
Thomas is former teammates with current Michigan State two-way stud, Donnie Corley. The freshman receiver/cornerback is second on the team in receiving and has made some strides on the defensive side of the ball as well.
Dantonio loves guys who can play offense and defense effectively, and Thomas actually could be that type of player. He's an all-state caliber wide out for Detroit King as well as one of the nation's best lockdown corners. There could be big plans in the works for him and he realized that on a recent visit and talk with the Spartan coaches.
Ambry knows that he has an opportunity to play right away if he were to choose the Spartans and for a young kid, early playing time is huge.
For Michigan State, Thomas has to be top priority right now. He ranks as the No. 31 overall prospect and third-best cornerback in the country.
This article originally appeared on