Michigan State Recruiting: 5 reasons 4-star CB Ambry Thomas could commit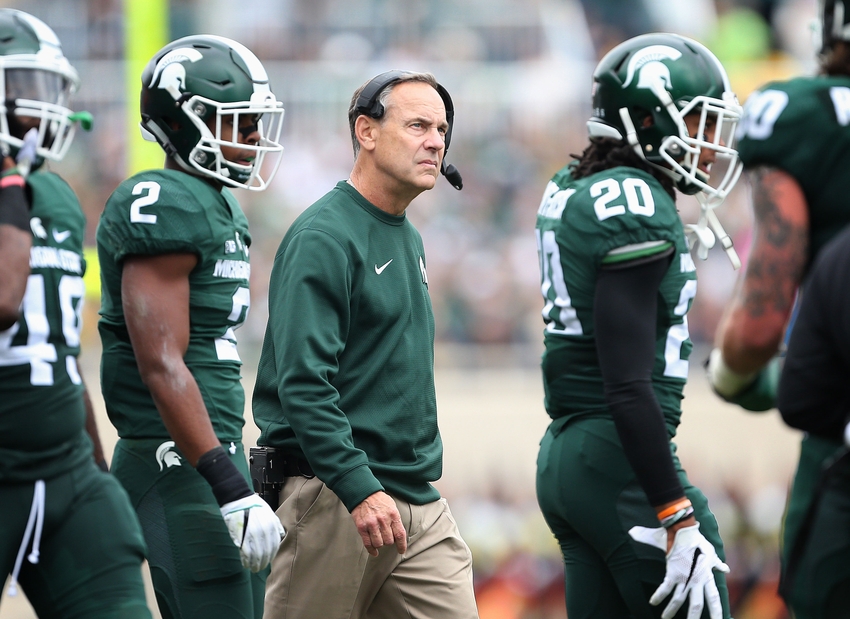 Michigan State recruiting could make a splash by landing four-star cornerback Ambry Thomas from Detroit King.
The time is approaching for some of the country's top uncommitted prospects to make a decision and that means four-star Detroit-native Ambry Thomas is on the clock. Michigan State recruiting could use a boost from a top-rated kid like him, but Michigan is also in the running.
Just like a handful of other in-state recruiting battles, the Spartans and Wolverines are duking it out. An overwhelming number of recruiting analysts believe Michigan will be the choice when he makes his decision, but there's still a chance the Spartans could reel him in.
Thomas is ranked the No. 31 overall prospect in the class and the third-best cornerback, according to 247Sports. He's also the second-best player in the state of Michigan (Detroit King) right behind Cass Tech's Donovan Peoples-Jones.
It might be a long shot, but here are five reasons why Ambry Thomas could very well commit to Michigan State over Michigan.
5. Familiarity with the program
Ambry Thomas feels right at home with Michigan State. He's said it in the past that East Lansing has a family atmosphere and that's the type of thing that draws recruits to Michigan State. The program is like a brotherhood and each player has the other's back.
According to Jared Purcell of MLive who interviewed Thomas over the summer, the four-star cornerback had nothing but nice things to say. This is the one quote that really stood out:
"That's just family up there, honestly," Thomas said about Michigan State. "I'm real comfortable up there. I can go up there any time. I don't even have to tell the coach I'm coming."
That type of familiarity is what makes him a perfect addition to the class and the fact that he feels comfortable enough to just take a visit without letting Dantonio know is a good sign. He's also been close enough to the program that he knows a 3-9 season is more of an extreme outlier than a sign of things to come.
4. Good friends with Donnie Corley
This may not seem like the biggest pull factor, but Donnie Corley and Ambry Thomas have a close-knit friendship. Both played together in 2015 for King and won a state title. While Corley is primarily a wide receiver for the Spartans, he played defensive back with Thomas during his senior season.
Corley has made a transition as a two-way player for Michigan State and he's developed a bond with Thomas as a fellow cornerback. Imagine the two playing on the same defense at Michigan State in a couple of years. That's just scary.
Jared Purcell of MLive also got Thomas on record saying good things about Corley over the summer:
Thomas said he has been in touch with Corley at Michigan State, calling him his "big brother" while praising the personable coaching staff in East Lansing.
While another close friend and former teammate, Lavert Hill, is at Michigan, Thomas clearly has a 'brother' at Michigan State as well. With Corley in his ear, showing him around East Lansing, the Spartans could bring in the 2017 class' top priority.
3. Top priority, rivals with cousin, Jaylen Kelly-Powell
Thomas has stated that he knows he's Michigan State's top priority. In fact, there was a statement from him a few weeks back on his official to MSU for the Michigan game about how he knew he was the No. 1 target on the Spartans' recruiting board.
Honestly, for a recruit to know that there is not a single person prioritized higher has to be a special feeling. On the other side, Donovan Peoples-Jones is likely Michigan's No. 1 priority.
Ambry would be the biggest get for the Spartans and just 'another elite prospect' for the Wolverines. Sure, Michigan wants him bad, but the Spartans are putting in all of their effort to land him.
Oh, and he has a cousin that just committed to the Wolverines.
This could be argued either way. With four-star safety, and Thomas' cousin, Jaylen Kelly-Powell committing to Michigan last month, that could easily have a positive and negative impact on the Spartans' chances.
I'm going to look at the glass half full here and say it could be a positive as Kelly-Powell's decision to commit to Michigan could lead to Thomas wanting to forge his own path and rival his blood relative.
2. Great relationship with Mark Dantonio
It's fairly obvious that Thomas and Mark Dantonio have a great relationship. The Michigan State head coach has been recruiting the highly-regarded cornerback for a couple of years now and the two have shared an instant connection.
One moment that truly sticks out to me is when Coach D attended a remembrance event for recently deceased Detroit King head coach Dale Harvel. Thomas found a picture of Dantonio at the event and retweeted it, saying something to the effect of how real the head coach is.
No, Dantonio didn't have to attend the event, but he had a relationship with Harvel and that's the type of person he is. He wasn't on a recruiting trip, he just wanted to pay his respect to the family.
Another instance was during an unofficial visit over the summer in which Dantonio and Thomas sat down and played a game of chess together. It might not seem like a big deal, but to Ambry, he sees a coach who is willing to spend time with him as a person, not a star athlete.
Lastly, this tweet which painted an image of their relationship perfectly:
After losing a tough one to Michigan, Thomas consoled the head coach and felt comfortable enough to walk off the field with him. These two have built a solid foundation.
1. Early playing time is there at MSU
With Darian Hicks graduating, Vayante Copeland coming off an injury and not playing particularly well in 2016 and Justin Layne as a first-year starter and brand new cornerback, there's plenty of opportunities for Thomas to see the field early and often for the Spartans.
Must Read: MSU Recruiting: 5 bold predictions for December
While it's unlikely he'd start from day one, he would most likely crack the starting lineup by the end of the 2017 season. There's no way he would be redshirted by Dantonio seeing as he played plenty of true freshmen this season and the Spartans will be even younger next year, presumably.
At Michigan, that early playing time isn't guaranteed. Former high school teammate Lavert Hill chose the Wolverines last year and saw action in 10 games this year, but he looked to be on the field in very few spots.
For the Spartans, he would have an instant impact and if he proved himself early on, Dantonio has shown that he's likely to reward the top performers, not just veterans.
Thomas knows where he would play more early on and that's Michigan State. He could be part of the best single-season turnaround in Michigan State history and he knows that. It's up to him to decide what fits him best.
This article originally appeared on