Michigan State Recruiting: 5 bold predictions for September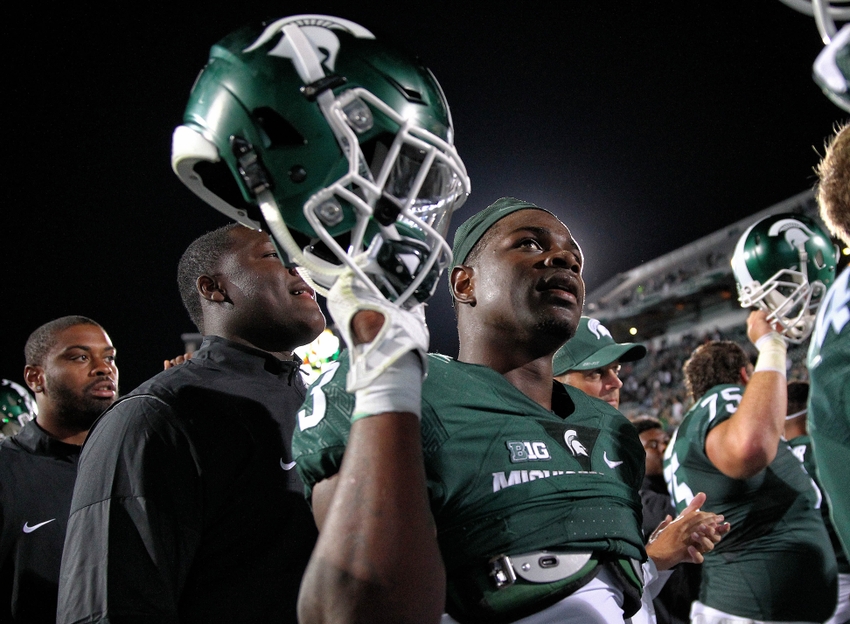 Let's take a look at what five things we believe will happen in the month of September for Michigan State recruiting.
The Michigan State recruiting trail for both football and basketball has been relatively quiet over the past few weeks. Heck, even a month ago, there was word of a silent commit, but that has since passed with no news to report.
Michigan State killed recruiting for both basketball and football last season and it looked like a sign of things to come, but the Spartans' 2017 class has been very quiet. The football class is looking to add maybe five-plus more commits while the basketball group has zero pledges thus far, still looking to get things started.
Although recruiting has been silent over the past month-plus, that doesn't mean there aren't happenings behind the scenes. It's hard to go an entire month without some type of news, and that's why we are going to give five bold predictions for the Spartans' football and basketball recruiting in September.
Agree or disagree that any of these will happen? Let us know below.
5. MSU takes lead for Ambry Thomas
The recruitment of four-star cornerback Ambry Thomas has been an interesting one thus far. Beginning as a strong lean toward the green and white last year, it seemed to only strengthen the Spartans' case when Donnie Corley committed.
However, Lavert Hill pledging to Michigan shortly after hurt the Spartans. Although Thomas and Corley might be closer friends than he and Hill, the fact that his former defensive backfield mate at Detroit King is playing for the Wolverines may have caused the 'Ambry to UM' bandwagon.
If you were to look at the 247Sports' Crystal Ball, you'd almost think Thomas was a done deal to Michigan, but that's not the case. I have talked to someone who believes the Michigan talk is all hype and there's no basis behind it. If anything, it's a toss-up between MSU and Michigan right now.
Thomas could take a trip to East Lansing near the end of the month to visit his friend Donnie and, in the process, the Spartans could make an even bigger impression of the elite cornerback from Detroit.
Either way, he's been increasingly impressed with the coaching staff and how 'real' they are. Mark Dantonio and MSU will take the lead in his recruitment this month.
4. First 2018 football commitment
The 2018 football class for some programs is already filling up slowly. For Michigan State, it's empty, but that will change this month. It could be an in-state prospect who becomes the first 2018 pledge or it could be Midwest kid.
It's about time Dantonio and Co. get the job done and add their first commitment from 2018. Over the last couple of classes, the football program has added pledges future classes in the fall. Cam Chambers was the first commit in 2016 and Hunter Rison the trendsetter in 2017.
Some of Michigan State's 2018 top targets include Houston Griffith, Jackson Carman, Jaelen Gill, Marquan McCall, Dallas Gant, Xavier Henderson, Kalon Gervin, Micah Jones, Michael Dowell, Malik Vann and DeAndre Square.
Those guys could each be in the green and white before the 2018 class is complete, but only a fraction of them will actually commit. Depending on who visits East Lansing in September, the first 2018 pledge will take place very soon.
Usually future classes are relatively quiet compared to the upcoming one, which is why no one really knows which 2018 guy is closest to committing to MSU.
3. Xavier Tillman becomes first 2017 commitment
It's been a long time since the Spartans' 2017 basketball class was even thought of. With football currently on the schedule, basketball gets swept under the rug, outside of Tom Izzo's Hall of Fame introduction this week.
The 2017 class stands at zero with guys like Brian Bowen and Nojel Eastern likely to commit in the upcoming months, but there has to be that one guy who leads things off.
For the past few months, I have thought that either Bowen or Eastern would jump aboard and get the class rolling, but since four-star big man Xavier Tillman is taking his official to Michigan State this month and deciding where he'll attend school a week or two after, I have a feeling he will be a Spartan.
Michigan State hasn't strongly recruited the big man from Grand Rapids over the past year, but a late push might just ensure he winds up in East Lansing. The post will be an area of need when it comes to the 2017 recruiting class, and a 6-foot-8, 230-pound big like Tillman would play well next to Nick Ward.
Tillman's Sept. 16 visit to Michigan State is sandwiched between officials to Marquette and Florida and comes after a late-August trip to Purdue.
The better relationship he develops with the staff during his visit, the better MSU's chances are of landing him. He will be a Spartan.
2. Christian Cumber commits
Why has the Christian Cumber talk suddenly subsided? Just a few weeks ago, it seemed like Cumber was ready to commit to Michigan State after announcing his decision date, but nothing came of it.
Must Read: MSU Football: 15 most memorable moments of Mark Dantonio era
I don't see the three-star cornerback from Colorado heading anywhere else, so that could mean the staff was trying to square some stuff away before accepting his commitment. He could have been the silent commit that was rumored to take place in August but never went public.
Just how good is Cumber? Although he's just a three-star and ranked No. 748 in the 2017 class, as well as the 71st-best cornerback, he leads a strong Mullen defense from Denver who took down the top team in the state, Valor, 41-10. Why does this matter? Well, Valor is home to four-star Michigan quarterback pledge Dylan McCaffrey.
If Cumber can shut down McCaffrey and Co. at this level, he could probably do the same with even more talented teammates at Michigan State against the Wolverines.
I'd be shocked to see another month go by without Cumber pledging to the green and white, if he hasn't already given a silent verbal.
1. Surprise commitment after Wisconsin game
There will be a decent amount of visitors at the Wisconsin game on Sept. 24 at Spartan Stadium in East Lansing. No, I'm not talking about the Badger visitors coming to town, rather 2017 and 2018 football and basketball targets for Dantonio and Izzo.
Michigan State is looking to add to all classes, as mentioned earlier, and I've already predicted the 2017 basketball group adds Xavier Tillman this month while the 2018 football unit will pick up its first pledge from an unknown recruit.
This time, I'm predicting a 2017 football target will realize East Lansing is the place he wants to spend his four collegiate years and picks Michigan State following the Wisconsin game.
It might not seem like a huge matchup, but when the Spartans and Badgers face off in a few weeks, both teams may very well be ranked in the top 10 and it could be played under the lights. Imagine how great that will look for recruits in a raucous atmosphere.
The spring game was quiet for commitments and so has been the last couple of months. It's time to change that with the biggest home game in September.
This article originally appeared on