Michigan State Recruiting: 5 bold predictions for November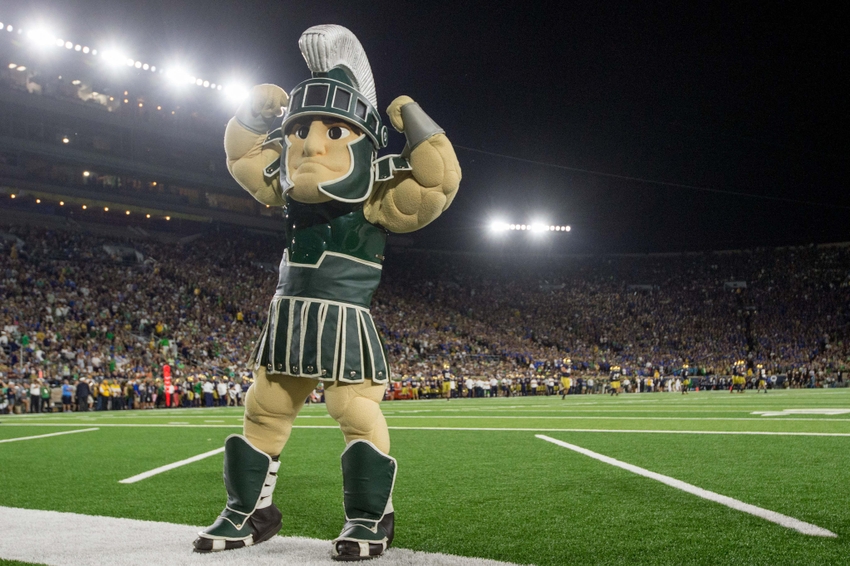 What will be our five bold Michigan State recruiting predictions for the month of November?
With Michigan State recruiting heating up for basketball, it's time for Mark Dantonio and the football program to get some of that 2016 mojo back. The 2017 class might be severely underrated, but it also hasn't added anyone in a while.
The Spartan football team has had a rough season, so that may be one of the reasons. In fact, the season has been so poor that rumors of Kevin Jarvis and Lashawn Paulino-Bell decommitting, but those two kids shut that down.
Fortunately, the football program has multiple years of success to use in its favor as a recruiting pitch and the same goes for Tom Izzo's basketball program.
With that, let's take a look at the five bold predictions for Michigan State recruiting in the month of November.
5. Deron Irving-Bey gets nearer to decision
It's been awhile since we've heard the name Deron Irving-Bey in the recruiting circuit and that's because it has been pretty quiet on Michigan State's front. He did visit East Lansing last weekend for the Michigan game and I doubt that loss has any negative effect on the Spartans' chances.
Irving-Bey has a trimmed list that includes both Michigan and Michigan State and I am going to say that he nears a decision date in the month of November and announces that he will be picking a school either in December or at the Army All-American Game in January.
Right now, it's likely down to the Spartans and Wolverines and it wouldn't shock me to see him pick MSU since that seems to be the school that was recruiting him from the beginning. He has a great relationship with Mark Dantonio and the Wolverines have been loading up their defensive line in the 2017 recruiting class.
Michigan State needs help in the trenches and DIB knows that. His decision date will be announced this month and if I were to guess, he will be a Spartan.
4. Gary Trent Jr. makes decision
Gary Trent Jr. is down to three schools right now. It's either Michigan State, Duke or UCLA for the five-star shooting guard from Apple Valley, Minn., and now at Prolific Prep in California. He's actually attending the same school in Napa, Calif., that five-star Josh Jackson attended last year when the Spartans were finalists for him.
Michigan State is hoping to have better luck with Trent Jr., but his mind seemed to have been made up a while ago. He has long been considered a Duke lock and that might be true based on the way he talks about Coach K and the program as a whole.
Still, the Spartans made up ground last weekend when he visited for the Michigan game and called the trip "unbelievable." Having the final visit can sometimes cause the recruit to favor that school and from everything I've heard, the Spartans made a serious impression on the kid.
Trent Jr. may decide before the early signing period and with that approaching, it wouldn't surprise me to see him commit in the month of November. Now that all of his official visits are finished, it's going to be interesting to see if the East Lansing visit actually changed his mind or just made it a tougher choice.
In the end, I think Gary Trent Jr. picks Duke this month with the Spartans a close second.
3. Brandon McCoy's visit puts Spartans on top
Speaking of basketball recruiting, Brandon McCoy might be the name atop every Spartan fan's wish list for the 2017 class. Sure, there are other guys who might be considered Spartan leans that fans would like to see in the green and white, but McCoy is a big man who brings a ton to the table.
Ask any Michigan State fan who is the one guy, outside of maybe Brian Bowen, they'd like to have commit in 2017 still and they'd mention McCoy.
The Cathedral Prep (San Diego, Calif.) star has been eying Michigan State as a possible destination for a little while now and he has been giving serious thought to Tom Izzo's program. The Spartan coaching staff visited him out in California already this fall and he is planning an official visit to MSU on Nov. 18.
That visit, in my opinion, will put the Spartans on top of his list for right now. He is also looking at Cal, Arizona, San Diego State, UNLV and Oregon. If he wants to play closer to home (which happens to be Chicago) then Michigan State is going to be his choice.
Just like it's done with guys like Miles Bridges, Josh Langford and Xavier Tillman, a visit to Michigan State is going to make it very tough to pick against the Spartans. Expect the visit to go well and for nothing but good things to come out about him picking MSU.
2. Mark Dantonio adds a surprise 2017 commitment
When I say the word "surprise" I don't mean someone that hasn't even been talked about for the Spartans, but a guy who many thought would either not be close to deciding or maybe seemed to be a lock to another school.
There are plenty of big targets left on the board for the Spartans. Some of those big names include Oliver Martin, Donovan Peoples-Jones, Jaylen Harris, Lynn Bowden, Jeff Thomas, Ambry Thomas, Ameer Speed and Naytron Culpepper — along with the two guys I mentioned earlier on this list.
Personally, I don't see Martin or Peoples-Jones picking Michigan State. Lynn Bowden isn't announcing until January and the tides seem to be turning toward Kentucky. Jeff Thomas is very high on Alabama. Ambry Thomas might not be deciding soon, but he could be a guy who would shock everyone by picking the Spartans in November.
Ameer Speed wouldn't surprise me if he picked Michigan State and he'd be a very welcomed addition to the class. The same goes for Naytron Culpepper as I've been high on him for some time now.
It's not clear on who will be this surprise commitment, but according to Rico Beard, Hunter Rison said that there are currently two silent pledges.
1. Brian Bowen announces commitment date
Just like Deron Irving-Bey on the football side of things, Brian Bowen will finally announce a commitment date and shed some light on his recruitment. To this point, it seems like his process has been as quiet as any in the class and even though he's been thought to be a MSU lock, he has shut down that talk.
Must Read: MSU Football: 5 bold predictions for month of November
Bowen has even talked about how people think he's a Michigan State lock and that's not the case, but the chances of him picking the Spartans are still high. He released a top-six this fall and it seemed like Michigan State was the only school, outside of maybe UCLA, in which he would fit well into the system.
The five-star small forward who is originally from Saginaw, Mich., is related to Jason Richardson and has been on visits to East Lansing numerous times. He is very familiar with the program and it would honestly shock me if he picked another program.
Visiting for Midnight Madness a couple of weeks ago, Bowen got to see the program once again with his La Lumiere teammate and current MSU commit, Jaren Jackson Jr. That may have helped MSU's chances as well.
Announcing a commitment date this month, it will likely happen to be in the month of December now that all of his officials are winding down. It's only a matter of time before he decides to play for Izzo and Co., in my opinion.
This article originally appeared on