Michigan State Recruiting: 5 bold predictions for December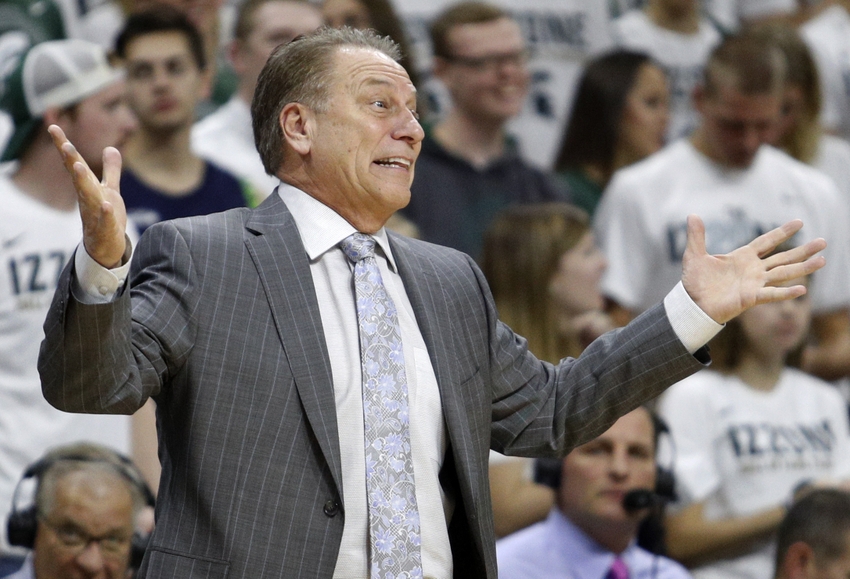 Michigan State recruiting will be working hard this month for both football and basketball and here are five bold predictions.
Can you believe there will be no more football until the spring for Michigan State? Well, that just means Michigan State recruiting, and basketball, will steal the headlines for the next few months, and that's just fine with us.
After a nightmarish season on the gridiron, Mark Dantonio and the coaching staff have done a fantastic job of retaining 2017 pledges. There have been no de-commits thus far and it's not expected to change. However, there is still room for 5-7 more commits and there are some big names left on the board.
Michigan State has an inside track with a few guys and some aren't announcing their choices until January, such as Deron Irving-Bey and Lynn Bowden.
Football isn't the only sport with major storylines on the recruiting trail, though. Tom Izzo and basketball recruiting have been center stage for a while. He has reeled in guys like Jaren Jackson Jr., Xavier Tillman, Foster Loyer and Thomas Kithier for the next couple of classes and he's not done yet. Guys like Brandon McCoy and Brian Bowen remain out there, up for grabs.
Let's take a look at our five bold predictions for Michigan State recruiting in December.
5. Michigan State football adds a 2018 commit
Call me crazy, but I believe Michigan State's 2018 recruiting class will be Dantonio's best since taking over in East Lansing. Yes, even after a 3-9 season in which nothing went right, the Spartans will piece together an impressive 2018 class after holding a top-25 class in 2017.
Michigan State will add another commit to the class this month and there has been chatter that four-star wide out Joseph Scates would be next. However, he has yet to commit and he might be letting the process play out, but the Spartans are in a good position with him.
Dantonio likes to give guys an opportunity to really sit down and make sure they're choosing the right school for them, and maybe that's what Scates is thinking. I also think DeAndre Square and Michael Dowell could be close to pulling the trigger as well, although that's speculation on my part.
The 2018 class will add another commitment in December to complement four-star athlete Xavier Henderson.
4. Momentum swings back to MSU for Brian Bowen
The momentum for five-star small forward Brian Bowen has begun to swing in a different direction. While Michigan State had been the clear favorite for quite some time, the Arizona Wildcats have crept into the race at the top and seem to be challenging the Spartans.
Arizona hosted Bowen at the end of October and nothing but good things had come from the visit, according to reports. He loved what he saw and it apparently opened a new door in his recruitment that he hadn't seen before. Also, Sean Miller stopped in to see the five-star prospect a couple of weeks ago.
The Wildcats are putting the full-court press on Bowen even though the Spartans have been the presumed favorite for about a year, or two, now.
Bowen might be taking his official to Michigan State in the coming weeks which could be a big development for the Spartans. Yes, he's been to East Lansing countless times in the past and he's related to former Spartan great Jason Richardson so he knows his way around the program, but MSU getting the last official would be huge.
Many believe it's down to Michigan State and Arizona and I think the tides will turn back in the Spartans' favor this month.
3. Michigan State becomes leader for Simmons or Henderson
Two players who are/were committed elsewhere could be on top of the recruiting board for Michigan State football in the class of 2017. Jaquan Henderson, a three-star Tennessee linebacker commit, has been high on the Spartans in recent months and a visit at the end of October may have helped their chances.
Reports say that Henderson is still fully committed to Tennessee, but he's keeping his options open. He liked what he saw and Michigan State and I wouldn't be shocked to see him re-open his commitment and potentially name MSU his leader.
The same goes for three-star linebacker Antjuan Simmons who just de-committed from Ohio State last week. It may have been a case of the Buckeyes finding another higher-rated player at the position, but Urban Meyer should have known the kind of underrated talent Simmons was.
Michigan State and Notre Dame were the presumed leaders before he committed, surprisingly, to Ohio State but now that the door is open again and he just took a visit to Michigan State a couple weeks ago, the Spartans could be the leader again.
With no linebackers currently committed in 2017, whichever one of these two decides to pull the trigger on MSU will get some playing time early in their career. One of them will consider Michigan State the leader this month.
2. Michigan State to be considered leader for Brandon McCoy
After a visit to Oregon, everyone was predicting that the big man would choose the Ducks and not even take a trip to East Lansing. Oregon was the favorite and there was nothing that was going to change his mind.
A week later, he took the trip to East Lansing and everyone felt a little better about the Spartans' chances, especially since he took his mentor with him. If Michigan State can get the mentor on board, the Spartans stand a very good chance to land him.
According to the 247Sports' Crystal Ball, it's a three-team race between Oregon, Michigan State and Arizona and it all depends on whether he wants to remain out west or move back closer to home. He's originally from Chicago and has family there, so he may want to play college ball in the Midwest and play in front of family and friends.
McCoy seemed to love the family atmosphere when he visited Michigan State and that's one major takeaway he had. He knew that playing for Izzo would be second to none and he would grow as a person and player.
Sean Scherer, a Michigan State insider for 247, put in a Crystal Ball for the Spartans after talking to him after his visit which makes it seem like MSU is in good shape. I think they take the lead this month and talks continue to heat up about the Spartans landing McCoy.
1. Ambry Thomas makes his decision
The momentum for Ambry Thomas is not in Michigan State's favor. Heck, no one really knows what to think about this kid's choice since he's been so quiet about naming favorites, but it's likely between Michigan State and Michigan — with Penn State being on the outside, looking in.
Must Read: MSU Recruiting: 7 must-get 2017 football targets
Thomas is good friends with Donnie Corley which could help the Spartans' chances but he's also close with Lavert Hill of Michigan. The two sides have pulling factors while Michigan State could offer early playing time, the Wolverines have more recent success, coming off a 10-win season yet again.
Rico Beard, a Michigan State insider for Scout, tweeted out that Thomas would likely be making his college decision within the next few weeks. He said this following Detroit King's state title victory in which Thomas had an impressive performance and locked down Walled Lake Western.
A decision will be made in December and the kid who was once thought of as a Michigan State lean is now looking more like a Wolverine.
If I had to guess today, I'd say he would pick Michigan but there is a slight chance the draw of early playing time and Corley could bring him to Michigan State.
This article originally appeared on