Michigan State honors fallen punter Mike Sadler vs Wisconsin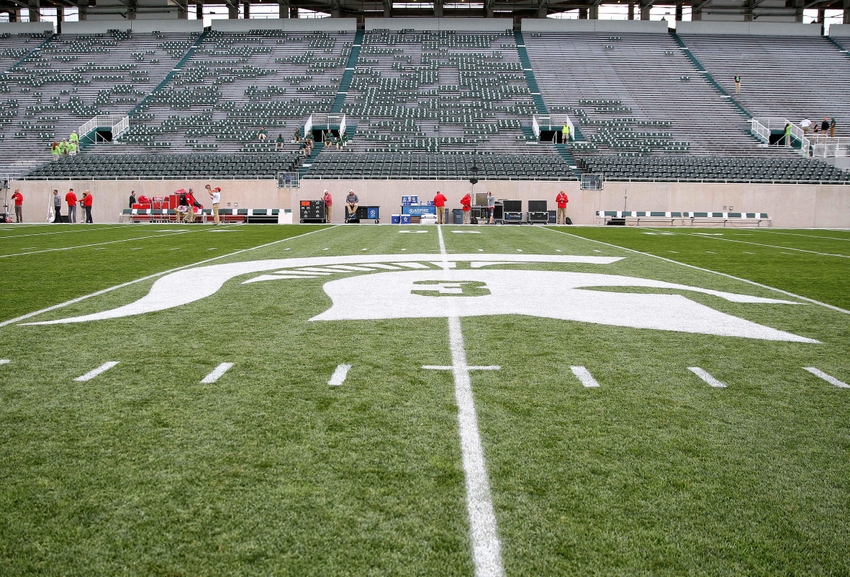 The Michigan State Spartans honored their fallen punter Mike Sadler for Saturday's game against the Wisconsin Badgers in a memorable way.
The college football world has stunned when the news came out that former Michigan State punter Mike Sadler and Nebraska punter Sam Foltz had been killed in a car accident this summer. Now, both teams are doing what they can to honor their fallen teammates.
On Saturday, the Michigan State Spartans took on the Wisconsin Badgers at Spartan Stadium. The Spartans wanted to find a way to honor Sadler during the game, so they came up with a very touching tribute.
At midfield, the Spartans put the number three in the middle of the team's logo. Sadler wore No. 3 during his time at Michigan State, which is why the number was selected. You can check out the picture of what the midfield logo looks like in the tweet from SportsCenter below.
The entire Big Ten conference, as well as the college football world, has been helping pay tribute to both Sadler and Foltz. Just last week, the Oregon Ducks paid tribute to Sam Foltz by placing flowers at the 27-yard line during their game against the Nebraska Cornhuskers.
Foltz and Sadler were killed in a single car accident in July after returning from a kicking camp in Wisconsin. The two were helping teach kids at the camp, but had swerved off of the road and struck a tree on their way home.
Teams will continue to honor both punters, as both the Spartans and Cornhuskers continue to play this season with heavy hearts.
This article originally appeared on