Michigan State Football: What went right and wrong vs. Michigan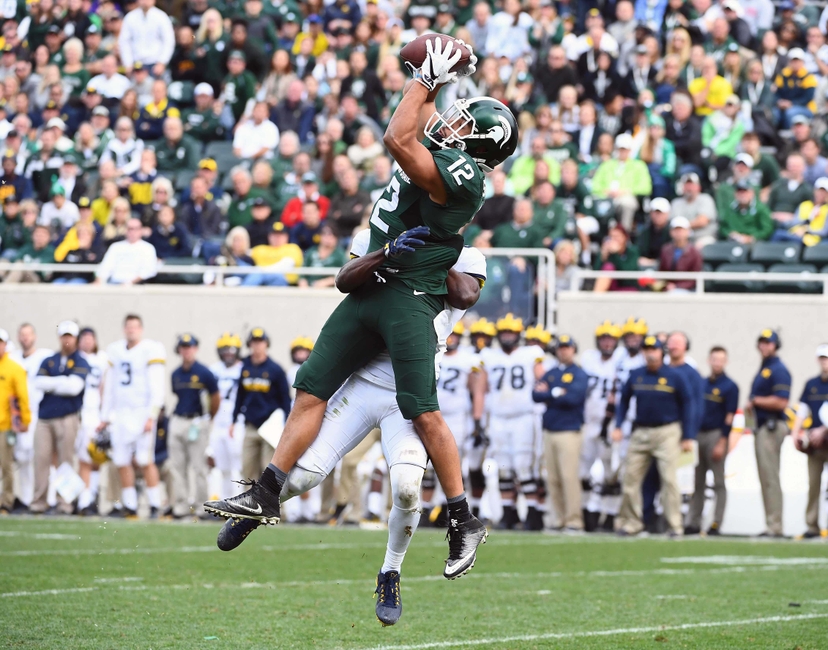 Michigan State football put up quite an effort against Michigan on Saturday and here's what went right and wrong.
Michigan State football fought and clawed its way back into Saturday's contest against No. 2 Michigan only to come up nine points short. There was no late-game magic for the Spartans this season.
Must Read: MSU Football: 5 biggest disappointments through season's first half
Many media outlets and pundits predicted a one-sided affair that had a woeful Spartan team getting run out of their own stadium. However, this is a rivalry game and, at times, MSU looked good, having its way with the vaunted Michigan defensive line.
For example, just look back at the first drive. They ran it down the No. 1 defense in the nation's throat and LJ Scott was excellent in the process.
Michigan State's offense bogged down again in the second and parts of the third quarter. There were more curious calls like the four straight run plays from the two-yard line only to turn the ball over on downs — hindsight is 20/20.
Offensive coordinator Dave Warner thought that since the run plays got them that far then they should stick to it. Yet the Wolverine defense would not break.
Tyler O'Connor got the start, but the senior didn't have a good performance and at this point it is clear after watching all three quarterbacks that redshirt freshman Brian Lewerke can be the future of the program. However, he suffered a broken leg in the game and will be out the remainder of the year.
The same problems showed up in this game as they have all season. When Michigan State needed a fourth-quarter stop, it was gashed for big yards and a potential comeback just ran out of time. However, I was impressed with the fight in the Spartans as well as shocked that the impervious Michigan team that I had heard all week about did not look like a juggernaut.
Many young players gained valuable experince and it give hope to the future of the rivalry, especially considering Michigan will be losing many great players themselves after this season.
This article originally appeared on