Michigan State Football: Three things we learned vs Northwestern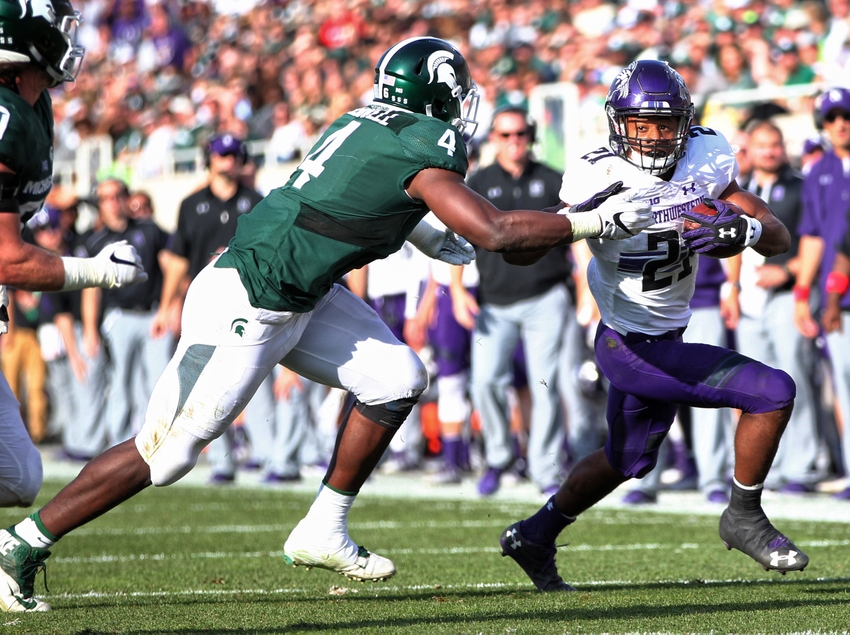 Michigan State football suffered yet another tough loss on Saturday and here's what we learned against Northwestern.
Michigan State football, one year removed from a College Football Playoff appearance, are now 2-4 after their 54-40 loss to Northwestern Saturday.
Here are some takeaways from Saturday's loss:
1. Quarterback competition
Mark Dantonio and his staff kept the decision of who was going to start against Northwestern away from the public until the opening drive when freshman Brian Lewerke ran out onto the field.
Lewerke was impressive in the first quarter throwing for his first career touchdown. Fans thought that this may be the spark the Spartans needed in the season, but the second quarter was a different story as MSU went into halftime with only three total yards in the second quarter.
After a third quarter touchdown by Northwestern, Lewerke was benched for redshirt senior Tyler O'Connor who had previously started in the Spartans' last five games.
Lewerke was 12-19 for 99 yards and a touchdown while recording a team-high 30 yards.
O'Connor's first drive under center ended with a touchdown from RJ Shelton, but fumbled on the next offensive possession.
After the fumble, O'Connor responded with another deep pass to Shelton for a touchdown, but it just simply wasn't enough for a comeback as Northwestern always responded.
O'Connor finished with 281 yards and three touchdowns with his longest pass of the day going for 86 yards.
Dantonio was pleased with O'Connor's play after the game and said that he liked how he rallied the team back to a potential comeback and added he will not yet state who next week's quarterback will be against Maryland.
2. Special teams
The Spartans' special team unit started off strong. After Lewerke couldn't put MSU into scoring position on the opening drive, Jake Hartbarger kicked a 36-yard punt that was downed at the one-yard line.
Hartbarger also had a career-long 61-yard punt near the end of the first half.
The special teams unit also had their fair share of blunders.
Kevin Cronin kicked a kickoff out of bounds while also leaving many of his kickoffs short and in position to be returned. One kickoff did end up being returned for a touchdown for 98 yards.
Cronin also attempted two onside kicks, but both never put MSU in position for a recovery.
The special teams unit did however, end the game on a highlight as the Spartans blocked a punt by Northwestern and it was recovered by Jalen Watts-Jackson who also recovered a botched punt in the Spartans' win over Michigan last year.
3. Pass rush needs even more work
The Spartans ended the game with just one sack and were only able to hurry quarterback Clayton Thorson three times.
The defensive line couldn't stop the run either. Justin Jackson, who came off a 172-yard rushing performance against Iowa last week, picked right where he left off last Satuday and recorded 194-yards against MSU.
This article originally appeared on