Michigan State Football: Spartans remain No. 12 in AP Poll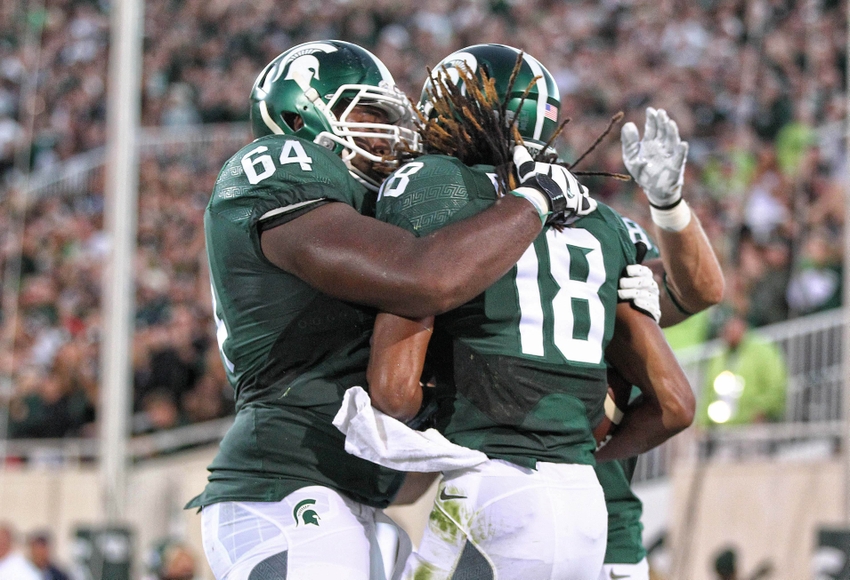 Michigan State football has remained No. 12 in the week two AP Poll, but rose to No. 8 in the Coaches Poll.
Not too many fans were pleased with the way Michigan State football played against FCS foe Furman to open the season, but the AP Poll voters didn't seem to mind that the margin of victory was just 15 points. Michigan State remained No. 12 in the AP Poll but rose to No. 8 in the Coaches.
Must Read: Big Ten Football Power Rankings: Week 2 edition
The Spartans struggled to pull away from the Paladins after an easy score on the first drive of the game which made it seem like a 63-0 victory was on the way. However, the offense got complacent and the penalties started to accumulate.
Furman kept it close, coming within eight in the fourth quarter, but a touchdown pass from Tyler O'Connor to Jamal Lyles sealed the deal. Mark Dantonio gave the nod to O'Connor to start the season and he got better throughout the game, passing for 190 yards and three touchdowns.
Monty Madaris broke out for 83 yards on five catches, but Felton Davis III and R.J. Shelton went down with injuries. The defense will need to step up in the pass rush column against Notre Dame in two weeks if they're going to pull out a big road win.
Other Big Ten teams to make the AP Top 25 this week were Iowa (16), Wisconsin (10), Michigan (5) and Ohio State (3). The Badgers went from unranked to top 10 after a win over No. 5 LSU and both the Wolverines and Buckeyes won by 60-plus points.
This article originally appeared on