Michigan State Football: Report card for loss to BYU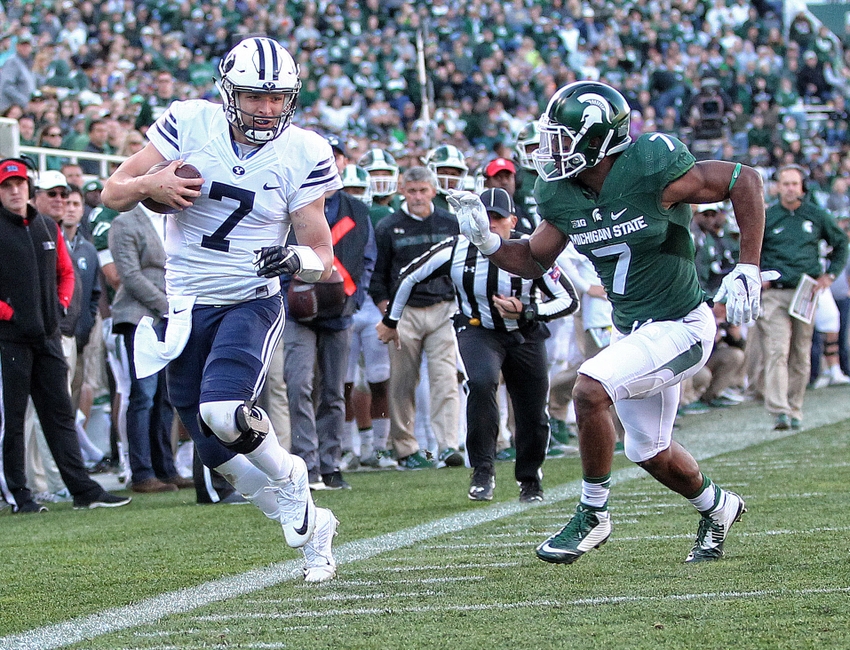 What does the report card for Michigan State football look like after its loss to BYU on Saturday?
Saturday wasn't the best day for Michigan State football. Heck, Saturdays this fall have been forgettable thus far, outside of one. The Spartans have struggled through five games, posting just a 2-3 record, which is concerning given the level of success this program has had over the years.
Many believe this year's team is more talented than any Mark Dantonio has had in the past, but there's just no cohesiveness or gelling going on, it seems. For some reason, it feels like the team is just sleepwalking through games, rarely showing heart or a sense of urgency.
That issue falls on the coaches, though. Michigan State has been a proud football program under Dantonio, but he's letting this season slip through his grasp. If he doesn't get things turned around quickly, the Spartans may be sitting at home during bowl season.
Take a look at the Spartans' grades for their Week 6 loss at home against BYU.
Offensive
Line
OL,
Last Week: D+
C-
Another week of mediocre line play, but this wasn't quite as bad as it was against Indiana the week before. However, two third-down sacks allowed on Tyler O'Connor killed a couple of drives and forced punts.
O'Connor was sacked twice and Damion Terry once, totaling three on the day. Not terrible, but it would be nice if this line could go a week without allowing three-plus sacks.
Also, the run game just couldn't get going because of the lack of lanes to rush through. The backs combined for 70 yards on 19 carries, which is unacceptable for a Michigan State ground-and-pound type of team.
Overall, just a below average performance, but a step in the right direction.
Defensive
Line
DL,
Last Week: C
D
Man, this unit continues to be a disappointment. One of a few position groups that has regressed throughout the year, the defensive line failed to record a sack for the second straight game, which says a lot seeing as Taysom Hill (BYU) and Richard Lagow (Indiana) have been sacked an average of two times per game this year.
The Spartans' defensive line gave very little push and Hill had all day to throw the ball. When that's the case, cornerbacks and linebackers get worn out from trying to cover receivers and tight ends and someone inevitably springs free.
Malik McDowell was suspended for the first half but came back and played well in the second half. He was the lone bright spot for the Spartans and it's pretty clear that he's being held on nearly every play or double-teamed when he's not getting held. He finished with three tackles.
Raequan Williams was out for this one and might be back this week against Northwestern which would give this line a boost.
Josh King played a good amount, but finished with just one tackle. The young guys will continue to improve with more reps.
This line has been entirely underwhelming, though.
Linebackers
LB,
Last Week: B
B-
This defense clearly misses Riley Bullough and Jon Reschke in the linebacking corps. Reschke has missed his second straight game and Bullough has been out three in a row.
Andrew Dowell is an intriguing linebacker for the Spartans, but he hasn't been able to mask the losses of the two All-Big Ten caliber backers who have been absent. He did finish with nine tackles on the day as well as a quarterback hurry.
Chris Frey continues to impress me as a breakout star. He's all over the field and has that workhorse mentality. He finished with 13 total tackles, tied for second on the team, with two quarterback hurries as well.
Shane Jones also had 13 total tackles, but he struggled to diagnose some plays and it was clear he wasn't playing at the same level of Bullough.
The reason this group gets a B- instead of anything higher is because of the inability to slow down the run. Plugging holes to stop Jamaal Williams just didn't happen as the linebackers were over-pursuing on a regular basis. There were nice plays all around, but the secondary should never have guys with 15-plus tackles.
Defensive
Backs
DB,
Last Week: C-
B
The defensive backfield cannot be blamed for what happened on Saturday, especially seeing as it only allowed 138 yards through the air from Hill. He completed 18-of-27 passes for 138 yards and a touchdown.
It's easy to say that the Cougars converted 10-of-16 third downs because of the secondary's inability to cover, but the defensive line didn't get the job done. As previously mentioned, the D-line allowed Hill to sit back in the pocket for 5-6 seconds and pick out a route he waited to open up and hit it.
Hill was given all day and these cornerbacks and safeties did a solid job, for the most part, when covering these receivers for five-plus seconds. That's an absurd amount of time for a quarterback to have to pass the ball, but it happened on a regular basis.
Darian Hicks was out for this one and Tyson Smith filled in. He wasn't terrible but was replaced in the fourth quarter by freshman receiver, and now corner, apparently, Justin Layne.
Monte Nicholson led the team with 17 tackles, mostly because the front-seven couldn't stop the run and Demetrious Cox added nine.
Running
Backs
RB,
Last Week: C+
C-
Another area that can't be 100 percent blamed on a single position group, the running backs struggled because of a mixture of poor play-calling, lackluster blocking and pedestrian running.
Gerald Holmes got the game off to a great start, rushing for chunks of yards in the first half, but the offense seemed to stall out because of two or three run plays in a row being called. It was obvious that the Spartans weren't playing to exploit the weaknesses of BYU, but rather they were going at the strengths.
Michigan State totaled just 85 rushing yards on 32 carries as Damion Terry was the team's second leading rusher with 29 yards on eight carries. He also added a touchdown.
Holmes led the team with 15 rushes for 57 yards and LJ Scott had just three rushes for nine yards. It's unclear why LJ only had three carries, but it may have been the fact he was suffering through leg issues all week. London had one carry for four yards.
The run game desperately needs to improve as sub-100 yard games are unacceptable for Michigan State's potential three-headed monster.
Wide
Receivers
WR,
Last Week: B
B
The receivers didn't get much of an opportunity to do anything against BYU, but there were a couple of drops again. The one that sticks out to me is a Monty Madaris drop near the sideline early in the game which would have given the Spartans a first down. Other than that, it wasn't a great or poor game, either way.
Donnie Corley almost had a highlight reel toe-tapping reception inside of BYU's five-yard line in the first quarter which would have given the Spartans all the momentum in the world. He caught the ball on the sideline and went out of bounds with an over-the-shoulder grab, but he stepped out before coming back in to catch it.
With very few pass attempts, 21 total, the Spartans didn't have much of a chance to impress in the receiving corps. In fact, Gerald Holmes had the most catches, four, for 22 yards and he was coming out of the backfield. A lot of the throws were safety valve tosses.
Josiah Price led the team with two catches for just 29 yards. Felton Davis III had a catch for 28 yards, R.J. Shelton caught three for 18, Donnie Corley had two receptions for 13 yards and Jamal Lyles had an 11-yard reception.
Quarterbacks
QB,
Last Week: C
C-
This category was once called 'Tyler O'Connor' but seeing as he might no longer be the team's starting quarterback, it's back to being dubbed 'quarterbacks' instead.
O'Connor began the game with a nice drive, completing a number of passes on the first possession and he didn't look all that bad. Sure, the same mistakes still happened in which he threw behind or too low for a couple of plays,  but he rebounded to go 7-of-11 for 58 yards.
Still, his struggles can be partially blamed on Dave Warner. The offensive coordinator's play-calling has been horrendous and he didn't call a single pass play in the second quarter after having success in the first. Heck, the third quarter was even quiet, in terms of passing the ball.
Don't get it twisted, though, O'Connor wasn't pulled because his passes were off, he was yanked because the offense wasn't moving the ball with him under center. The coaches clearly didn't trust him enough to sling the ball around more, which led to his early exit.
Terry came in and played well, other than an interception, and gave the Spartan offense a bit of a spark. He finished 6-of-10 for 63 yards and a rushing score on 29 yards.
Moving forward, it looks like Terry, O'Connor and Brian Lewerke are battling it out for the starting job.
Special
Teams
ST,
Last Week: C-
C+
Really, just not enough happened with special teams in order to make it anything but a C+. The offense couldn't move the ball much, leading to five punts for 189 total yards. However, Jake Hartbarger's average of just under 40 per punt will need to improve moving forward.
Must Read: MSU Football: 5 bold predictions for month of October
The wind clearly played a major factor in punting, but if he kept the ball a little bit lower, it may have carried. Still, the Spartans didn't allow a single punt return and the kickoff returns by BYU were for 13 and 23 yards, respectively. It was a job well done by the coverage teams and that's refreshing to see.
No field goals were attempted, but both of Michael Geiger's extra points went straight through the uprights. He still needs to get some field goal action this year in order to build his confidence, but the wind would have likely forced the Spartans to go for it on fourth downs in 40-plus yard attempt areas.
An extremely quiet day for special teams, other than punting, which is surprising to see out of the Spartans. Definitely a step in the right direction after Drake Martinez almost single-handedly led the special teams unit to a C- last week against Indiana.
This article originally appeared on