Michigan State Football: Ohio State matchup is low-risk, high-reward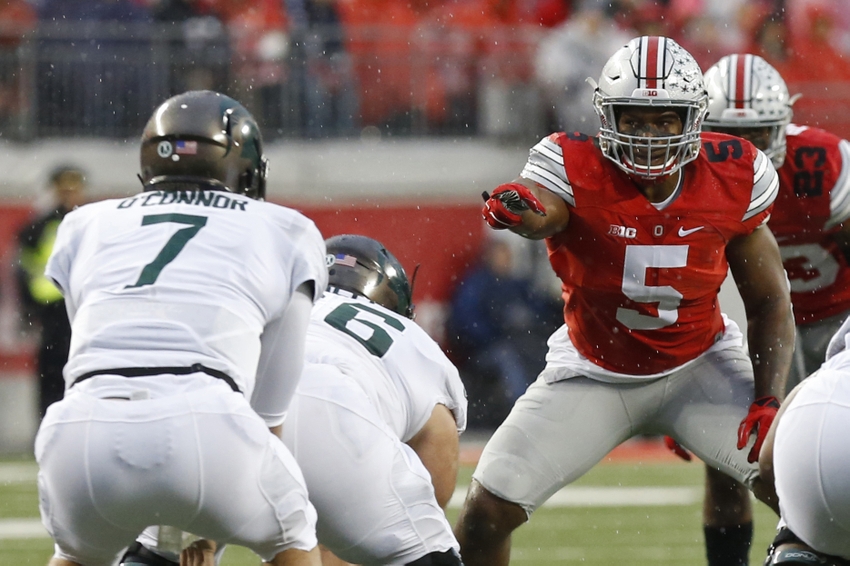 Saturday's Michigan State football game against Ohio State presents a low-risk, high-reward opportunity for the Spartans.
Michigan State football players will take the field Saturday as heavy underdogs facing Ohio State, expected by most to not just lose, but to lose badly.
Must Read: MSU Football: 5 bold predictions for month of November
The atmosphere in East Lansing the week leading up to the game and in Spartan Stadium on game day will not resemble that of recent battles between the two foes. A loss may be viewed as simply another disappointment of a disastrous season, and one of little consequence for a team already out of reach of a bowl game. After all, is there much difference between 4-7 and 3-8? However, an upset win could bring substantial reward for players, coaches, fans and the program overall.
Let's start with the seniors, who will be playing their final game in Spartan Stadium. Though finishing with a disappointing season, seniors Riley Bullough, Demetrious Cox, R.J. Shelton, Kodi Kieler, Michael Geiger, Josiah Price, Darian Hicks, Ed Davis and others accomplished remarkable achievements during their college careers, including Cotton Bowl and Rose Bowl victories and two Big Ten Championships. A win Saturday would be another positive moment and memory.
A Spartan victory Saturday can rekindle the program's identity as an underdog overcoming doubters. This will be the first in four seasons the team doesn't finish higher than in preseason rankings. In a season the team uncharacteristically underperformed relative to outside expectations, the team can revitalize its reputation by defying skeptics, even if for just one game.
Saturday's Spartan-Buckeye matchup will be a game of what CBS Sports declared before this season as "The Best Modern Day Big Ten Rivalry."
Reminisce on Denicos Allen's fourth-and-1 stop of Braxton Miller in 2013, and Michael Geiger's game-ending 41-yarder last season (without forgetting the windmill). If Michigan State prevails Saturday, the win will not be due to being overlooked by its opponent.
To reach the four-team College Football Playoff, one-loss Ohio State must win the remainder of its games, making Saturday's matchup virtually a single-elimination playoff game for the Buckeyes. Michigan State has a chance to gain the satisfaction and vindication of keeping Ohio State from the College Football Playoff and dashing their title hopes.
An upset win could prompt results reaching beyond 2016. Amid a Mark Dantonio Era loaded with success, self-proclaimed experts have continuously predicted an inevitable downfall of Michigan State football.
After single-season setbacks, that forecast has become consensus among media, and each time MSU has returned by embarrassing skeptics and proving its belonging among college football elites. But could the skeptics be right this time? Has the downfall of Michigan State Football arrived?
As is common with late-season games, a signature and dramatic win could build momentum for the offseason to carry into next season. The team's core of promising young players can grow closer as a group, build confidence against a team more talented than most they'll play in college, and reinforce to them the high standards they came to Michigan State to uphold.
Dantonio can earn some validation to those questioning their support of him. Recruits, especially those in Ohio, will not just see a mediocre Spartan team with a hopeless season, but remind them that as Spartan they can be part of something exciting on a national stage.
As an honorary captain before Michigan State's 49-0 rout of Rutgers last week, former star quarterback Connor Cook told the team to play for pride and to have fun.
A win over Ohio State can rejuvenate pride young players have in themselves and their teammates. And for seniors, it can be the most fun moment of the season celebrating with teammates and fans after their final game in Spartan Stadium.
This article originally appeared on