Michigan State Football: Northwestern game depth chart notes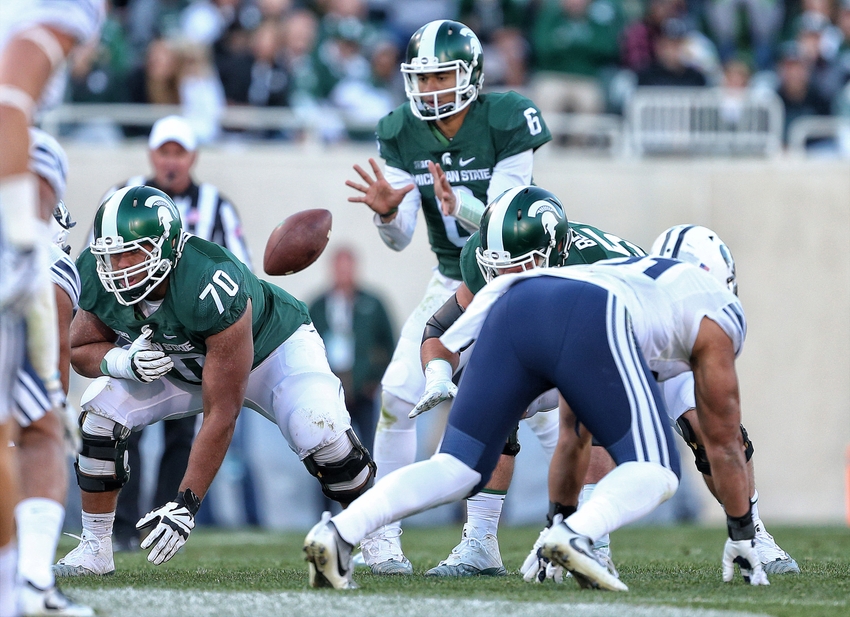 Michigan State football released its depth chart ahead of Saturday's Northwestern game and here are the takeaways.
It's tough to believe that this Michigan State football team, loaded with talent, is just 2-3 through five games in 2016. People were expecting a bit of a drop-off after losing about a dozen starters from 2015's playoff squad, but no one thought it would be this extreme.
Must Read: MSU Football: 5 takeaways from loss to BYU
The Spartans are gearing up for their third Big Ten matchup on the season, and the second at home. The last two didn't go very well for Mark Dantonio and the Spartans they lost 30-6 at home against No. 11 Wisconsin and then 24-21 in overtime at Indiana.
Northwestern struggled through its first two games as well, losing to Western Michigan as well as Southern Illinois. Still, the Wildcats present a tough matchup for the Spartans and the depth chart has gotten a shakeup, accordingly.
Here are some notes and takeaways I had from the release of the Week 7 depth chart:
Monty Madaris is starting at X receiver over Felton Davis III. Not sure how long he has been starting over Felton, but Davis III was the starter there to begin the year and Madaris was at Z receiver.
Now starting at Z receiver, officially, is Donnie Corley. The true freshman receiver has earned the playing time and he's getting moved up on the depth chart to reflect his success. Trishton Jackson is also the No. 2 F receiver now.
Tyler Higby now the clear starter at left guard over David Beedle. This is a change that needed to be made and the youth has been breathed into the offensive line. Also, Brian Allen and Benny McGowan will be alternating between right guard and center.
Tyler O'Connor, Damion Terry and Brian Lewerke are all listed as co-starters at quarterback. This was the one thing I wanted to see and it appears Dantonio is frustrated with O'Connor's play (finally).
The running back situation is an 'OR' as well between LJ Scott, Gerald Holmes and Madre London.
Interestingly, Auston Robertson has moved up to the No. 2 defensive end behind Evan Jones, jumping Robet Bowers. He didn't play last week, but he's clearly making an impression. Josh King is No. 3 at the other defensive end spot.
Brandon Clemons is on the depth chart strictly as a defensive tackle and not on the offensive line. He is No. 2 at DT, but Dantonio said he will play offense a bit.
Riley Bullough is back on the two-deep at middle linebacker. Shane Jones is starting there and Andrew Dowell, Chris Frey are the outside backers.
Darian Hicks is back, and healthy, as the starting corner, replacing Tyson Smith and Justin Layne has moved up to the No. 2 cornerback behind Vayante Copeland on the other side, passing Josh Butler.
A ton of changes this week definitely indicates Dantonio realizing issues and correcting them with personnel swaps.
It will be interesting to see if the Spartans' changes can result in more production on both sides of the ball Saturday.
This article originally appeared on