Michigan State Football: Is Malik McDowell leaving a good decision?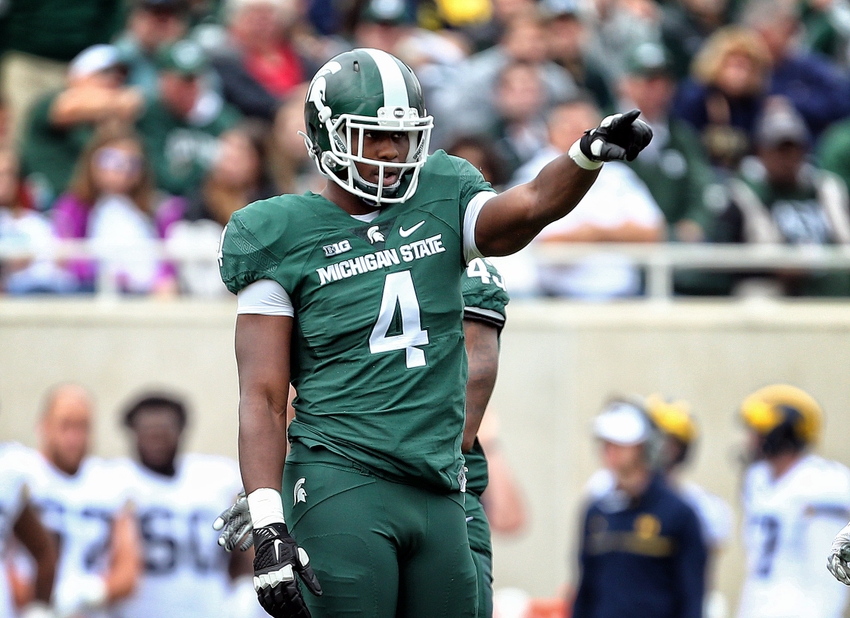 Was the decision by Michigan State football star Malik McDowell to declare for the NFL a good one?
Malik McDowell officially announced Tuesday that he is foregoing his final year with Michigan State football to enter the NFL draft. However, his junior season was less than stellar.
Must Read: MSU Recruiting: 5 bold predictions for December
McDowell came to East Lansing with all the hype and promise a five-star recruit has achieved in high school. Yet his career with the Spartans has produced mixed results. Let me write that Malik is a rare talent at 6-foot-6 and over 275 pounds. He has power, length, agility and speed. Plus, he has shown the ability to play any where on the defensive line.
Every junior who has promise should consider going pro because injuries and the age affects how long and how much a player will earn. Also, family concerns can play a role and I cannot blame a player who would want to improve the lifestyle and livelihood of those around them.
Nevertheless, McDowell had a season to forget. While some of that was the multiple double teams and injuries he sustained, there were also times where the potential never showed up on the field.
Is this Malik's fault? Not necessarily, but it was a difficult situation for him and with the losing compounding it most likely made it an arduous year mentally, let alone physically.
I'm of the mindset that McDowell should have stayed for one more season. Why? Not just to receive his degree, because he can finish that at any point and many NFL players do. He should stay, because the possibility of him being a high draft pick is questionable at this point. Is it because he is not talented enough? No. Is it because he was hurt much of the latter part of the year? No. What is it?
McDowell's sophomore season was an amazing year and revealed all the potential he had to be a dominant Big Ten player. However, the wheels fell off the Spartans' 2016 season rapidly. When I watched him this year I noticed at times that he was unable to keep outside contain on the edge, often running past the running back on a draw play. When MSU needed him to show up in big games, he was not the dominant player they needed.
In fact, down the stretch, outside of the Penn State game, one could argue that MSU played well enough without McDowell. However, the defensive line players have noted that watching McDowell has made them better.
William Gholston left after his junior year and was only a fourth-round pick. After his sophomore year all the talk was how he would go in the first round. However, his junior year was a nightmarish 7-6 campaign from the Spartans in 2012. Gholston was not as dominant often a non-factor (due to how offenses approached him) as his 2011 year, and subsequently fell in the draft.
Jerel Worthy is another example of a player exiting his sophomore season with all the hype and promise of a first-round pick. I can remember reading articles on FOX Sports about him potentially being a top-10 pick.
However, Worthy ended up as a second-round pick to the Green Bay Packers. The statement that dogged Worthy, Gholston and now McDowell is that they take plays off. One could say they do not have a high motor, yet all have been known to control games when they are on. Worthy almost single-handedly beat Iowa in 2009, Gholston had a fantastic 2012 Outback Bowl against Georgia and finally McDowell had great games at different points in his career.
A player needs to go pro for many reasons and I support them because it is a difficult decision to make. However, in McDowell's case another year would mean more money because his junior season was that terrible compared to his two other years. There is always the risk of injury and it is understandable why players make the decisions they do. However, a dominant senior season from McDowell with an improved MSU team would have definitely improved his draft stock.
At this point it will be up to McDowell to have a stellar combine in order to prove he is worthy of a top pick. Personally, I'm pulling for him to do so, however, my cynicism is telling me he's a second-rounder.
This article originally appeared on