Michigan State Football: Final score predictions vs. Ohio State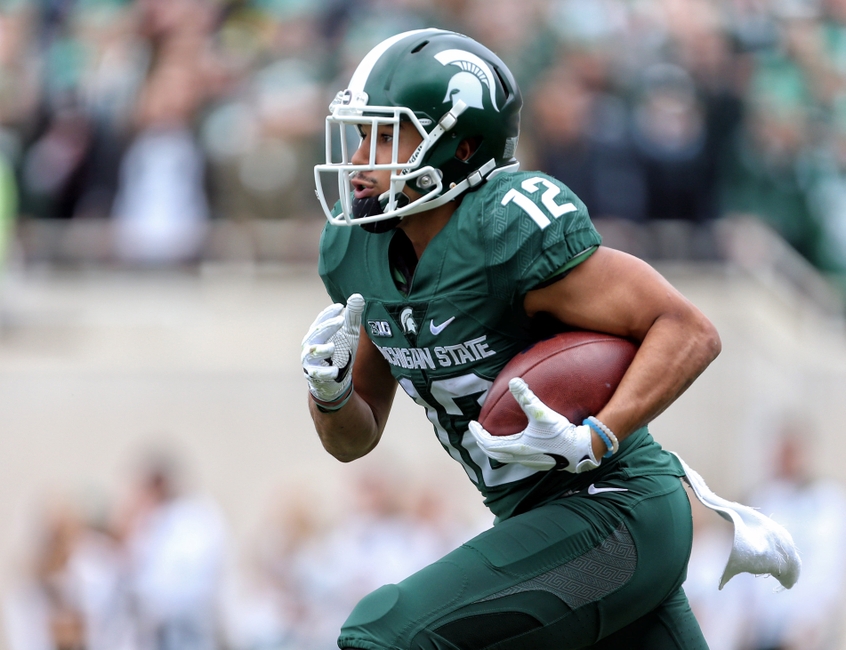 Michigan State football is hosting Ohio State Saturday and here our Spartan Avenue's final score predictions.
Desperate to put together a win streak to finish the 2016 season, Michigan State football is hoping to get some good fortune on Saturday. The Spartans beat Ohio State last year, but this season is a completely different story.
Must Read: Michigan State vs Ohio State: 5 bold predictions
The Buckeyes come into the game with a 9-1 record overall and No. 2 ranking in the latest College Football Playoff poll. This would be the perfect opportunity for the Spartans to shock the world and pull off a mammoth upset at home.
Senior Day will be rocking in East Lansing and some of these guys will be playing their final game in front of a Spartan Stadium crowd. How will Michigan State fare?
Here is what our Spartan Avenue staff believes the final score will be.
Connor Muldowney: LJ Scott is going to get things kicked off with another solid opening drive, ending in a touchdown. The Spartans will have the lead briefly before J.T. Barrett and Co. march down the field and steal it right back. Mark Dantonio won't hold back from trick plays and fourth down attempts, but the Spartans will come up just short. Still, this will act as a positive and a building block for the future.
Final: Ohio State 35, Michigan State 24
Michael Briggs: Michigan State's injury report is filling up, but there's reason for optimism: Ohio State is up next on the schedule. Okay, I'm kidding, but the Spartans have to be coming into this game with a bit more confidence knowing what they did last year vs. OSU without starting QB Connor Cook, right?
This season, Tyler O'Connor will once again look to lead an underdog MSU squad to victory over a Buckeyes team with championship aspirations. While the Spartans will get this one at home, the supporting cast around O'Connor is a far cry from the unit that took the field in Columbus last season.
If MSU is to pull off the home upset and keep its slim bowl hopes alive, it will, once again, need O'Connor and the offense to eat up clock, its defense to play a game for the ages and the weather to lend a helping hand. The good news? It looks like one of those three factors will be in play, as the forecast predicts a windy, cold mix of rain and snow for the game.
While I fully expect the Spartans to play well with their season on the line, last week's blowout win over Rutgers isn't enough of a determinant for me to predict an upset. I believe MSU will keep it close, but it remains to be seen if this 2016 team has the fire to make the big plays when they count against a legitimate opponent.
Final: Ohio State 27, Michigan State 17
Stephen Robb: If there ever was a David and Goliath matchup, then this would be it. Michigan State has struggled mightily all season and faces off against an Ohio State team that, for the most part, has breezed through its competition, except for a hiccup against Penn State. OSU is like a fine-tuned machine that has been rolling the last few weeks. On paper, MSU has little, if any chance, in this game.
Ohio State has too much talent and is peaking at the right time. However, it will not be a blowout like many believe. There are too many MSU players from the state of Ohio who have felt slighted by OSU not offering them. This is their revenge game, it always will be.
Sure, the game is being billed as OSU's revenge, but much of that team is in the NFL now. This game, like the Michigan one, is about pride and showing the Buckeyes what they missed out on. The proverbial chip on MSU's shoulders will be living large in this game. This is a rivalry game, therefore, you throw out all records and let 'em play. I look for Riley Bullough and Chris Frey to have huge days against the Buckeyes.
The game will go back and forth, but OSU will come out on top. Spartan fans will be encouraged by their team's fight and grit. The future is bright for this bunch.
Final: Ohio State 31, Michigan State 27
Daniel Gottschalk: No. 2-ranked Ohio State has outscored its opponents 124-6 in its last two games, including a 62-3 defeat of then-No. 10 Nebraska.
The weather Saturday will be cold and rainy or snowy, likely leading to a lower scoring run-heavy game, similar to last year. Michigan State was able to pull off the upset last year without Connor Cook thanks in part to bad weather conditions, but mostly due to stellar line play on both sides.
Despite the similarity in weather, MSU lacks the horses on both lines to be able to pull the upset in a run focused game. Rushing offense and defense also happens to be Ohio State's forte. The Buckeyes rank ninth and 11th in the nation in rushing offense and rushing defense, respectively. MSU ranks 64th and 57th in those same categories, and may be without star DL Malik McDowell, who missed last week's game against Rutgers.
Michigan State must bring its A game, win the turnover battle, and hope that the Buckeyes aren't taking them seriously if they want a chance to pull off what would be a historic upset. Vegas has Michigan State as a 22-point underdog. MSU is 2-0 against the spread as underdogs. I think the weather will keep this game from getting out of hand and will be closer than expected, but Ohio State will still come out victorious.
Final: Ohio State 28, Michigan State 14
Andrew Erdman: Michigan State finally played a full game its last time out — albeit it was against Rutgers. Nevertheless, it will give this young but talented team some confidence heading into this weekend's matchup with Ohio State. The weather forecast is eerily similar to the game last season at the horseshoe that saw the Spartans control the ground game and grind out a victory thanks to Michael Geiger's walk-off field goal. Will that happen this year?
I think the stable of running backs that Michigan State has should keep this game competitive if the weather will be less than ideal. But in the end, I think Ohio State will make more plays on offense and ultimately win the game.
Final: Ohio State 21, Michigan State 20
This article originally appeared on