Michigan State Football: Donnie Corley to return punts, kicks?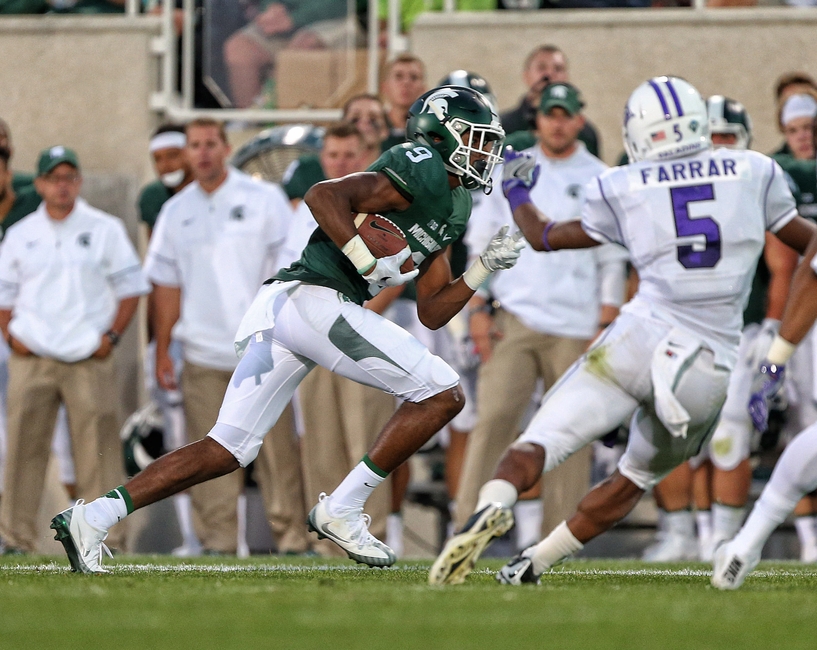 Michigan State football might be using Donnie Corley more of a punt and kick returner for the rest of the year.
There are plenty of issues with this year's Michigan State football team. First, the offense has been inconsistent. Second, the defense took a major step back last week. And third, the special teams play has been underwhelming, at best.
Must Read: MSU Football: 5 biggest disappointments of season's first half
Sticking with the latter of the three, the Michigan State special teams units have been underperforming in all areas. In fact, a kickoff return for a touchdown by Northwestern last week changed the momentum of the game in an instant.
Michigan State pulled within two, 33-31, before the ensuing kickoff was returned 95 yards for a touchdown, making it 40-31 with all of the life sucked out of the stadium.
How come the Spartans can never shift momentum like that on special teams? Well, it's partially due to the fact that there are no kick or punt returners who have done much. Many punts are fair caught by Brandon Sowards, who shouldn't be back there, and kick returns are usually halted by touchbacks.
That might change in the near future. Mark Snyder has stated that he believes Donnie Corley might end up taking punts and kickoffs in the coming weeks.
Mark Snyder says MSU might use Donnie Corley on punts or kick returns. Took one kickoff last week.

— Chris Solari (@chrissolari) October 19, 2016
This is a necessary change with the lack of field position gained on punts and kickoffs. An electric player like Corley back to return will force opposing teams to think twice about kicking it to him and might result in short punts or even kicks out of bounds.
Corley, Justin Layne or Trishton Jackson should be back there returning. This is a big step for special teams.
This article originally appeared on