Michigan State Football: Depth chart notes vs. Notre Dame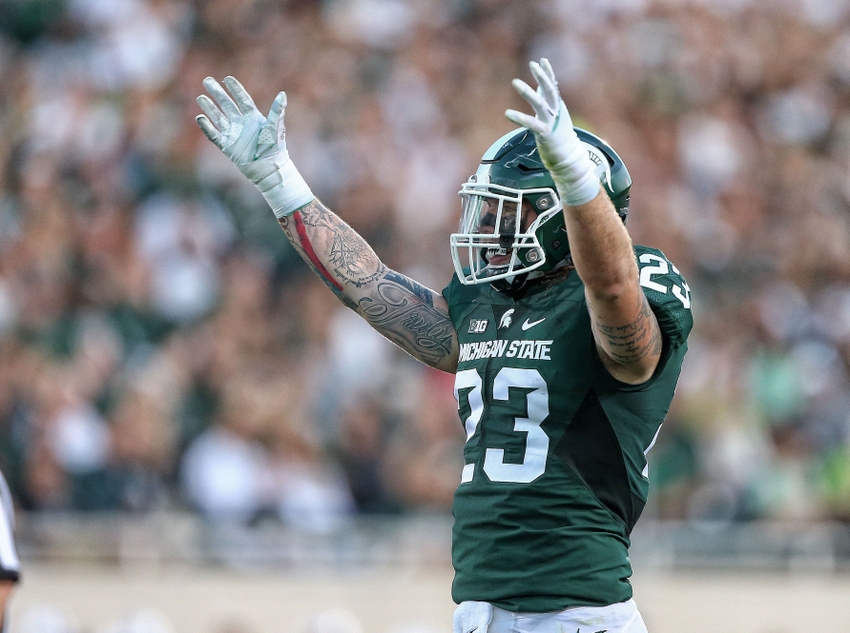 Michigan State football has released its depth chart ahead of Notre Dame game on Saturday and what sticks out?
The Michigan State football depth chart for the Notre Dame game on Saturday was released on Tuesday afternoon. Mark Dantonio held his weekly press conference and spoke of what his team needs to work on (the trenches) as well as the possibility of true freshmen seeing the field
Must Read: MSU Football: 5 reasons not to worry about Furman performance
Although Dantonio didn't mention any of the freshmen by name, Mike Tressel named two players who could see action on the defensive side of the ball this weekend: Auston Robertson and Josh King. This should come as no surprise seeing as the Spartans struggled to put a pass rush on Furman in Week 1 and these two were highly-touted defensive ends in the 2016 recruiting cycle.
Other than that, there were a few things to note on the Week 3 depth chart. Here are my takeaways.
LJ Scott is the clear No. 1 running back with Madre London and Gerald Holmes listed as the 'OR' for the backup spot. Huge step for the offense.
Freshman receivers not named Donnie Corley might not see much, if any, action this season.
Josh King and Auston Robertson will likely see the field this week.
Evan Jones is listed as the starter at defensive end, but it might be just temporary, depending on how well Gabe Sherrod plays behind him and Demetrius Cooper.
Raequan Williams is still backing up Kevin Williams despite having a ton of potential at the defensive tackle position. That might change in the coming weeks.
Jon Reschke is backing up Andrew Dowell, but is healthy this week. It'll be interesting to see if Dowell remains the starter next week.
Chris Frey is starting over Ed Davis. Will the sixth-year senior play big minutes this week?
Josh Butler, Tyson Smith or David Dowell could fill in for any cornerback who gets injured or struggles. They're all next men up.
Michigan State will need to be ready to play against a tough No. 18 Notre Dame team in South Bend Saturday.
That's all for this week's depth chart takeaways. Anything you noticed on the depth chart that stood out to you?
This article originally appeared on