Michigan State Football: Brian Lewerke should be healthy for spring ball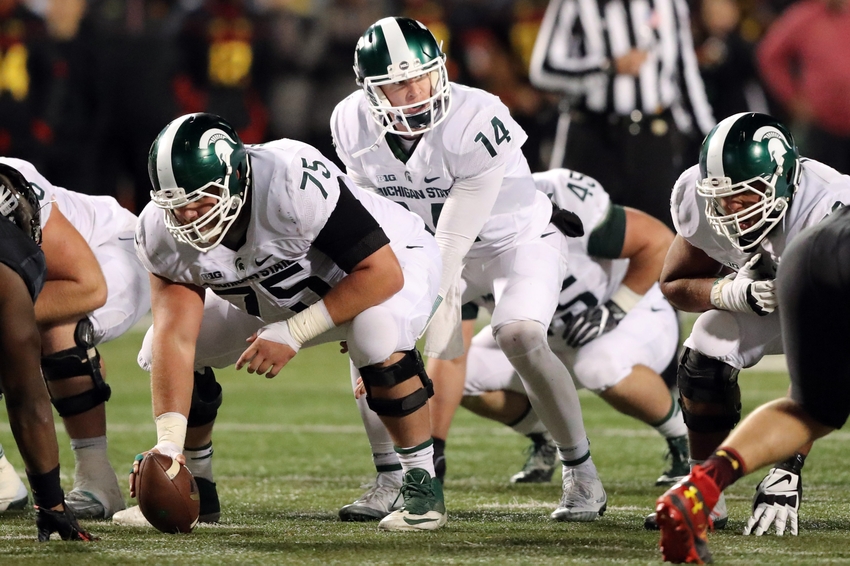 Potential Michigan State football starting quarterback Brian Lewerke should be healthy by spring football.
Brian Lewerke represents hope for Michigan State football next year. A broken leg during the Michigan game derailed the promising start, but he should be healthy by spring.
Must Read: MSU Recruiting: 5 bold predictions for December
Michigan State finished its worst season in the Mark Dantonio era and it was especially disheartening when the freshman quarterback suffered a broken leg during the Michigan game. MSU had mounted a serious comeback when Lewerke suffered the break. While the Spartans did not give up hope on the season, many fans witnessed the injury as a sign that the season was truly over.
Lewerke showed promise with a cool-handed approach in the face of adversity. His first complete pass was a dime dropped out of the sky and was a thing of beauty. Spartan fans had flashbacks of Connor Cook's back shoulder fades when they beheld Lewerke's pass.
The soon-to-be sophomore should be good to go for spring ball because the break was not as serious and, as a precaution, MSU wants to handle this the correct way, according to a reliable source close to the situation.
The QB competition will again be fierce. However, MSU now has battled-tested quarterbacks like Lewerke and Damion Terry to choose from. Messiah deWeaver redshirted last season but will be given his opportunity.
I fully anticipate Lewerke to be the starter heading into the Spring despite the injury.
I enjoyed watching Terry play, however, he tends to get injured often and it takes him away from the field. Lewerke is injured, but has been able to play hurt in many games in his high school career. He broke a finger and yet managed to throw for over 300 yards and five touchdowns in a high school playoff contest. He has played hurt before and that moxie may be the deciding factor in this next QB battle.
This article originally appeared on