Michigan State Football: Anonymous NFL scout knocks Malik McDowell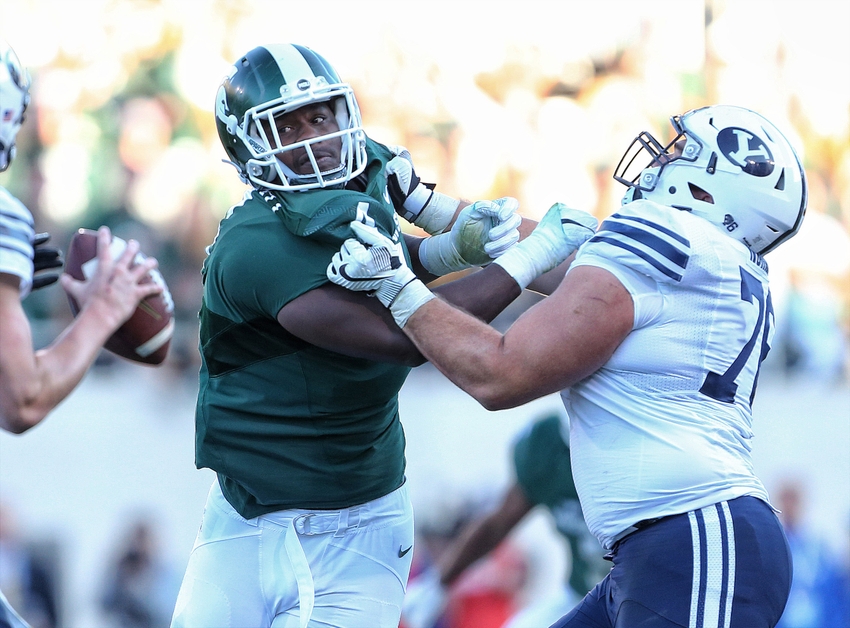 Michigan State football's top 2017 NFL Draft prospect, Malik McDowell, is already getting knocked by anonymous scouts.
Much like NFL scouts did with Connor Cook in 2015, Michigan State football's top prospect this season, Malik McDowell, has had had an anonymous source knocking his character.
Must Read: MSU Football: 5 bold predictions for season's second half
No, this time it has nothing to do with leadership or personality off the field, but the scout claimed that McDowell takes too many plays off. Moreover, he claimed that the junior defensive lineman needs to play through the fatigue.
Anonymous scout calls McDowell's "football character" into question: "He needs to be able to play through that fatigue sometimes." https://t.co/ULztNHXEEi

— Kyle Austin (@kylebaustin) October 19, 2016
Cook was accused of similar things last season by anonymous scouts. They knocked his leadership ability and talked about how big of a deal it was that he wasn't named a team captain as a senior quarterback. That hurt his stock so much that he dropped all the way to the first pick in the fourth round.
On the other hand, McDowell likely won't have that issue. Elite defensive linemen are hot commodities these days and the former five-star prospect has been really coming into his own this season.
In fact, he's coming off his best game of the year, recording 11 tackles and 0.5 sacks in a losing effort to Northwestern. Still, you never see defensive linemen record 11 tackles, especially while getting double-teamed for a majority of the game.
No, McDowell isn't 'taking plays off' and he is 'playing through fatigue' but he gets nicked up every now and then because he's constantly fighting through double the linemen to get to the opposing quarterback. Minor injuries happen and he gets back on the field the next play.
Anonymous NFL scouts strike again with baseless comments.
This article originally appeared on