Michigan State Football: 5 reasons why Brian Lewerke should start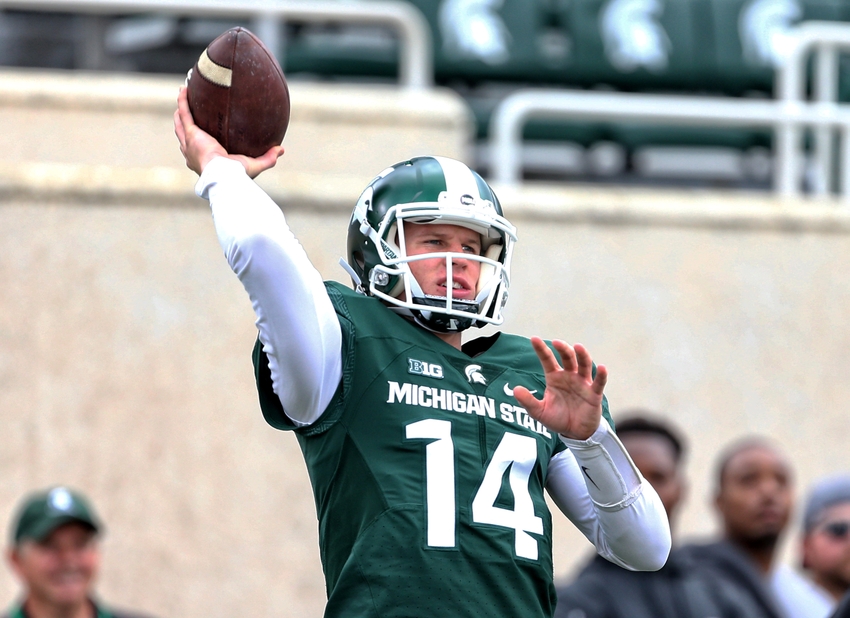 Michigan State football is looking to name a new starter by Friday and here's why it should be redshirt freshman Brian Lewerke.
No decision has been made on the starting quarterback for Saturday night's Michigan State football game against Maryland. Traveling to College Park won't be an easy task for this team, but the Spartans are desperate for a win, and the success might depend on who starts under center.
Right now, it's between Tyler O'Connor and Brian Lewerke, according to the Week 8 depth chart which was released on Tuesday. However, the Spartans also have junior Damion Terry waiting in the wings for his shot.
Terry seems like more of a long-shot at this point seeing as he can seemingly never remain healthy and Lewerke just played well enough to be named a co-starter with O'Connor this week. The junior might need to change positions if he wants to see the field this year.
Lewerke is the best option to start for the Spartans this weekend and for the rest of the year, and I have five reasons why I believe that to be true. Here they are:
5. Higher upside than Tyler O'Connor
There's no question about it, O'Connor doesn't have the strongest arm nor does he have great mobility. While the fifth-year senior is more of a dual-threat than Cook was during his time under center, Lewerke definitely has more upside in the wheels department as well as the arm strength category.
Lewerke is still young and learning the playbook, but he showed his upside against Northwestern. The kid can flat-out sling the ball and he can also tuck and run with it when he needs to. He led the Spartans with 30 yards on seven carries.
The redshirt freshman is much more dynamic, has a stronger arm, is poised and doesn't panic in the pocket and he is quick on his feet. The upside for this kid is much higher than it is for a fifth-year senior who has already shown what kind of quarterback he is: a solid backup.
4. It would make the most sense for the future
What is a coaching staff to do with a quarterback situation like this? Tyler O'Connor is the most experienced, Damion Terry might have some upside as well, but Lewerke has the ability to be the quarterback of the future.
Lewerke wouldn't just be a band-aid on a scab that is the quarterback situation, he would be the long-term fix. He would be the glue to this offense and could potentially pull a Connor Cook and lead this team back to national prominence by his senior season.
Look back at the 2012 version of the Spartans. Michigan State went with Andrew Maxwell who the coaching staff thought to be the best option. He played the whole season and the Spartans looked like nothing more than a mediocre football team. They finished the regular season 6-6 and Cook was sitting on the bench, but finally got his shot during the bowl game.
Cook led the Spartans past TCU and eventually won the starting job in 2013, leading Michigan State to the Rose Bowl. Lewerke could be the next Cook, but getting a jump-start on his reign under center would be ideal.
Imagine having a starting quarterback in place to begin the 2017 season with no battle or controversy in the offseason. Lewerke could have six starts under his belt already and would be a potential All-Big Ten candidate.
Start Lewerke now and reap the benefits for the next three-plus years.
3. Lewerke wasn't overwhelmed in first start
Watching a redshirt freshman take the field in his first career start came with some mixed emotions for fans. For one, people were worried that the stage might be too big for him and he might come out and play timid football.
Moreover, some believed that the expectations placed on him would be too high and it would crush him before he ever got a chance. He had been hearing that he should be the starting quarterback for the reigning Big Ten champs for the past few weeks and that might get to his head. Oh, and filling the shoes of Connor Cook wouldn't be easy.
However, the excitement was there. Fans and coaches knew about the talent level of the young kid and were intrigued to see it in action.
When he stepped foot on the field for the first time, the crowd went nuts and he seemed to feed off that electricity in the atmosphere. Lewerke played well in his first career start, hitting 12-of-19 passes for 99 yards for a touchdown and leading the team in rushing with 30 yards.
For a kid who has never started a collegiate football game and had four career passes heading into a Week 7 matchup with a tough Northwestern team, Lewerke was barely phased.
Although he may have been rattled by a big hit he took for a safety in the second quarter (a blatant missed block by Miguel Machado), he hung in there and played well.
2. The team believes in Brian Lewerke
Watching the first few minutes of Saturday's Michigan State football game against Northwestern, it was evident that the team had a different feel on both sides of the ball. The offense was believing in Brian Lewerke and the defense was feeding off the energy from the other side of the ball.
Michigan State took an early 7-0 lead on a beautiful touchdown pass on a designed roll to the right to Josiah Price. Lewerke gained major confidence from the throw and it was one of the more perfectly-placed balls an MSU quarterback has thrown this season.
Sure, it was just one throw, but sometimes that's all it takes for a team to start believing in a young guy, and you could tell the chemistry was there between Lewerke and the receivers and tight ends.
Price had talked about how well Lewerke was performing in practice this season and other teammates have spoken about how they'd believe in whoever was put in that position, including the redshirt freshman.
If it weren't for brutal safety that Lewerke took in the second quarter which seemed to rattle him a little bit, we might be taking about a quarterback who was 1-0 in his first career start. The team definitely rallied around him when he was in there.
1. Most talented option, gives MSU best chance to win now
If I were to ask you who the most talented quarterback on the roster, not named Messiah deWeaver, is right now, who would you say? I excluded deWeaver because I firmly believe he is the best quarterback this team has, but he's just too raw to see action right now and will be redshirted.
Must Read: MSU Football: 5 bold predictions for season's second half
Your answer would more than likely be Lewerke. The kid is talented as anyone on the team, he's a leader, he's poised, he's calm and he can get the job done with his arms and his legs. He proved that against Wisconsin a few weeks back in garbage time when he was 2-for-4 passing and added a 16-yard run and then again versus Northwestern.
Sure, he got pulled in the second half because the team, as a whole, was struggling and needed a 'spark' off the bench. O'Connor played well when he was inserted, but it was obvious that the senior quarterback's throwing issues were not fixed. He was still slow in his windup and he under-threw a few receivers, one which ended in a pick.
Michigan State wants to make a bowl game and the player who gives the Spartans the best chance to do so has to be Lewerke. He is the ignitor this team needs for a second-half run and it will start on Saturday against Maryland.
This article originally appeared on