Michigan State Football: 5 reasons the Spartans will beat Maryland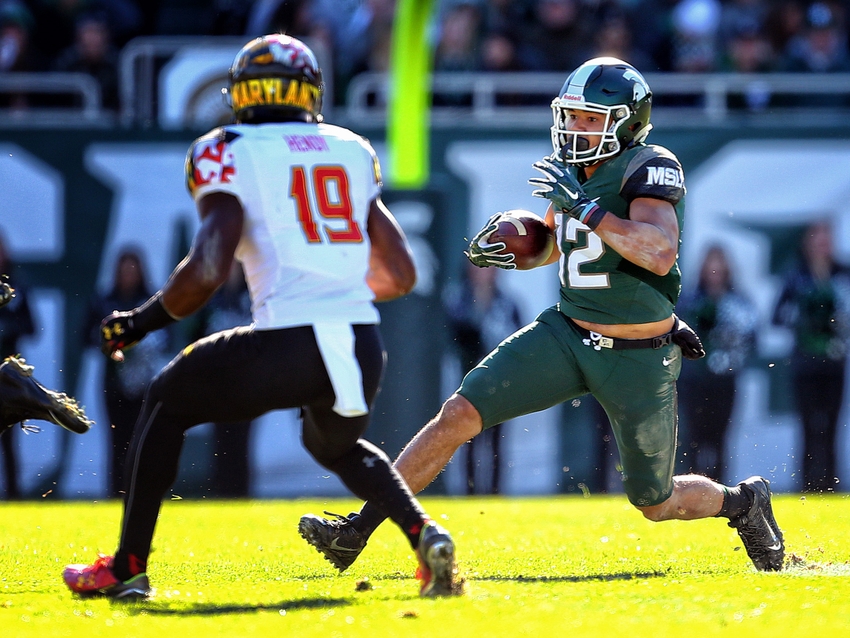 The Michigan State football team will be taking on Maryland on Saturday night and here is why the Spartans will win.
There's a big game looming on Saturday night between the Michigan State football team and Maryland. While this may have looked like just a win-padding contest for the Spartans before the season began, it's now a must-win game.
In fact, the Spartans are just 2-4 after six games and desperately need to win in order to stay alive in the bowl eligibility category. Beating Maryland on the road would push Michigan State's record to 3-4 and give it some confidence heading into the Michigan game.
With Tyler O'Connor likely out with a foot injury tonight, the Spartans will be relying on redshirt freshman Brian Lewerke under center. For most people, that's exactly the starter they wanted to see. While an injury to O'Connor hurts the depth, Lewerke will be tasked with playing the entire game and that could lead to positive things for the future.
Saturday's game will be interesting, but I have slight confidence in this team to get the job done, finally. The Spartans are going to end their losing streak sooner or later, so why not tonight?
Here's why Michigan State will beat Maryland.
5. Key in on the run game
Maryland's passing attack might suffer on Saturday night with the potential absence of starter Perry Hills. Not that Hills is anywhere near gunslinger status, though. The Spartans can worry about the one area of the Terrapins' offense that has been successful this season: the run game.
With the aerial attack bordering on mediocre, the Terrapins have put up 250 yards per game on the ground thanks to freshman Lorenzo Harrison and sophomore Ty Johnson.
If Michigan State stacks the box and commits to shutting down the run and forcing the Terrapins to air it out, this game could play into the Spartans' favor.
4. The run game (finally) gets back on track
On the other side of the field, the Spartans will get their run game back on track. While the defense can key in on stopping the Terrapins' rushing attack, the offense needs to make sure it switches things up and keeps Maryland on its toes.
Working in more run plays will be crucial to this team's success. In fact, last week Northwestern was able to shut down the run game since the Spartans didn't commit to it early on. I'm not saying run eight times in a row like a certain offensive coordinator has been guilty of, but don't just settle for passing.
In order to set up the pass, a team first has to establish the run, and I believe Michigan State will finally do that against Maryland on Saturday.
Michigan State has three talented running backs in LJ Scott, Madre London and Gerald Holmes who are all capable of breaking out for 100 yards on any given day. However, the Spartans have been held to under 100 rushing yards as a team over the past two weeks.
This is the game that the ground-and-pound Spartans finally come back to life. Oh yeah, and Brian Lewerke's dual-threat ability will help.
3. Will Likely will miss the game
It's always tough losing a top player to injury, and Michigan State fans know all too well was that feeling is like. For Maryland, playing the rest of the season without senior defensive back William Likely has to be a punch to the gut.
The Terrapins' passing defense has been much-improved this season and Likely was thriving under D.J. Durkin. He had recorded 32 tackles and three pass deflections on the season and he was looking like one of the best defensive backs in the conference.
On Friday, the team announced that he had suffered a torn ACL and would miss the rest of the season, effectively ending his collegiate career.
That's tough news for the kid and you have to feel for him. Adversely, it's great news for the Spartans who don't have to worry about him in the pass game with a redshirt freshman quarterback starting nor the return game.
Michigan State allowed a kickoff return for a touchdown last week and have had one of the worst special teams units in the nation. Likely has been a terrific returner over his career, brining back four punts for touchdowns and two kickoffs for scores in his career.
2. Brian Lewerke has gained confidence
It's time for this kid to get his shot. Now that Tyler O'Connor has been ruled out for Saturday night's game against the Terrapins with a foot injury, the redshirt freshman will get a chance to prove himself to Spartan Nation once again.
Lewerke played well last week against Northwestern for a half, but after he took a safety, he seemed a bit timid and rattled. He overthrew a couple of passes and was pulled in the second half for O'Connor. Still, people witnessed major potential in the former highly-touted recruit from Arizona.
Gaining confidence with a first-ever start was crucial. It seemed like he came away knowing much more about college football's style of play than he did before. Getting into that first real live action had to have been a rush for him, but he came away stronger and more knowledgeable.
If you listened to his postgame interview, you would have thought he threw a couple of picks and completed less than 50 percent of his passes. He was a harsh critic to his own game and knows he can play much better. However, he still completed 12-of-19 passes for 99 yards and a score and led the team with 30 rushing yards.
Expect confidence to roll over into tonight's game now that he has complete control of his own destiny under center.
1. Playing with that 'chip' once again
It's been about a year since Michigan State last looked like it had that 'chip' on its shoulder. The Spartans have veered away from playing like the underdog and proving people wrong through six games, but they need to get the mojo back.
Must Read: MSU Football: 5 breakout candidates vs. Maryland
Riley Bullough even admitted earlier this week that the team talked about playing with a chip on their shoulders once again. That will help this team against Maryland, a game which was once thought to be an easy win.
According to Chris Solari of the Detroit Free Press who spoke with Bullough this week, the team is trying to restore that chip.
"We talked about that (Tuesday), actually, getting that chip on the shoulder back," linebacker Riley Bullough said. "We've always been a team that prides ourselves in being hard-nosed, blue-collar players. We've gotten away from that a little bit, I think, so we've got to get back to that."
Michigan State needs to get back to that style of play. When everyone doubts the Spartans, that's usually when they rise up and surprise people. This is the perfect occasion to prove doubters wrong and go on the road to record a win over the Terps.
It'll be interesting to see how well the Spartans fare with this new and improved attitude against the Terrapins.
This article originally appeared on