Michigan State Football: 5 players who need to step up vs. Maryland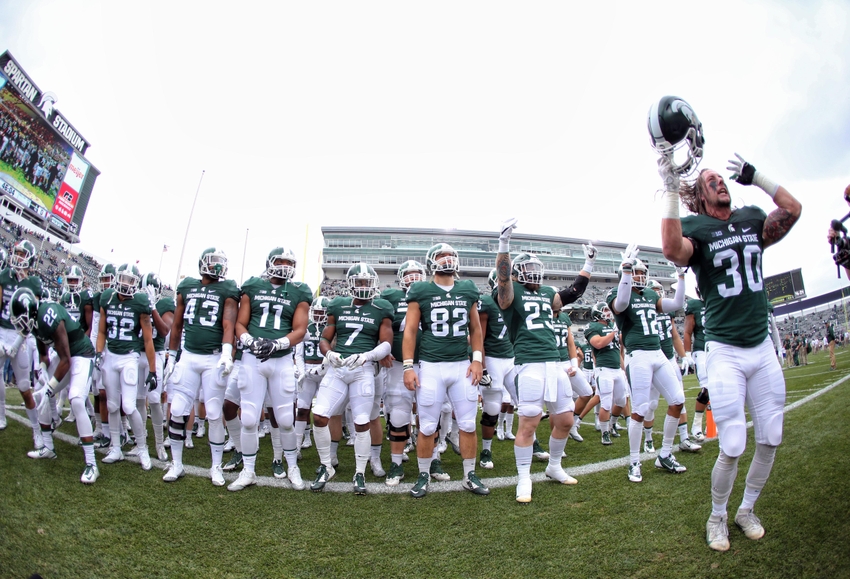 With Michigan State football playing a huge road game against Maryland this Saturday, which five Spartans need to step up?
We are halfway through the 2016 season and some Michigan State football players are guilty of not playing to their full potential. It's hard to believe that this team full of talented players is just 2-4 to start the season, but there are six games to turn things around and potentially make a bowl game.
Plenty of players have stepped up this season, including R.J. Shelton, Malik McDowell, Chris Frey, Josiah Price, Montae Nicholson and Andrew Dowell, but there are a number of players who have yet to show what they're made of.
Maryland isn't going to be the easiest of wins on Saturday night in College Park and Michigan State will need to have everyone put forth a full 60 minutes of effort. No taking plays off and no allowing the Terrapins to get back into the game after an early lead — like they've done against Notre Dame, BYU, Indiana and Northwestern.
Let's take a look at the five players who need to step up against Maryland on Saturday night in order for the Spartans to come out on top.
5
Demetrius
Cooper
DE,

Junior
It's been tough to watch Demetrius Cooper struggle this season. After watching the then-sophomore in 2015, I truly believed he was going to be the next Shilique Calhoun. However, he hasn't lived up to the lofty expectations through the first half of the season, recording 11 tackles and 0.5 sacks.
Cooper's 11 tackles on the season at the defensive end position match the amount Malik McDowell had in one game (Northwestern). That's the type of year he's been having.
Michigan State is going to need him to make some major strides in a positive direction if it's going to take advantage of a mediocre Maryland offensive line. McDowell has since moved to the other defensive end position and these two have the potential to be major forces on the outside.
The junior defensive end is going to need a big game on Saturday.
4
Offensive
Line
OL,

Michigan State
No, this isn't one singular player, but the offensive line is the main area of the team that desperately needs to step up on Saturday if Michigan State is going to beat Maryland.
Michigan State's offensive line has been a mess this season. There's no reason to sugarcoat anything, but this unit has been the biggest weakness on the team, outside of maybe the defensive line.
There's no reason Tyler O'Connor, Damion Terry or Brian Lewerke should be running for their lives on every play within the first two seconds. It seems like defenses have picked up on the Spartans' offensive line struggles and have been blitzing more than usual. The line has had a very tough time picking up blitzes and they often lead to sacks or incomplete passes.
Luckily, the Spartans have three quarterbacks who have played this season who are athletic enough to scramble away from the rush. Still, throwing on the run isn't easy for any quarterback and the line shouldn't have to force too many scrambles.
Last week was another example of poor blocking. One play that stood out to me, and everyone, was the safety in which Miguel Machado whiffed on a block and Lewerke nearly had his head taken off in the end zone.
Moreover, the run game has been stagnant because of the blocking issues. It's time this group gets it together and makes up for the losses to Jack Allen, Jack Conklin and Donavon Clark.
3
Brian
Lewerke
QB,

Freshman
It's time to hand this kid the reigns. While no starting quarterback has been named as of yet, the coaching staff is set to likely decide between O'Connor and Lewerke. Both were listed as 'OR' on the depth chart this week with Terry as the third option.
If you were impressed with the redshirt freshman's first-ever start last weekend against Northwestern, you weren't alone. He looked to take over as the leader of the offense early in the game and showed his true potential.
Yes, he missed some open receivers with errant throws and seemed a bit rattled after getting hit in the end zone — hard — for a safety, but that's exactly how Connor Cook and Kirk Cousins looked in their first couple of starts.
There's a reason this kid was compared to Cousins by Mark Dantonio last offseason and I think we got to see a little of that on Saturday. He was poised under pressure and scrambled when he needed to, making solid throws. He finished 12-for-19 with 99 yards and a touchdown pass to Josiah Price.
This team believes in him and will follow him into the fire. If he's named the starter, he's going to need to keep improving and have a big game against the Terrapins.
2
L.J.
Scott
RB,

Sophomore
Coming in as a true freshman, there were comparisons made between LJ Scott and former Spartan great Le'Veon Bell. Both began their college careers with similar body types and running styles and both were from the state of Ohio.
Bell ended up having a great three-year career for the Spartans, leaving in 2012 after Michigan State went just 7-6 with a bowl win over TCU. He was a workhorse for Michigan State during that season in which passing seemed like a chore with Andrew Maxwell under center, and it might be time Scott does the same for this team.
While Lewerke is a more talented option under center than Maxwell was in 2012 and could lead the revamping of this offense, Scott will be one of the more important players as well.
If this team is going to turn things around, it needs to start trusting the run game again. Michigan State has had a four-game lull in terms of running the ball, and to no one's surprise, they are 0-4 in those games.
Michigan State has been built on the 'pound, green, pound' mentality and it will need to mix it up better than it has over the last few weeks. Getting Scott more involved and watching him play like he did against Furman and Notre Dame will be key.
Scott has just six carries over the past two games. That's not going to cut it.
1
Demetrious
Cox
S,

Senior
There might not be a more disappointing player on the roster, in my eyes, than Demetrious Cox this season. The senior safety has been named a captain, but that hasn't helped his performance on the field, by any means. He has been a missed tackle machine through six games.
Must Read: MSU Football: 5 bold predictions vs. Maryland
In fact, it was tough to watch the second half of the Northwestern game because of all of the missed tackles from the senior safety as well as the linebackers and other members of the secondary, namely Vayante Copeland.
I have no doubt in my mind that Cox and Copeland have enough talent to put together one of the best secondaries in the Big Ten, but they need to start addressing the fundamentals first. Both of those guys have been disappointing this year.
Maryland doesn't have the best passing game out there and that should bode well for the Spartans' secondary, but Cox still needs to step up.
No more missing assignments nor whiffing on tackles, it's time for him to step up and play like the senior captain safety that he is. He is an important piece to the Spartans' puzzle if a turnaround is to take place.
This article originally appeared on