Michigan State Football: 5 players who'll break out vs. Notre Dame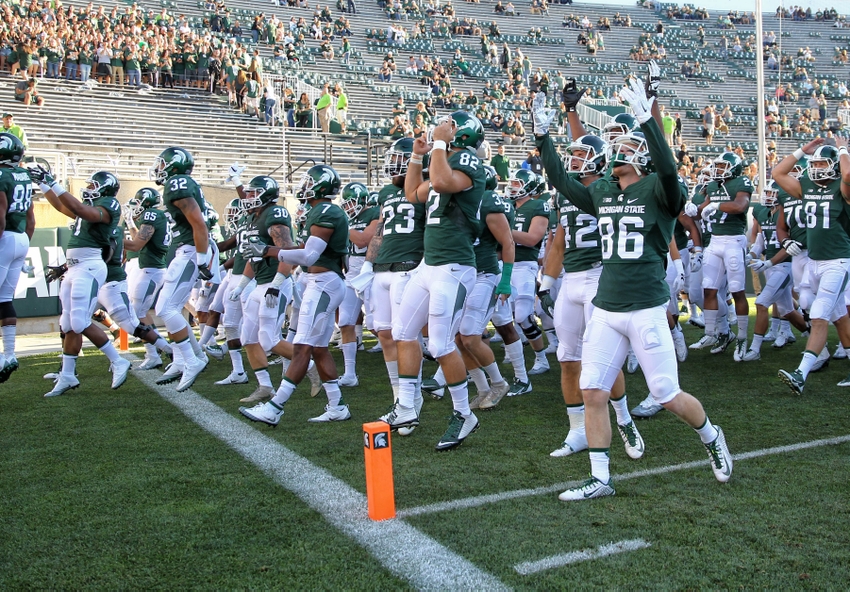 Let's take a look at five Michigan State football players who will step up during a big rivalry game against Notre Dame.
Michigan State football didn't exactly look the part of a national title contender in Week 1 against Furman, but that may have been due to the nerves built up. The long wait of college football finally concluded, but some guys were still in offseason, sleepwalking mode.
The Spartans ended up defeating Furman 28-13, but no one was that impressed with the play. It was Tyler O'Connor's second start ever and he passed for 190 yards and three touchdowns, but his one interception nearly cost the Spartans their lead in the fourth. Michigan State was up 21-13 when he threw the pick, but luckily the Spartans got it back on the next play.
Holding a one-score lead over an FCS foe for the better part of a quarter to start the season isn't what Mark Dantonio had in mind when he saw Furman on the schedule. The Paladins were just 4-7 last season and Michigan State was the favorite to win big.
Despite the sloppy play and closer than comfort score, Michigan State still showed some positives such as O'Connor's level-headed play, LJ Scott's success in the run game and the secondary's ability to limit big passing plays. Still, there are some players who could afford to step up against the Fighting Irish in Week 3
Let's take a look at five guys who could break out this week against Notre Dame.
5
Andrew
Dowell
LB,

Sophomore
Andrew Dowell was one of the saviors of the Furman game for the Spartans. The aforementioned Tyler O'Connor interception was essentially wiped away thanks to an incredible one-handed interception by the sophomore linebacker.
The former four-star linebacker has emerged as one of the guys who is likely to take over as a starting linebacker next season. Heck, why wait? Dowell is currently listed as the starter at STAR linebacker this week ahead of Jon Reschke.
Sure, Reschke might still be injured and recovering, but the fact that he was listed on the weekly depth chart ahead of one of the biggest games of the season as the No. 1 player at the position just goes to show the kind of faith the coaching staff has in him.
Expect Dowell to have yet another 'breakout' game after his eight-tackle performance against Furman.
It's hard to call a sixth-year senior a breakout candidate, but the fact that he hasn't seen the field since 2014 is reason enough. Ed Davis was just granted a sixth year of eligibility by the NCAA after missing all of 2015 with a knee injury and he is getting back into football shape, knowing that he may very well see the field on Saturday.
Davis has been absent from live action for some time now, but we all know what he's capable of on the gridiron. Just a couple of years ago, he finished the season with 58 total tackles, 12.5 tackles for loss and 7.5 sacks. He was considered a preseason All-Big Ten candidate in 2015 before his injury.
Now that he's back and ready to produce, I expect the coaching staff to have a number of blitz packages that call for him to get after the quarterback. He's athletic enough to make that happen and I'd be shocked if he wasn't used early and often in South Bend.
No, Davis isn't going to make a world of difference defensively, but he's an added weapon the staff can use and he's good for a couple tackles for loss and a sack, maybe two, this weekend against DeShone Kizer and the Fighting Irish.
3
Josiah
Price
TE,

Senior
Much like Davis, Josiah Price is a veteran player who might not be worthy of the 'breakout' status, but the way he has played over the past year says otherwise. The senior tight end has been quiet on the field much to everyone's surprise. After a big sophomore season in which he put up career-highs in every category, Price has taken major steps in the wrong direction.
Against Furman, Price looked rattled for some reason. He played timid and conservative, making silly mistakes and even subjecting himself to multiple penalties — including an unnecessary roughness call. He is usually a smarter player on the field, but he wasn't playing with his head on straight to start the season.
To be a leader, Price needs to be more consistent on the field and set a better example for the younger players. It's time he sheds that 'OR' on the depth chart with Jamal Lyles and puts up a monster game.
Notre Dame will be heavily focused on the Spartan receivers who are arguably the most athletic ones the Fighting Irish will face all season. Albeit young, Michigan State's receiving corps is explosive and deep. That will leave a guy like Price unguarded, at times, especially against a depleted secondary.
This could end up being Josiah's best game in two years.
2
Raequan
Williams
DT,

Freshman
All summer we've heard about the rise of Raequan Williams. The former highly-touted prospect from Illinois was climbing the depth chart and looked to be the Week 1 starter at the defensive tackle position opposite Malik McDowell. A defensive line with those two big boys up front would cause nightmares for any offense.
However, Nebraska-transfer Kevin Williams got the nod against Furman and it surprised some folks, including myself. I have pegged Raequan a breakout candidate for some time now and I was starting to buy into all the talk of him being the next great lineman.
Just because he's not officially the starter yet doesn't mean he's not going to see regular snaps and find his way into the backfield a few times as well as in on multiple tackles. He finished with three total tackles against the Paladins, and that was just the start of his career in the green and white.
Williams is just a redshirt freshman and he will be the starter by the end of the year, mark it down. To get there, though, he has to take advantage of his opportunities and there's a big one ahead of him in the form of Notre Dame.
When he gets onto the field, he has to capitalize on McDowell double-teams to fight his way into the backfield as well as read the play until the end and close would-be running lanes. Williams is a big guy and he has all the potential in the world to be a star. It starts here.
1
Donnie
Corley
WR,

Freshman
The Donnie Corley era is upon us. Michigan State fans have been anxiously awaiting the debut of the freshman receiver who has also been touted as an elite defensive back, but he was relatively quiet in the season opener — which has to be expected.
Must read: MSU Football: 5 bold predictions for month of September
Anyone who thought Corley was going to come in and break out for 100 yards and a couple touchdowns in his first collegiate game was probably drinking way too much Donnie Kool-Aid and they were quickly brought back down to earth after his two-catch performance. He finished with a total of 17 yards against Furman.
Still, he flashed signs of brilliance. One of his catches was a receiver screen and he took it and turned it into an exciting 11-yard gain. He has all the tools necessary to be the next great Spartan receiver, and he's just getting started.
While you shouldn't expect him to put up 100 yards game in and game out, he's certainly capable of reaching the century mark. It will be interesting to see if Notre Dame tries to contain guys like Felton Davis III, Monty Madaris and R.J. Shelton, allowing Corley to roam free and pick up big yardage.
Corley's senior quarterback trusts him, so we will see his first big game as a Spartan Saturday evening.
This article originally appeared on