Michigan State Football: 5 players to watch vs. Furman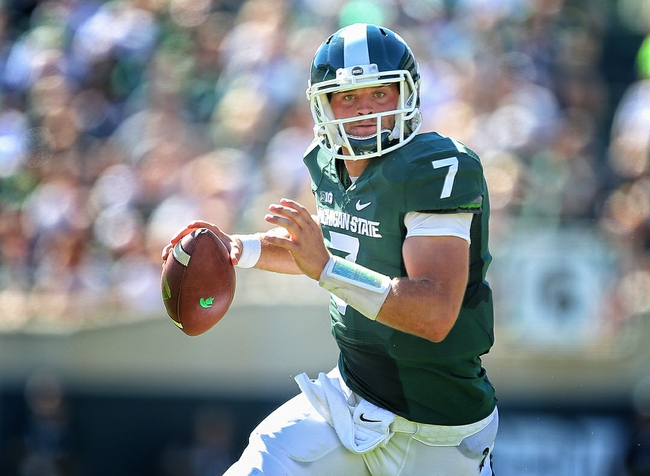 With the first Michigan State Football game of the season approaching, here are five players we should be watching for.
The wait is almost over. It's officially game week, as the reigning Big Ten champs, the Michigan State Spartans, are set to kick off their 2016 season against Furman on Friday at 7 p.m. ET. Michigan State Football is poised to defend its crown.
Last season, Michigan State fought its way through a slew of injuries en route to its second Big Ten title in the past three seasons and its first appearance in the newly formed College Football Playoff.
The Spartans have a lot of big names to replace from last year's team. Michigan State is tasked with replacing the Big Ten Quarterback and Wide Receiver of the Year in Connor Cook and Aaron Burbridge, respectively, as well as All-Americans Jack Conklin and Jack Allen on the offensive line.
On the defensive side of the ball, the defensive line took the biggest hit from last season. All-American defensive end Shilique Calhoun and defensive tackles Joel Heath and Lawrence Thomas are off to the NFL, while tackle Craig Evans, end Montez Sweat, tackle Damon Knox and end Cassius Peat are also gone from last year's squad.
Michigan State fans shouldn't worry, as Mark Dantonio has proven he can reload rather than rebuild, even after facing major personnel losses. Michigan State is the only school to have won 11 games in five of the past six seasons.
Let's take a look at five players you should keep your eye on this Friday against Furman.
5
Kevin
Williams
DT,

Senior
Coming out of last season, most assumed Craig Evans or Damon Knox would fill the defensive tackle spot next to Malik McDowell. Those plans changed when Damon Knox opted to begin a career in law enforcement rather than pursue a sixth year of eligibility. Craig Evans, who spent a lot of his time in East Lansing in and out of the dog house, was dismissed from the team this spring.
Enter fifth-year Nebraska transfer Kevin Williams. Williams as listed as a starter on the Furman depth chart, but Dantonio said it will be a game-time decision on who starts between Kevin and redshirt freshman Raequan Williams. Kevin has been quick to impress since arriving on campus.
"He's had a great camp.  He can play at a very high level, and you know he fits in our scheme. So he's going to be a good player for us," Dantonio told reporters Tuesday.
Williams committed to the Cornhuskers over Michigan State in 2011. The Spartans tough style of play left an impression on him during his time there.
"The perception from the outside is pretty much the reality from the inside – they're tough SOBs and that's what we're about. That's what we always expected, come game week, come Michigan State week, it was alright, we know it's going to be a grind up front, it's going to be physical, pound the rock, we're going to have to come with it," Williams told the Detroit Free Press.
The 6-foot-2, 281-pound lineman had 27 tackles, 10 tackles for loss and three sacks in 23 career games for the Cornhuskers. Limited by an injury last year, Williams had his best season in 2014 where he amassed career highs in tackles (19), tackles for loss (8), and sacks (3).
Kevin will be a critical piece to the success of the Spartans' defensive line this season. If he and fellow tackle Raequan Williams can keep the attention off McDowell, Michigan State's defense could be in for a special season.
4
Donnie
Corley
WR,

Freshman
No true freshman has been generating as much buzz among players and coaches than wide receiver Donnie Corley. The former four-star recruit out of Detroit, who chose Michigan State over Michigan, Ohio State and many others, has lit up preseason camp with his play-making ability.
"Donnie Corley is a monster. He is going to be a problem in the Big Ten. Mark my words, Donnie Corley is going to be a monster in the Big Ten. All the freshman receivers that came in are going to be good," said Michigan State CB Vayante Copeland to Spartantailgate.com.
Tyler O'Connor has also been impressed by the true freshman.
"He's such a raw talent," quarterback Tyler O'Connor told reporters. "Probably as much of a raw talent at receiver that I've ever been around. He just goes up and gets the ball. When I think I overthrew him or put it too high, he goes up and gets it."
Corley gained an edge by enrolling early in January, which allowed him to participate in winter conditioning and spring drills while learning the playbook months in advance of the rest of the freshman class.
With the graduation of Aaron Burbridge and Macgarett Kings, Michigan State is only returning one major contributor at receiver this year in R.J. Shelton. Corley was the only true freshman to make the two-deep in Tuesday's Furman depth chart, listed as the second string 'Z' receiver behind fifth-year senior Monty Madaris.
"Donnie Corley is going to play," Mark Dantonio told reporters on Tuesday.
3
Tyson
Smith
CB,

Sophomore
Sophomore Tyson Smith has been battling senior Darian Hicks for the starting cornerback spot opposite of Vayante Copeland. Smith played in the last seven games of his true freshman season last year after a rash of injuries hit the Spartan secondary.
At just 170 pounds, Smith is lighter than the 184-pound Hicks, but is a bit speedier than the Senior, who has struggled at times in his career with getting beat deep. Dantonio is still evaluating who will get the nod for that role, although Hicks is listed as the starter on the depth chart for now.
"Tyson, is he a 2 or is he a 1?" Dantonio rhetorically asked reporters last week.
Despite starting the season with mono and then suffering and injury later in the season against Rutgers, Hicks recorded career-highs with 33 tackles and three pass breakups while starting six games, but had zero interceptions. Making a lot of tackles as a cornerback is not necessarily a good thing, as that could indicate you're allowing a lot of receptions.
This could be a battle that will last into the Big Ten season. Keep an eye on Hicks and Smith this Friday against Furman to see if anyone can gain an edge.
2
David
Beedle
OT,

Sophomore
Possibly the most difficult player to replace besides QB Connor Cook from last season is the man that protected his blind side, All-American and first-round draft pick Jack Conklin.
Conklin excelled as the Spartans' left tackle for three years after arriving as a unranked recruit in 2012. The current Tennessee Titan leaves some big shoes to fill in his wake. The man tasked with the job is 6-foot-5, 314-pound sophomore David Beedle, a converted defensive tackle who switched to offensive guard last season.
Due to multiple injuries on the offensive line last season, Beedle was forced into action as a redshirt freshman. He played in 10 games and tallied five knockdowns in 115 snaps.
Dennis Finley stepped in at left tackle when Conklin was out with an injury against Purdue, but then suffered a gruesome broken leg that has caused him to lose weight and has hurt his development. Offensive line coach Mark Staten recently said that Finley is not currently in the playing group.
So it will be up to Beedle to protect Tyler O'Connor's blind side. Staten is confident in Beedle, and sees some similarities to Conklin's game.
"As you studied Jack Conklin over the years, he was terrific, athletic and all that, and he was similar where you'd see, 'Oh, he's going to lose (the defender) inside,' and then he'd be able to open up, run his hips and drive a guy inside," Staten told SpartanTailgate.com. "We're seeing a lot of the same things like that with Beedle. Now, not at that level right now. He's just a redshirt sophomore, so we've got a few years."
While Beedle should be solid, it sounds like he's not going to be quite up to the level of play we've grown accustomed to seeing at left tackle from Conklin over the past couple seasons. If we see O'Connor getting lit up from the back side this week against Furman, grab another beer and take a deep breath.
1
Tyler
O'Connor
QB,

Senior
Of all the new faces to play on Friday night in Spartan Stadium, most eyes will be on new starting quarterback Tyler O'Connor. O'Connor, a fifth-year senior, is entering his first season as the starter after backing up the winningest quarterback in Michigan State history in Connor Cook.
Must Read: MSU Football: 2016 season preview and prediction
O'Connor could have transferred years ago for a chance to be a starter elsewhere, but the thought never crossed his mind.
"I never, ever thought that I would leave," O'Connor said. "I never asked anybody if I should leave, I never considered it. It's just too good here to transfer somewhere else, sit out for a year to have it not be what you expected and what you had before."
Instead, he bided his time, learning the offense, while always being ready to take over the reigns at a moment's notice. That moment came last season when Connor Cook suffered a shoulder injury against Maryland. O'Connor stepped in calmly and guided MSU over the terrapins. He did the same the following week against Ohio State on the road along with Damion Terry. He wasn't asked to do much, but he did just enough to win. That win was crucial to securing the East division title and Big Ten Championship, ultimately leading to a berth in the College Football playoff.
Tyler O'Connor was by far the best QB in the spring game this year, showing off some Connor Cook-like gunslinger throws downfield that impressed fans. In that game, he threw for 138 yards and a touchdown on 10-of-16 attempts. In his career, O'Connor is 34-for-54 for 374 yards, four touchdowns and two interceptions.
O'Connor is trying to avoid becoming the next Andrew Maxwell, who took over for Kirk Cousins after sitting behind him for three years. Maxwell struggled connecting with a young receiving core and was the victim of a lot of drops. He threw for over 2,600 yards in 2012, but only completed 52% of his passes.
Maxwell couldn't make the plays needed to win games. O'Connor showed the moxy that Maxwell lacked with his victory against Ohio State last season.
One thing is for sure. O'Connor can't wait to lead the team out on the field this Friday. It's finally his team.
"It's something I've been waiting for, for a long time, and it's finally here," O'Connor said. "This week can't go quick enough."
This article originally appeared on