Michigan State Football: 5 players to watch for vs. Penn State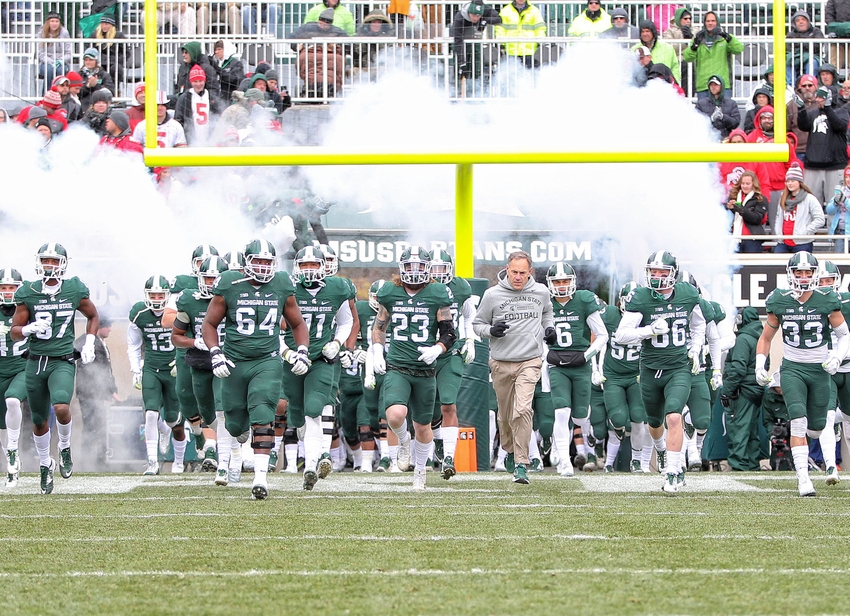 With Michigan State football traveling to Happy Valley Saturday, here are five Spartans to watch for against Penn State.
It has been a long, dreary season for Michigan State football, but Saturday's game can offer a glimmer of hope heading into next season.
Michigan State has been close at times this season and Ohio State coach Urban Meyer mentioned that post-game. The Spartans are not far off from being in the discussion again of the Big Ten elites. They took Michigan to the edge, despite giving up a last second garbage touchdown to Jabrill Peppers. They lost to Indiana and Illinois in close games, yet they looked terrible against BYU and Northwestern.
However, the PSU game offers Michigan State the opportunity to finish strong and send their seniors out with a win despite the sour taste of this season.
Penn State coach James Franklin transformed his offense this year to a no-huddle, because of poor line play. This has proved to be wise, because they are in the discussion of the College Football Playoff. However, it is fools gold, because outside of Ohio State, Penn State has not beaten a worthy opponent. Yes, Indiana is good, but they are not ranked.
The Nittany Lions got slaughtered by Michigan and lost a close one to Pittsburgh. Michigan State has played both OSU and Michigan tough and close. The question is will MSU be able to pull it together again for another tough matchup?
I believe it will, for the seniors, and here are five players to watch for.
5
Robert
Bowers
DE,

Sophomore
Robert Bowers was a surprise start last week against Ohio State and was play was equally a pleasant surprise. He had a half of a sack and five tackles in the game. This is a key game for him, because "if" Malik McDowell goes pro then he could be a starting defensive end next season for MSU. Bowers shows promise with his speed off the edge. The PSU game will be a huge building block for him.
On a side note, I go back and forth on McDowell going pro, because this season has been one to forget. I realize there are certain financial factors for him to consider, however, if he were to come back then that would be a huge boost not just for the Spartans, but for his draft stock in 2018. I am not convinced that he would go top five or even top 10. He would for sure go in the first round.
There are some mock drafts that have him falling and his play and injuries are a major factor. He came to MSU to win championships therefore, if that is the reason then it would behoove him to return.
4
Damion
Terry
QB,

Junior
Damion Terry's career at MSU, like Tyler O'Connor's, has not gone the way he thought it would. He was a celebrated QB from Pennsylvania, however, he has rarely seen the field and battled with injuries. Saturday is his opportunity to stack his claim for the 2017 Spartan quarterback derby.
It has been puzzling why coach Mark Dantonio has stuck with the often ineffective O'Connor over Terry when the season was clearly lost. Obviously, Dantonio and the coaches felt O'Connor had a better command of the offense. However, command of the offense has not always been a good factor for MSU, remember Andrew Maxwell.
To his credit, Terry often comes off the bench cold and struggles with his throws. He almost brought the Spartans back against the Illini, if not for a bad decision to run into defensive line. Yet, he did throw the touchdown that made it close the possession before. He has waited his time and on Saturday Dantonio will give him another chance to show what he can do at some point if does not start the game.
3
Riley
Bullough
LB,

Senior
This will be Riley Bullough's last game in a Spartan uniform.
I am truly going to miss his play and grit. It seems unfair for the senior to go out this way. He was a do everything type of player from running back to linebacker. It is ironic that he and his brother Max would end their careers in disappointment for different reasons. It should not be this way, yet it is a barometer for the Spartans' season.
Often times this season, he has disappeared in the middle of games and that can't happen against the Nittany Lions. He needs to come out strong and finish his career on the highest note possible. No more silly penalties and personal fouls and it would be nice to see him get some pressure on Penn State's backfield.
I anticipate that he will be play lights out against the Nittany Lions. There will be great effort given (as always) to stop Saquon Barkley.
Barkley is chewing up yards at a rapid pace, and Bullough have to be a major factor for the Spartans to be able to slow him down. Also, PSU QB Trace McSorley has made a living off of the play-action pass and big plays. MSU has no choice but to get pressure on him.
2
Justin
Layne
CB,

Freshman
Justin Layne will have to play big if MSU is going to be able to contain the Penn State passing attack. The Nittany Lions hit teams with Barkley runs and then uses hits no huddle offense to wear defenses down and throws up top to one of their three outstanding wide receivers.
However, this PSU team struggled offensively against OSU, but in that game it was its special teams that came up big. Layne will be key in stopping the momentum of the Nittany Lion offense and he has proven to be one of the better defensive backs on the team.
It's safe to say the young kid's future is bright in the Spartans' secondary as he came in as a wide receiver and molded into a starting cornerback by the middle of the year. If he can continue to improve at this rate, he's going to be lock-down.
Justin Layne has been growing as a defensive back and the last two weeks have been his best. Granted they came against Rutgers and a poor weather condition game with the Buckeyes. Layne is tall for a DB at 6-foot-2 and he is one of the fastest Spartans. He will be able to keep up and position himself to make plays in this game.
This will be a high-scoring game, no doubt, about. Layne will need to be the playmaker that he has shown himself to be.
LJ Scott had his best game as a Spartan against one of the toughest defenses in the Big Ten last week. Penn State has won many games with great offense, but its defense, especially its line play has suffered with graduation.
Must Read: MSU Football: 5 bold predictions for November
Scott should have a huge day running the ball. I expect the Spartans to utilize him more in the passing game as well.
The sophomore sensation proved that he could carry the rock and be the player he was hyped to be last week. It was a shame when the game was on the line that MSU choose to pass instead of letting him finish, however, hindsight is always twenty-twenty.
If Scott can have another big day then this will take pressure off of the MSU defense. PSU is a quick-striking offense, therefore, the longer they are off the field the better. Pittsburgh used this game plan and I believe it is the one that MSU should use on Saturday. Give the ball to Scott.
Maybe if Spartan fans say it enough offensive coordinator Dave Warner will somehow hear it. It'll be a fun, close game Saturday and I expect the Spartan offensive line to open many holes for Scott.
This article originally appeared on