Michigan State Football: 5 players to watch for vs. Ohio State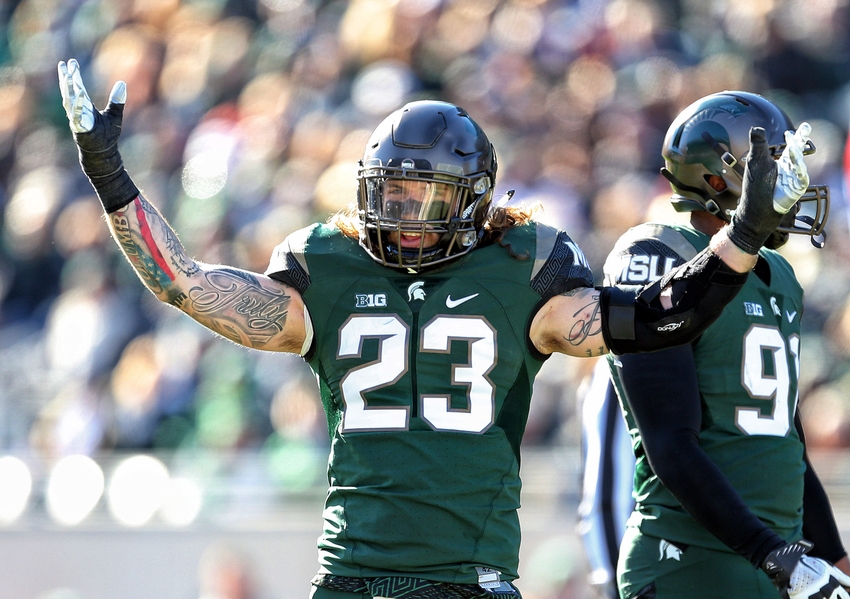 Here are the five Spartans we should be keeping an eye on Saturday during Michigan State football's matchup with No. 2 Ohio State.
The way this season has gone for Michigan State football, the games are barely worth watching anymore. Well, that's what the pessimistic side of the fan base wants to tell you. The Spartans are playing for the future at this point and if you watched the Rutgers game, it's evident that the upcoming years are going to be successful.
The young talent on this team is exceeding expectations and this team might be an 8-10 win squad next season. While it might not seem like a 3-7 team has a bright future, the young guys are gaining valuable experience and will be ready to go in the fall of 2017.
Still, there's plenty to play for this season as Ohio State comes to town on Saturday and the Spartans are looking for an upset. Mark Dantonio will have his guys ready and he even admitted that he never feels that his team is a heavy underdog.
Here are five players to watch on Saturday as the Buckeyes invade Spartan Stadium.
Kicking things off with one of the brightest young stars on the defensive line, Josh King has been solid this season and he's getting the start against Ohio State. The freshman end has recorded 10 total tackles this season, but has surprisingly not recorded a sack.
That might change on Saturday. Standing 6-foot-6, weighing 267 pounds, King has the ideal size to make an impact on the pass and run games for the Buckeyes. He needs to find his way into the backfield more and he will get a shot with Malik McDowell potentially out.
All eyes should be on this kid up front to see if he can hold his own against the top team in the Big Ten. King has worked hard to earn this start and it's time to see if he can live up to expectations early in his career.
4
Justin
Layne
CB/WR,

Freshman
Justin Layne is one of those kids who has really jumped out this season and has become a star, in his own right. The true freshman came in as a four-star wide receiver this summer and was expected to redshirt and contribute on offense next year and even in the return game.
However, poor play on both sides of the ball has forced him into action quicker than he could have imagined and he's playing a position that he probably wasn't expecting to in his first season of action. The freshman is now at cornerback after ranking as one of the 2016 class' top wide receiver prospects.
It seems like Layne has settled in nicely to his new role and he even recorded a pick-six in his second game of action at the position. He picked off Northwestern's Clayton Thorson and returned it to the house, looking like a true cornerback from game one.
Now that he has gained some valuable experience and has taken some lumps along the way, Layne is considered the cornerback of the future for the Spartans. Keep an eye on him Saturday as he will get his second big test of the year, facing off against an explosive Ohio State offense.
As one of the biggest surprises this season, Chris Frey has somehow found a way to ease the pain of losing Jon Reschke after the third game of the year. The junior linebacker has settled into the starting role at outside linebacker and he's playing very well.
With Riley Bullough also playing well, the two have combined for a deadly duo, but inconsistencies with tackling and silly penalties have halted the defense's progress. Bullough is in his final season and he will be passing the torch to Frey and Reschke.
I have no doubt that Reschke will be back and better than ever next season and it's becoming increasingly clear that Frey is going to be right there with him. The first-year starter has been an absolute tackling machine, recording 81 total tackles this season to go along with a forced fumble.
Although he's not blitzing as much as he did last year, Frey has been all over the field and is making very few mistakes. He seems to be in on every play and will need to play with that same reckless abandon against the Buckeyes.
Don't be shocked if the coaching staff draws up some blitzes for him as well.
2
Josiah
Price
TE,

Senior
Although it's been a rough year for this senior class and for the Spartans overall, tight end Josiah Price is quietly putting together his best season yet. Just two years ago, he finished with 374 yards and six touchdowns on 26 receptions and he has already surpassed that catch total this year.
Through 10 games, the senior tight end has grabbed 30 passes for 306 yards and five touchdowns and he could have a big performance against Ohio State in his last home game ever as a Spartan.
Over the last three games, he has 12 catches for 107 yards and two touchdowns, arguably the best stretch during his career. However, he will need to be on his 'A' game Saturday if the Spartans are going to pull off a massive upset.
Tyler O'Connor hasn't been able to go vertical much this season, allowing Price to be one of his favorite targets. The two could combine for some big plays on Saturday, especially if pressure gets to the senior quarterback.
Expect a five-catch, 60-yard game from Price with a touchdown as well. It's his last game at Spartan Stadium and he could make it a good one.
1
Donnie
Corley
WR/CB,

Freshman
Donnie Corley is an impressive talent. In fact, he might be the Spartans best freshman performer this season, ranking second on the team in receiving. He has caught 27 passes for 397 yards and three touchdowns and could be the star of the program's future.
Must Read: MSU Football: 5 bold predictions for month of November
This is the type of game that could make a man out of the kid. He is facing off against the No. 2 team in the country and that comes with big opportunities. The Buckeyes might be paying close attention to R.J. Shelton, but they will definitely also be aware of Corley.
Starting a game like this in the final home contest of the year is big and he has the talent to really put together a special performance. He has been impressive all year long and now that he has been playing some cornerback, he is turning into an all-around elite athlete.
Corley is going to need to be involved on offense in a major way Saturday. The coaching staff needs to make sure he gets the ball as much as possible and he also needs to be in a constant rotation at cornerback.
Watch out for Corley as he could have his best game as a Spartan now that he's playing on both sides of the ball and might even get involved in the return game.
This article originally appeared on