Michigan State Football: 5 breakout candidates vs. Rutgers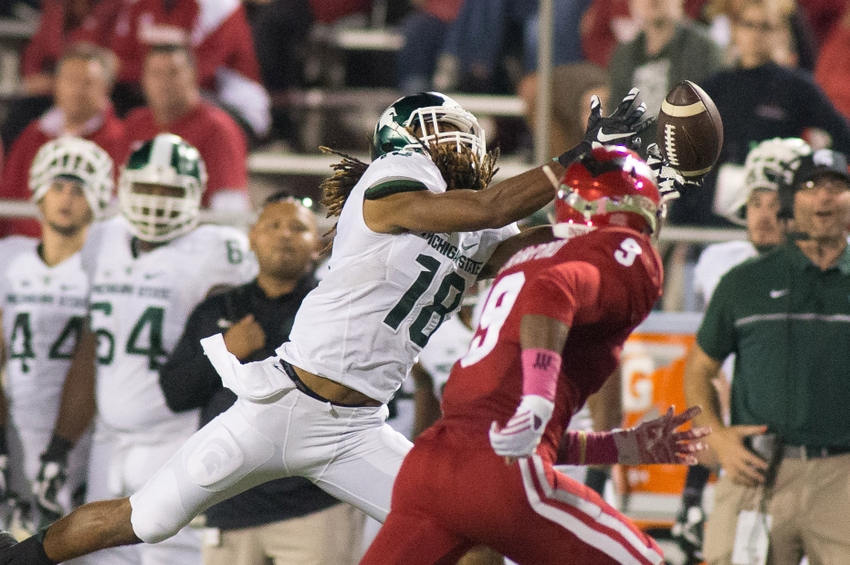 Which five Spartans will have breakout performances when Michigan State football takes on Rutgers Saturday?
There are just three games remaining in the 2016 Michigan State football season and it's pretty clear that the youth movement has begun and will continue into next year. Heck, if it weren't for an injury to Brian Lewerke, he'd likely be the starting quarterback over Tyler O'Connor right now.
Each position group continues to get younger and it's refreshing to see Mark Dantonio looking toward the future instead of trying to salvage a season that was lost weeks ago. The Spartans have a very bright future and, believe it or not, the draw of early playing time might actually help to close out this recruiting cycle.
Positives and negatives can be taken from this season — but mostly the latter. Senior captains haven't been stepping up like many had hoped as Demetrious Cox and O'Connor have had mediocre years. The young guys haven't been breakout players just yet, but with a little more action under their belts, they'll be leading this team in no time.
Which Spartans have the best chance of breaking out on Saturday against a hapless Rutgers team in East Lansing?
5
Thiyo
Lukusa
OT,

Freshman
Last week I had Thiyo Lukusa on my breakout list as well, but he didn't really live up to the hype. He struggled at the tackle position, but not having Kodi Kieler forced him to face more pressure than he would have liked. It was a lose-lose situation a week ago with a struggling Lukusa and a Miguel Machado who couldn't seem to block anyone.
Lukusa will have a much better game against Rutgers this week and he can put behind him the lackluster play against Illinois. The Scarlet Knights aren't exactly known for their pass rush nor ability to stop the run, so expect the freshman tackle to manhandle some defensive linemen.
Michigan State is in desperate need of some offensive line help and Lukusa could be a nice piece for the future. A solid game against Rutgers could go a long way for his confidence and he might just snowball that into next season. A young line with Lukusa and Tyler Higby next year along with veteran Brian Allen will be better than expected.
4
Tyson
Smith
CB,

Sophomore
Tyson Smith really doesn't get as much praise as he should. For a young cornerback, he growing nicely and could be an integral piece to the Spartans' secondary puzzle next year. The sophomore had his best game against Michigan a couple of weeks ago, recording six tackles, but took a minor step back against Illinois.
Well, most Spartans took a step back against Illinois as it seemed like the game against the Fighting Illini was a disaster in many aspects. Still, Smith has some promise and he did fall victim to a very questionable pass interference call last week.
First, he was flagged for pass interference where he just wasn't aware of the situation nor where the ball was and it was an obvious call. However, the next play — on Illinois' final drive — he played the deep ball perfectly and got into position to make an interception, but the Illinois receiver went over his back to break it up.
The referee called Smith for another interference, but it was pretty clear that he didn't realize which guy was on offense. The Spartans suffered two 15-yard penalties on that final drive which led to the Illini's game-winning TD.
Smith will have a nice bounce-back game now that he's filling in for an injured Vayante Copeland as the team's starter at cornerback. It's time for him to grow into the starting role.
3
Felton
Davis III
WR,

Sophomore
With Donnie Corley having a breakout season as a true freshman, Felton Davis III has taken somewhat of a backseat to his fellow receiver. The sophomore wide out was expected to have a big year, but the emergence or Corley as well as Monty Madaris forced him into more of a fourth receiver role.
However, Madaris was out last week with an injury and Davis stepped in quite nicely, catching a season-high six passes for 56 yards. He also added a rush on a reverse, taking it 14 yards for a first down. He showed some versatility and this was the kid we expected to see from the beginning of the season on.
On the year, Davis has just 12 catches for 150 yards and a touchdown, but I can see that number increasing on Saturday with another prominent role in the offense. He will catch a few more passes, adding to his total and breaking the 200-yard mark on the season.
If Michigan State's offense is going to make some strides next year, Davis will need to be a major part of the scheme. He needs to step up and show why he was considered a breakout candidate before the season and put together his best game yet.
Depending on more injuries at wide receiver, he could see more playing time this week and really grow into a go-to receiver role.
2
Raequan
Williams
DT,

Freshman
I've been clamoring for a breakout game from Raequan Williams all season long and have yet to see one. He has the potential to be the next breakout star on the defensive line, but he has been held in check, as has the rest of the defensive front.
Malik McDowell gets all the attention from opposing offensive linemen and it's disappointing to see that the rest of the group can't take advantage of those one-on-ones. Williams has plenty of strength and he just needs to work on his techniques in order to find his way into the backfield on a regular basis.
On the season, Williams has 19 total tackles and 2.0 sacks, which isn't bad for a first-year player, but he can definitely do better. He didn't record any stats against Illinois as it seemed like he wasn't on the field much.
It's pretty clear that Raequan is a better talent than Kevin Williams, but the latter gets starts because of his toughness and veteran leadership. The redshirt freshman needs to claim that starting job for good by the end of the year and never look back.
Rutgers doesn't have the best offensive line and McDowell will get double-teamed each play, paving the way for a guy like Raequan to come in and wreak havoc.
What a season it's been for sophomore running back LJ Scott. He started the year off with over 200 yards combined in the first two games and followed that up with four straight lifeless performances. He responded by going over 100 against both Michigan and Maryland, but suffered a setback against Illinois.
Must Read: MSU Football: 5 bold predictions for month of November
Why can't he seem to put together three consecutive solid performances? Turnovers. The first time he was about to break out, he coughed the ball up to open the second half against Wisconsin and didn't see much of the field again during that game.
Then his carries were cut and he went without 20 carries for four weeks until the Spartans played Maryland and he broke out with 128 yards. He followed that up with 139 yards against a vaunted Michigan defense.
Finally, with a stranglehold on the No. 1 job in the backfield, he had a chance to run all over Illinois, but the offensive line struggled and he fumbled once again only to be taken out for the remainder of the game in lieu of Gerald Holmes.
With a favorable matchup against Rutgers Saturday, expect Scott to come back with a nice performance and put the fumbling issues behind him.
This article originally appeared on