Michigan State Football: 5 breakout candidates vs. Maryland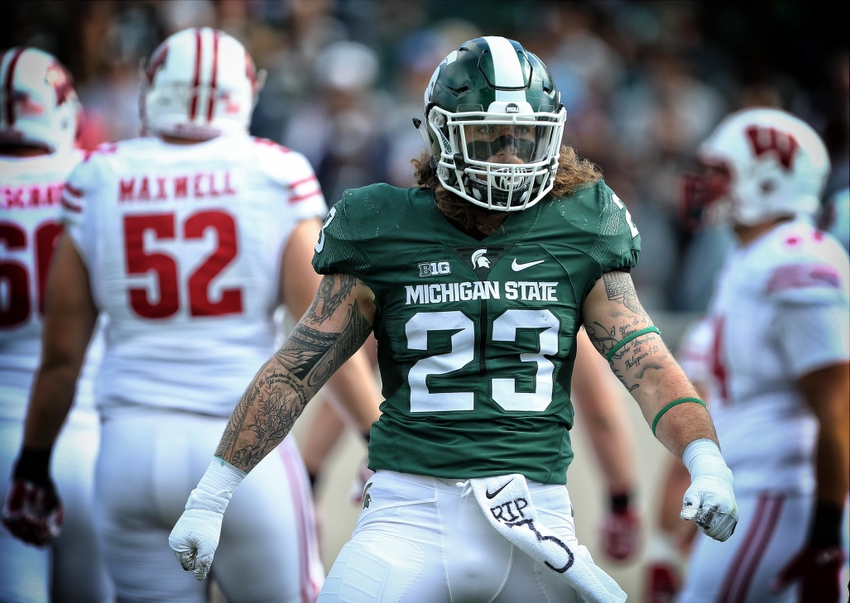 Which five Michigan State football players could have a breakout game against Maryland Saturday night?
Facing a tougher Maryland team than normal, Michigan State football has its work cut out for it, attempting to reach bowl eligibility. A win in crucial in this one and a loss might just end any remaining hope the Spartans had to make a bowl appearance in December.
A win over the Terrapins Saturday night in College Park would go farther for this team than you might think. The confidence lost during a four-game losing streak is immense and one win to stop the bleeding a bit could snowball into two or three or even four victories in a row.
The last contest before the Michigan game looms and the Spartans need to show up to play and get clicking on both sides of the ball before the No. 3 Wolverines come to town next Saturday.
Let's take a look at five players who could break out against the Terrpains.
5
Brandon
Clemons
NT,

Senior
The sixth-year senior might have just two tackles and one for loss this season, but Brandon Clemons was just moved to the defensive side of the ball. Playing most of his Michigan State career as an offensive guard, Mark Dantonio believed that it was time for him to make the switch to a defense that needed a ton of help in the trenches.
Before the season, Shilique Calhoun, Lawrence Thomas, Joel Heath, Damon Knox, Craig Evans, Montez Sweat, Enoch Smith and Cassius Peat all left the program via transfer or graduation and the defensive line was as thin as ever under Coach D.
Now that Clemons is on the defensive side of the ball as the starting nose tackle for the first time this season, you can expect major production from him. He is a big guy, standing 6-foot-3, 302 pounds, and will cause some problems in the middle of the defense. He's going to be tough for offensive linemen to handle, especially since he used to be one of them.
A big game could be coming Clemons' way on Saturday night.
4
Justin
Layne
CB,

Freshman
A few weeks ago, we were talking about how Justin Layne was starting to break the wide receiver rotation and had burned his redshirt to become an offensive threat. Fast forward to the BYU game and he broke in as a cornerback near the end of regulation.
Not only did Layne play a little cornerback to close out that game, likely just testing the waters, but he came out and play a prominent role early in the Northwestern game. Already up 7-0, Layne stepped into Clayton Thorson's throwing lane and took an interception to the house, giving the Spartans a two-touchdown lead.
The atmosphere felt different and it was that youth movement on the defensive side of the ball that could be thanked. Unfortunately, the defense broke down in the second half, allowing 35 points because of its inability to tackle.
However, Layne did stand out as one of the bright spots of the day. Sure, he missed a couple of receivers in coverage, but he's only going to get better with more reps at the position. He is listed as this week's starter ahead of senior Darian Hicks.
Quite a leap on the depth chart for a guy with very little experience at cornerback.
3
Monty
Madaris
WR,

Senior
Monty Madaris got off to a quick start to his senior season in East Lansing. The fifth-year wide out looked like Tyler O'Connor's favorite target in the season-opener, almost to a fault. O'Connor locked into Madaris more often than not instead of going through his progressions.
Still, the Spartans won the game and Madaris was the top receiver, catching five passes for 85 yards, but failing to reach the end zone. For anyone who watched the Spartans' spring game, this was no surprise seeing as he was the major receiver standout from the scrimmage.
Notre Dame posed a tougher matchup for the receiver and he finished with just two receptions for 40 yards, but still showed strong hands and solid route-running abilities. He rebounded against Wisconsin with five receptions for 49 yards.
It seemed like Madaris was growing into that No. 1 or No. 2 target the team needed to find outside of R.J. Shelton, but he has since been passed up by Donnie Corley and, heck, even senior tight end Josiah Price.
Over the last three games, Madaris has just four catches for 40 yards. He has yet to reach the end zone in his Spartan career, but I expect him to bounce back this week with another five-catch performance to go with his first collegiate touchdown.
Michigan State might be on a four-game losing streak with the defense in major struggle mode, but that can't be blamed on Chris Frey. The junior linebacker has taken over as the starter due to Jon Reschke's injury and the inability to get Ed Davis back in full-time playing shape.
While Davis might be nearing full-strength, Dantonio has to keep feeding the hot hand and remain firm when it comes to Frey's playing time.
Each week, it seems like there are two or three guys on defense really giving 100 percent effort. One of those guys is Frey who is always flying around the field and the other two are Montae Nicholson and Malik McDowell. You could argue Riley Bullough has been all over the field, but he has missed three games.
Frey is a nightmare for opponents because he is a potential blitzing linebacker and he reads plays as well as anyone on the team. He is always on top of a screen pass or draw play, and that has to drive offenses nuts.
Although he already has 47 tackles on the season, I expect him to add 10-15 to that total against Maryland on Saturday evening.
1
Brian
Lewerke
QB,

Freshman
There's no question that Brian Lewerke could be in for a monster game if he gets the start against the Terrapins Saturday night. A starter has yet to be named, but Brad Salem said that the coaching staff will decide by Friday.
Must Read: MSU Football: 5 bold predictions for season's second half
Sure, after O'Connor's second-half surge against Northwestern, it's easy to say that he deserves the nod. He passed for over 260 yards through the air with three touchdowns and an interception, but you have to realize that 90 percent of the plays were passes.
In fact, O'Connor attempted 21 passes in just over a quarter and a half, completing 13 of them and he had a couple of long-balls fall in the hands of R.J. Shelton. However, one of them could have easily been an interception but was tipped by the defender into Shelton's waiting arms.
Lewerke was rock-solid, though. The redshirt freshman started his first career game and looked great, completing 12-of-19 passes for 99 yards and a touchdown, even leading the Spartans with 30 rushing yards.
If he gets the start against Maryland, the freshman could prove just why he's the future of this program.
This article originally appeared on