Michigan State Football: 5 bold predictions vs. Rutgers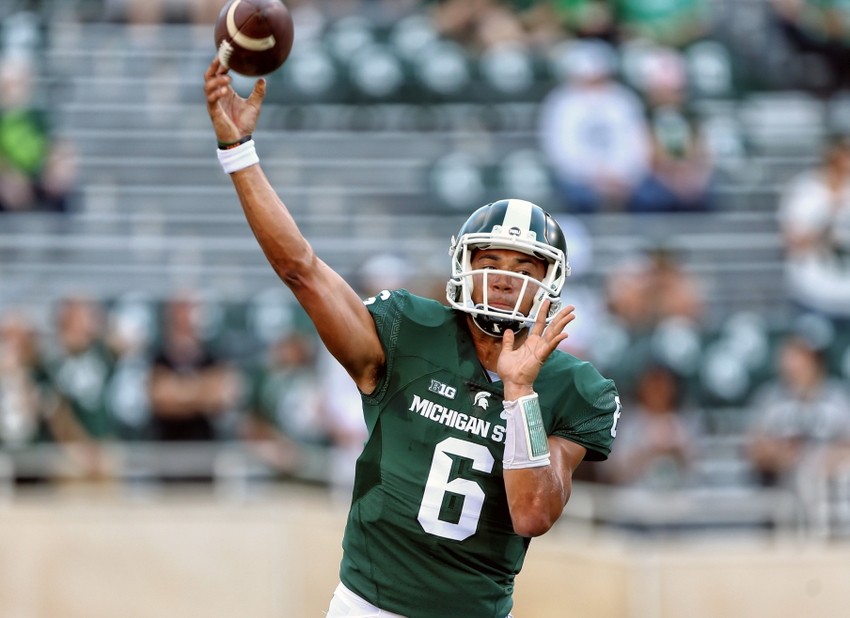 Michigan State football has been struggling mightily this season and the Spartans' best chance for a win might come Saturday against Rutgers.
It has been a difficult season for Michigan State football players and fans, alike, to swallow. However, the Spartans have a great opportunity to snap their lengthy losing streak Saturday.
Rutgers limps into East Lansing on Saturday as it is on a six-game losing streak of its own. Nevertheless, the Scarlet Knights have been playing well as of late with close games against Indiana and Minnesota even though they lost both contests. This one should be a close game that goes back and forth. Giovanni Rescigno is a gamer at quarterback and could give the Spartan defense fits.
The Spartans have suffered a season of all-time lows in the Mark Dantonio era. It's now commonplace to have Michigan fans trolling MSU fans on social media. The players and coaches have been searching for answers, yet they have been eluding them.
This week, Dantonio had an "airing it out session" for players with their position coaches. While this may appear to be a desperate move by a team shrouded in doubt, it might be the very thing that is needed in order for them to move forward.
I still believe in the Spartans and think that they can win Saturday and snap this horrible streak. Here are my five bold predictions for the game.
5. Defensive line will play well
I understand the doubt any reader would have with this season playing out the way it has, but this is a bold prediction piece. One thing that came out of the "air-it-out" talks was the Spartans inability to trust one another, because many players were shuffling around. However, there were some positives from the line play against the Illini. Auston Robertson played well and got some decent pressure on Jeff George Jr.
The defensive line will progress and playing the Scarlet Knights certainly helps because they've given up 24 sacks on the year. Raequan Williams and Malik McDowell (if he plays) should have one of their better games of the season.
The line is young and growing and should progress well in this game against an offensive line that has done little against the pass rush. If there was ever a rebound game for the defensive line, then this is it.
Also, there was a breakdown in fundamentals on the entire defense. Co-defensive coordinator Mike Tressel mentioned this in an interview this week. The line had a tendency to charge up field regardless of down, therefore, the Illini burned them on draw plays. Luckily, these are fixable issues that they can correct.
4. Offensive line will improve
It was troubling last week to watch Miguel Machado get beat badly, which has become a recurring theme for him this season. It was the epitome of the Spartan offensive line's season.
Then Thiyo Lukusa came in and had little success. However, it was Cole Chewins who stepped in and stopped the bleeding on the line. Chewins has been praised by his teammates for his play going back to spring ball. He was brought in to someday be the "heir apparent" to Jack Conklin.
While he is still undersized in his weight, he does play well when given the opportunity. He provides the Spartans with a bright future.
Much of the issues this season has been the injuries and inconsistency with the offensive line. Machado was supposed to be the next Fou Fonoti, a junior college player who would blossom in the Big Ten — that hasn't been the case.
I believe the Rutgers defensive line will be more manageable for the Spartans and give them the confidence that they have been searching for all season long. MSU had many good drives against the Illini, but it must stay away from the penalties. The penalties killed many good drives last week.
If this line can trust one another then they can finally come together as a unit.
3. Donnie Corley will have a breakout game
Donnie Corley is going to play both ways in this game and it appears that he is destined for greatness. Even the Michigan Wolverines were astonished with his ability after the rivalry game. He has been largely hidden on offense this year because their struggles. However, he will present a matchup nightmare for Rutgers' QB Rescigno because of his speed and height.
Tyler O'Connor has missed the young receiver on a few deep balls this season and many are hoping that's not the case Saturday. He has the ability to burn defenders down field and he should have no problem doing that against Rutgers.
Defensively, he's just easing into the system and even had his number changed from No. 9 to No. 29 so he can play on that side of the ball more. Expect to see him get a few more snaps at cornerback and play well.
Dantonio and Co. will get Corley involved early and often in this game, which is something they have not done for a few games in a row now. Corley possesses that game-changer ability and yet the offense's ineptness has been the Achilles' heel.
Corley should get free on some quick hitting slants and wide receiver bubble screens. Rutgers is not a great tackling team and MSU should exploit that.
2. Damion Terry will seize the starting job for rest of 2016
I was surprised, like many, to read that O'Connor was resuming snaps as the starter. Yes, he was injured in last week's game, however, the jig is up. Everyone knows what type of player O'Connor is. With the injury to Brian Lewerke, it's time that Damion Terry is given the keys to start the rest of the season to find out what type of player he can be.
Terry has missed on some throws badly but he needs the repetition in practice as well as the confidence from his coaches to start the rest of the way. I believe O'Connor will start this game, but Terry will come in at some point. Terry does make more plays with his legs than his arm. But does that matter at this point?
It's a 'pick your poison' for the MSU offense. Both quarterbacks haven't looked very good for much of the season. However, at this point it's worth giving Terry a strong look.
The junior mentioned that throwing his first touchdown last week was amazing and a boost to his confidence. He had not thrown one since 2012. It's only fair to Terry that MSU work with him in order to see if he can compete for the starting job in 2017 — although that's a long-shot.
Besides, Spartan fans have at this point seen enough of O'Connor. Yes, we thank him for all he has done for the program, but this game is about the future not the present.
1. Gerald Holmes will take over the starting RB job
It feels as if I write a story about LJ Scott taking control of the starting running back then he has a bad game and it's Gerald Holmes. However, Holmes has run hard all season. Scott certainly has more talent, but Holmes gives 100 percent effort every play. He keeps his feet moving on every play.
Must Read: MSU Football: 5 bold predictions for month of November
I understand the offensive line woes have played a huge role in Scott's poor play at times, yet he has coughed up the pigskin in key moments in games. If not for those fumbles against Wisconsin and then last week against Illinois, the job would easily be Scott's to lose.
However, has Dantonio seen enough of the young sophomore's inability to hold onto the ball in key situations? It seemed that way when he was removed from last week's game after losing it in the third quarter. The announcers hinted at a possible injury, but everyone in Spartan Nation knew that it was because he didn't protect the ball.
Last week was Scott's opportunity to seize the starting job and yet he fell short. It was Holmes who came in and rejuvenated the running game. It is time the Spartans give the Junior running back a chance to take control. Holmes has run hard despite the line.
This article originally appeared on