Michigan State Football: 5 bold predictions vs. Notre Dame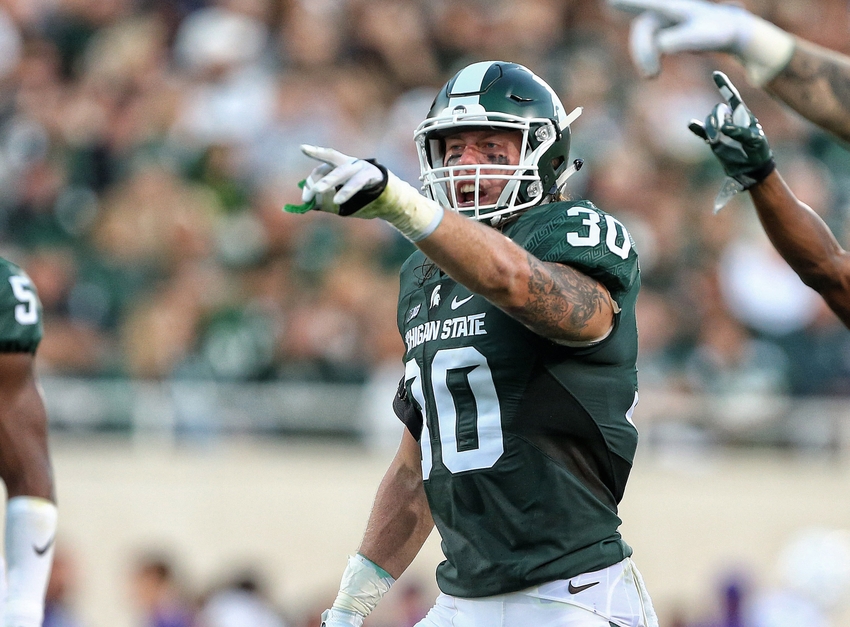 Take a look at our five bold predictions for Michigan State football's Week 3 matchup against No. 18 Notre Dame.
Michigan State football is getting ready for its biggest game of the season to date. OK, it's only the Spartans' second game of the year so it's obviously the toughest so far, but the matchup with No. 18 Notre Dame in South Bend might end up presenting the toughest test until October or November.
The Fighting Irish are trying to make a comeback after an upset defeat in the season opener against Texas while Michigan State is 1-0 after a Furman victory and a bye week.
Mark Dantonio knows just how important this game is for his team. After a lackluster performance against Furman, this might serve as a confidence-booster moving forward — as it should. If the Spartans win, they'll improve to 2-0 on the season and likely jump into the top 10 while Notre Dame would almost assuredly drop from the rankings.
However, a Michigan State loss would be crucial, especially with ninth-ranked Wisconsin next up on the schedule. Let's take a gander at our five bold predictions for Saturday's game in South Bend.
5. Darian Hicks has breakout performance
Darian Hicks defended three passes against Furman and it was obvious Paladin quarterback P.J. Blazejowski was targeting the senior cornerback's side of the field. He was avoiding Vayante Copeland and making it a point of emphasis to test Hicks early and often.
DeShone Kizer and the Fighting Irish are going to look at game tape from that game and notice the same thing. If he can throw to Hicks' side of the field, the cornerback will likely get flagged for pass interference a couple of times and give Spartan fans flashbacks to 2013 when Michigan State lost to Notre Dame in South Bend thanks to a handful of questionable PI calls.
However, I just have a feeling Hicks is going to step up to the test and prove his dozens upon dozens of doubters wrong. There are people who believe he's a solid corner and there are plenty of others who think he's not skilled enough.
That's been swirling around in his head since the Furman game and he's going to shut up the critics with a big game, including an interception.
4. Josiah Price leads the team in receiving
How crazy is it to think that a player who has never had more than five catches or 83 receiving yards in a single game can lead the Spartans in receiving? It's not that unbelievable when you realize that player is senior tight end Josiah Price and he has the potential to put up big numbers.
Price is coming off a subpar opening game against Furman in which he was flagged a couple of times, one for unnecessary roughness, and caught just one pass. That one catch, however, was a 21-yard touchdown reception which extended the Spartans' lead over the Paladins.
Tyler O'Connor is entering his third game ever as Michigan State's starting quarterback. He's not yet a deep-threat quarterback like Connor Cook was, which might end up turning his passing attack into short and intermediate routes. Usually tight ends stay within 15-20 yard routes, at most, which could bode well for the senior.
It's about time Josiah realizes just how talented he is and puts a full game together against a top rival. With a depleted Fighting Irish secondary and linebacking unit, the senior tight end should finish with a career-high in both catches and yards.
3. Tyler O'Connor puts up 275 yards, three TDs
Tyler O'Connor is already coming off his best game as a Spartan. Starting for just the second time ever, the senior quarterback completed 13-of-18 passes for 190 yards and three touchdowns. However, his interception almost proved to be a devastating one because it came in Michigan State territory with the Spartans only up one score in the fourth quarter.
That was cancelled out by a huge pick by sophomore linebacker Andrew Dowell and Michigan State extended the lead to two scores and didn't look back. Still, that may have shaken some sense into the fifth-year gunslinger.
O'Connor has seen what a successful quarterback looks like at Michigan State as well as a not-so-successful one. He's been on the team through the ups (Connor Cook) and downs (Andrew Maxwell). He's trying to be more like his predecessor who became the school's all-time leading passer and winningest QB in MSU history and could do so against Notre Dame.
Cook actually had his first true start against the Fighting Irish back in 2013 and he came out on the losing end, finishing his career 0-1 versus Notre Dame. O'Connor will have a much better showing, but a win isn't a guarantee if he has a good game.
Expect O'Connor to pass for 275-plus yards and three touchdowns against a struggling Notre Dame secondary that has been the subject of suspension and injuries to start the season.
2. LJ Scott will struggle on the ground
Coming off just his second 100-yard rushing game ever, LJ Scott has taken over the No. 1 running back duties for the Spartans which could take some pressure off him moving forward. No longer is he in a three-man battle for the starting job with Madre London and Gerald Holmes, but Scott is alone on top of the depth chart.
The sophomore sensation ran the ball 20 times for 105 yards with a touchdown against Furman and looked like the real deal. He was breaking tackles left and right and showed just why people have been comparing his talents to those of Le'Veon Bell.
Javon Ringer gashed Notre Dame's defense for 200-plus yards and two touchdowns back in 2008 and he's now on the coaching staff as a recruiting intern. He gets to speak with guys like Scott on a regular basis and give them pointers. With Ringer in his ear, talking about what to do in order to have success against a team like Notre Dame, the young back should have a big game, right? Wrong.
Yes, Scott is the best running back on the team and might end up being the top rusher in the conference before the season is over, but he is 200 yards away from reaching the 1,000-yard mark for his career and he won't achieve that against Notre Dame this week.
With a tough Irish run defense, the sophomore will be stymied on the ground, especially because the Spartans' offensive line is still looking for its identity. He will finish with no more than 75 yards on 20 carries and a touchdown. Not exactly a big game for a future superstar.
1. DeShone Kizer runs wild, Notre Dame wins
In one of the more grim predictions, much like the previous one, DeShone Kizer is going to have a big game on the ground for Notre Dame, acting as the difference between the teams. Kizer has the ability to tuck and run with it when he's under pressure, and I can see him doing a lot of that against MSU.
Must Read: MSU Recruiting: 5 bold predictions for month of September
In year's past, the Spartans have contained dual-threats in the run game. Guys like Braxton Miller, Devin Gardner, Denard Robinson, Tommy Armstrong Jr. and J.T. Barrett last year have all been held in check under Dantonio's watch, but Kizer is much bigger and stronger than those guys — at least most of them.
Kizer has 112 yards and two touchdowns on 23 carries this season, including a 77-yard performance against Texas. Michigan State's defensive front struggled to get pressure on Furman, but I believe that will change in this one, but over-pursuing from the edge will lead to open running lanes for Kizer.
The junior quarterback will finish with over 100 yards on the ground but his aerial attack won't be nearly as successful. He will finish with a passing touchdown to go along with a couple running scores as Notre Dame wins another instant classic.
Notre Dame takes this one, 34-31.
This article originally appeared on