Michigan State Football: 5 bold predictions vs. Furman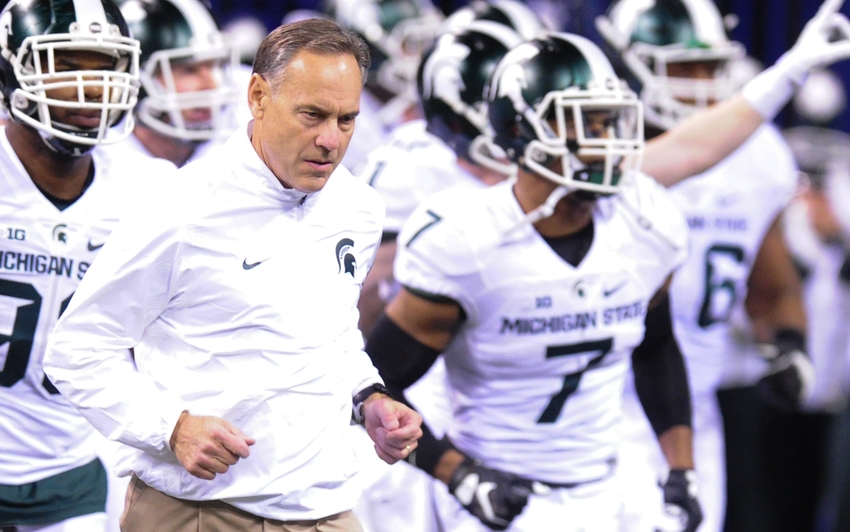 Michigan State Football will open the season Friday night against Furman, and here are our five bold predictions.
The start of the 2016 Michigan State Football season is just a few days away. After months without football we will finally have it back. Training camp is over. The players are tired of hitting each other. The 'No Fly Zone' will be back in full effect.
The Spartans open the season against Furman on Friday night in what should, and hopefully will, be an easy victory for Mark Dantonio and Co. The expectations are high for the Spartans themselves, but if you go around and talk to national media members, they'd tell you Michigan State is in for a rude awakening.
Will Michigan State prove the doubters wrong once again and make a run at back-to-back Big Ten titles? It would be Dantonio's first back-to-back since taking over in 2007.
There are a lot of easy predictions that I could make. The Spartans will win, Michigan State will out-gain Furman. Those are all boring and way too easy make. I offer up five bold predictions for Friday night.
5. All three running backs will score a TD
To some, this may not seem like that bold of a prediction, but having three different running backs score a touchdown in the same game is rare. All three backs will see a lot of playing time and each get their shot to showcase their skills.
Each running back has a different skill set.
LJ Scott is the power back with underrated elusiveness. Madre London is the speed back. and Gerald Holmes is a combination of the two. The running game is going to be a strength for much of the season with the Spartans breaking in a new quarterback and a host of new receivers.
Don't be surprised if the Spartans rush for over 250 yards total. Scott will separate himself as the No. 1 running back after this one.
4. Malik McDowell will record three sacks
Malik McDowell is going to be a household name throughout the country by the time the season is over — he's that good. With his size and strength he has the ability to overpower any offensive lineman that he will face this season. Furman will not be able to stop McDowell from living in the backfield all night long.
Coming into his Junior season many of the NFL draft experts predict McDowell to be a first round selection, which would be the fourth consecutive Spartan taken in the first round. McDowell has the ability to become an All-American and this performance will propel him to that status.
Against a clearly inferior Furman offensive line, the Spartan defensive tackle will attract many double-teams as well as more attention than any other defensive lineman. While this may open up the opportunity for guys like Kevin Williams, Raequan Williams, Gabe Sherrod and Demetrius Cooper to wreak havoc, he will do some damage of his own.
McDowell is going to make his way into the backfield three times as Furman will be passing for most of the game, trying to play catch-up. He'll finish with three sacks and add five-plus tackles for the Spartans Friday.
3. The defense will record a touchdown
Michigan State is known for having a strong defense year after year. The defense this season should be no different. The defensive line is talented and deep but also very young, the linebackers will be one of the best units in the country led by Riley Bullough and the secondary will be much improved with a healthy Vayante Copeland back to hold down one of the starting cornerback positions.
Last year, when healthy, RJ Williamson found ways to be in the right place at the right time. I guess he has done that over the last few seasons, but now that he's gone, it will be up to guys like Demetrious Cox, Darian Hicks or Montae Nicholson to get into the end zone on a fumble recovery or interception return.
Don't rule out the linebackers and defensive line, though. McDowell even had a pick-six last season and Bullough has the potential to make his way down the field for a touchdown. So who will be the one to make the big play leading to a defensive touchdown?
Whether it is a fumble recovery or a pick-six, the defense will find the end zone on Friday night.
2. Donnie Corley will emerge as a star
The heralded true freshman from Detroit Martin Luther King was an early enrollee and that has paid off. Corley has all the skills to become a reliable and dominant receiver in East Lansing. He may not start the game on Friday night, but he will see the field often and will showcase why he was so highly touted.
Already assuredly set to see action on Friday night, Corley will give Spartan Nation a taste of what the coaching staff has been so high on all offseason. Being with a program for a whole semester longer than the other freshmen, with the exception of a handful, gives a guy like Corley a leg up on the competition.
While R.J. Shelton, Monty Madaris and Felton Davis III are listed as the three starters, Corley will definitely see some action and catch a few passes — maybe even a long-ball — on his way to stardom in a Michigan State uniform. Fans will see the future of Michigan State's receiving corps.
Coach Dantonio has stated that Corley is the only freshman that is guaranteed to see the field on Friday night. I expect Corley to have himself a good game and continue to build on his early success throughout the season.
1. Tyler O'Connor will quiet the critics
All offseason, all we have heard from the national media is that the Spartans will take a step back this season because Connor Cook is no longer on the roster.
Must Read: MSU Football: 2016 season preview and prediction
Those inside the program know and believe that O'Connor can lead this team to their goals. This is the same guy that led the Spartans into Columbus and left with a victory last season. His numbers may not jump off the page right away, but he will prove that he will be a reliable quarterback that can lead his team to Indy.
Michigan State's offense might seem like it's taking a step back, on paper, but O'Connor will put to ease the minds of countless fans ready to write the Spartans off. He has a solid arm and he's cool under pressure, as he proved last season against the Buckeyes.
Dantonio wouldn't entrust someone to be the starting quarterback with two or three other viable options already unless he knew he was good enough to lead a team that finished in the top six in each of the past three seasons.
O'Connor is going to have a heck of a premier for the Spartans.
This article originally appeared on