Michigan State Football: 5 bold predictions for season's second half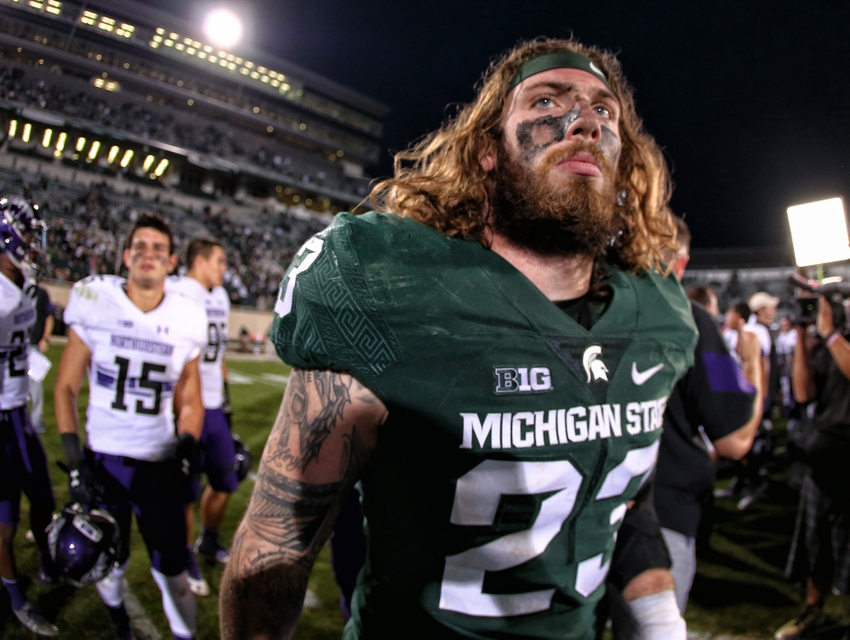 Michigan State football is halfway through the 2016 season, so let's take a look at five bold predictions for the second half.
If you're a fan/follower of Michigan State football, you have probably been disappointed for the entire 2016 season, outside of the Notre Dame game. The Spartans haven't played up to par and Mark Dantonio has taken the blame for the recent four-game losing streak to close out the first half of the year.
Six games in, Michigan State is just 2-4 and looking for answers. The coaching staff has admitted that there are no 'simple' fixes, but there was a spark against Northwestern that the team needs to turn into a full-blown fire.
The offense made a comeback against the Wildcats last week, but the defense took a major step back, even with the return of Riley Bullough. However, for as long as Jon Reschke is out, this defense might struggle. Chris Frey has done a great job, though.
With half a season left to play, the Spartans will likely need to go 4-2 to make a bowl game, which is possible. Rutgers, Illinois, Maryland and Penn State all need to be wins for this team and it could really shock the world if it can knock off Michigan or Ohio State.
Here are five bold predictions for the season's second half.
5. Justin Layne breaks out, remains starter
In his first real action as the Spartans' top cornerback opposite Vayante Copeland, true freshman Justin Layne played well. In fact, he recorded a few tackles and made some plays on the ball, but his highlight moment had to be the pick-six in the first quarter.
Layne's touchdown made it 14-0 Michigan State, but the Spartans couldn't hold the lead and the defense looked to crumble in the second half. Still, he provided a spark to that side of the ball and played well enough to earn the starting spot this week.
The first-year player still has plenty to learn at the position seeing as he's converting from wide receiver, but he didn't look too bad in his first action. You can bet he will be working his butt off all week at practice to fix the mistakes he had against Northwestern and he'll be better for it.
This kid is talented and he's about to take over as the starting cornerback of the future for Michigan State.
4. Malik McDowell averages a sack per game
With six games left on the schedule, I'm going to say that Malik McDowell does his best Shilique Calhoun impression at defensive end and records at least six more sacks this year.
Why do I say defensive end when McDowell is a defensive tackle? Well, Dantonio made some changes on the latest depth chart and moved the former five-star end to his natural position. This may work in his favor and I wouldn't be surprised to see him dominate against tackles and tight ends for the remainder of the season.
If you watched any of the Northwestern game, it was pretty clear that he was on a mission to give the offensive line nightmares. You can bet the Wildcats' offensive line is happy they don't have to see him again seeing as he accounted for 11 tackles and 0.5 sacks. Those are video game-like numbers for a defensive tackle.
Now that he's on the end, the chances of him getting double-teamed diminish, but so does the frequency of outside runs by opposing running backs and quarterbacks. No one is going to try and test the outside against Malik.
The star junior is going to have a big second half of the season, and it was sparked by his performance against Northwestern.
3. LJ Scott reaches 1,000 yards
LJ Scott got off to a heck of a start to the 2016 season. He opened with a 105-yard performance against Furman and followed that up with 98 yards against Notre Dame. Since then, his highest rushing total has been 61 yards and he hasn't reached the end zone.
Sitting at just 336 yards and two touchdowns halfway through the season, it might seem like LJ Scott is way off the pace for even his rushing total last season. The sophomore finished with 699 yards and 11 touchdowns as a true freshman, and his workload has decreased over the past few weeks.
In the two games in which Scott rushed over 20 times, the Spartans won and he reached the end zone. In the four games in which he has under 20 carries, Michigan State is 0-4. OK, so that might be a misleading correlation, but it also might not be.
Scott needs to get the ball more and he has rushed just six times combined over the last two games for 34 yards. That's an unacceptably low mark for a player who has the potential to be the top running back in the Big Ten. Although a lot of the struggles in the Spartans' run game have to do with a lackluster offensive line.
The second-year starter will close out the season strong and finish with 1,000-plus yards.
2. Brian Lewerke takes over as long-term starter
This one shouldn't be much of a shock if you've followed the Spartans so far this season or have even come to Spartan Avenue for your weekly news. Brian Lewerke should be the starter of this football team for the rest of the season and the next couple of years.
Sure, you can look at the second half of the game against Northwestern and say that Tyler O'Connor played well enough to win his job back, but what is that doing for the future? He passed it 21 times in the second half and took some shots down the field, but the scoring seemed to be desperation-driven.
A couple of his long-balls were under-thrown, even the first touchdown pass he threw to R.J. Shelton was a poor lob which was tipped by the defender into the receiver's hands. He also under-threw Donnie Corley later on with an attempted jump ball which was picked off.
Lewerke finished the game 12-for-19 with 99 yards and a touchdown pass. He also led the Spartans with 30 rushing yards, including an impressive 24-yard scamper. This kid just brings more excitement to the table and the team already believes in him as a redshirt freshman.
Dantonio will realize it's time to look toward the future and build a strong base, starting with a talented quarterback. Lewerke will exceed expectations as the starter in the second half of the season.
1. Michigan State makes a bowl game
Call me crazy. Go ahead, do it. Michigan State is going to make a bowl game this season after a 2-4 start.
Must Read: MSU Football: 5 biggest disappointments of season's first half
Hear me out, though. The Spartans have six games left and two of those are against opponents ranked in the top-five. It's usually teams that have nothing to lose who play better under the high-pressure situations. Michigan State will have nothing to lose against the Buckeyes and Wolverines and might record an upset in one of those games.
The Spartans will need to record a win against Maryland this weekend to get the ball rolling, however. Beating the Terrapins on the road could do more for this team's confidence than you might think.
That would make Michigan State's record 3-4 entering rivalry week against the Wolverines. If the Spartans can at least keep that one close, they will be able to build even more confidence for the following games against Rutgers and Illinois, potentially pushing their overall record to 5-5 before the Ohio State game.
Ohio State is a tough team and has a better chance to beat the Spartans than Michigan does, but a 5-5 Michigan State team could worry the Buckeyes. Playing for their postseason lives, the Spartans might come out firing and put major pressure on J.T. Barrett and the Buckeyes like they did last season.
Even with a loss, the Spartans would drop to 5-6 before the Penn State game and an angry Michigan State team would run away with a win in Happy Valley nine times out of 10.
Michigan State will finish 6-6 and effectively end the James Franklin era in Happy Valley all at once. Technically, the Spartans could finish 5-7 and still make a bowl.
Either way, this team is going bowling.
This article originally appeared on