Michigan State Football: 3 things we learned vs. Ohio State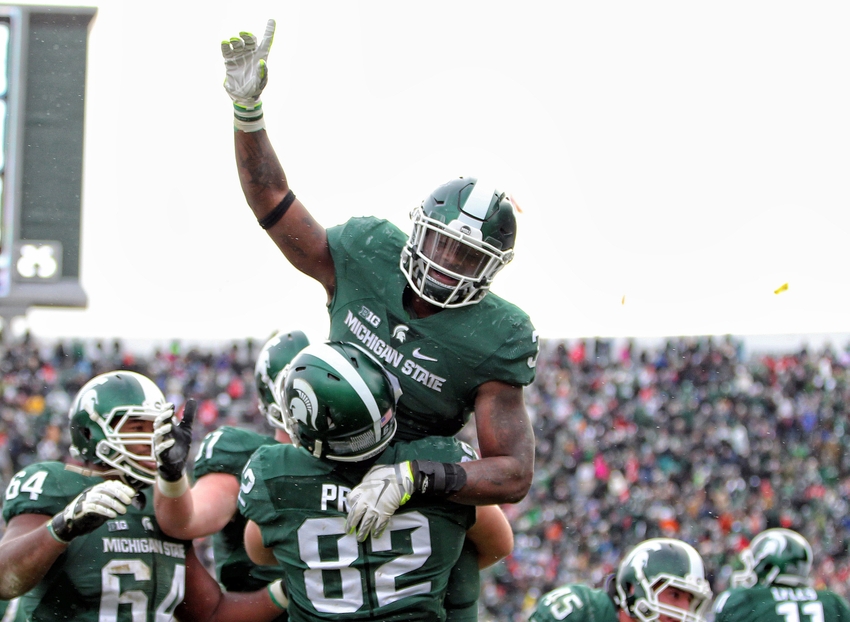 Here are three things we learned from Michigan State football's loss to Ohio State on Saturday afternoon.
Losing to Ohio State on Saturday was almost expected for Michigan State football. However, the Buckeyes didn't blow the Spartans out like many thought they would. The line was 22 points in favor of Ohio State before the game, but the Buckeyes won 17-16.
Must Read: MSU Football: 5 bold predictions for month of November
The Spartans showed a ton of promise and even had a chance to win, but Mark Dantonio made a gutsy call to go for two with five minutes left, but Tyler O'Connor threw a pick. It's safe to say that if this team had a solid starting quarterback all season long (AKA Brian Lewerke or Messiah deWeaver) then it would likely be bowl-bound.
O'Connor was one of the main reasons why this team struggled on offense and ultimately led to a loss. He couldn't find his touch all game long, passing for 105 yards and a touchdown with two picks on 6-of-16 passing.
Besides the fact that O'Connor has been the Spartans' main downfall, what other three things did we learn from the slim Senior Day loss?
1. LJ Scott is the real deal
Clearly the coaching staff is aware who the team's top running back is and LJ Scott has been getting the bulk of the carries over the past few weeks. He finished with 19 rushes for a career-high 160 yards and a touchdown against a tough Buckeyes defense Saturday.
This is the second time he has faced an elite defense and has come away with a 100-plus yard performance. He added two catches for 76 yards and a touchdown as well. He's proving to be the real deal and he's living up to the high expectations bestowed upon him before his freshman season. Scott is just 65 yards away from becoming the latest Spartan 1,000-yard rusher.
2. Defense is getting much better
The Spartans did struggle a bit to slow down J.T. Barrett and Mike Weber on the ground, but they did find a way to contain the explosive Curtis Samuel. The team's top receiver and second-leading rusher finished with just 53 total yards. Michigan State's secondary only allowed 86 passing yards to the conference's best quarterback and the Spartans' pass rush looked much more impressed. In fact, Michigan State finished with three sacks, five tackles for loss and seven QB hurries.
3. This team will be stronger next season
It's hard to overlook this poor season, but the Spartans have a bright future. Fans from around the conference might glance at the Spartans' record this season and claim that the future looks grim for Mark Dantonio's squad, but it's quite the opposite. Young players are getting valuable experience and they even showed off on Saturday.
Mike Panasiuk made an impression on the defensive line as did Josh King and Raequan Williams. Cole Chewins was solid on the offensive line and Tyler Higby was, too, before his injury last week. Donnie Corley and Trishton Jackson are talented receivers. Justin Layne is a budding star at cornerback and Corley, too. Next year will be a nice rebound season.
This article originally appeared on