Michigan State Football: 3 things we learned from Illinois loss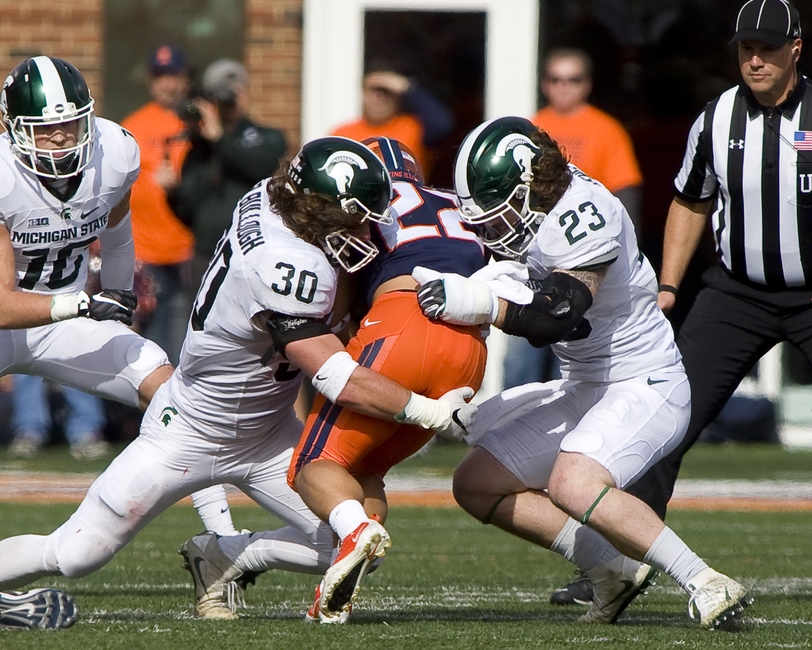 What three things did we learn about Michigan State football on Saturday against Illinois?
The time has run out on the 2016 season in terms of Michigan State football making a bowl game. The Spartans need to win out to have a chance, but with No. 6 Ohio State and No. 12 Penn State left on the schedule, the chances of that happening are very slim.
Must Read: MSU Football: 5 bold predictions for November
It's been a rough year for Mark Dantonio and his team that has been in every single game that it has played this season. In fact, Michigan State has yet to truly get blown out other than the loss to Wisconsin, but they were winning in that game at one point.
Michigan State is searching for answers, but it might be time to focus on the 2017 season with all of these young guys in place.
Let's take a look at the three things we learned from the Spartans' seventh straight loss.
1. LJ Scott has ball security issues
For the second time this season, LJ Scott coughed up the ball in the second half to give the Spartans' opponent momentum. The Spartans were driving but Scott fumbled it and they were forced to play from behind the rest of the game. Looking back, the same thing happened against Wisconsin to open the second half. If those fumbles don't happen, the final scores may look very different.
Scott didn't see the field much for the rest of the game.
2. The offensive line took major steps back
After a strong performance against Michigan's elite defensive line, the Spartan offensive line looked sluggish against Illinois. Tyler O'Connor was taking hit after hit and when he went out, it was Damion Terry that was running for his life. Miguel Machado had arguably the worst game of any Spartan lineman this year and his job should be up for grabs this week.
3. Offseason QB battle will be between deWeaver, Lewerke
No disrespect to Damion Terry intended, but he's just not going to be the quarterback of the future for this team. He is a gifted athlete, but he would be better off at a different position. He did play well in relief of O'Connor, throwing the game-tying touchdown pass late in the fourth, but he also ran up the middle for no gain on a 4th-and-3 to end the game. Just not a heads up play and Dantonio will surely give the younger guys a go.
This article originally appeared on