CFB AM: Urban Meyer threatens his Buckeyes if they fight Michigan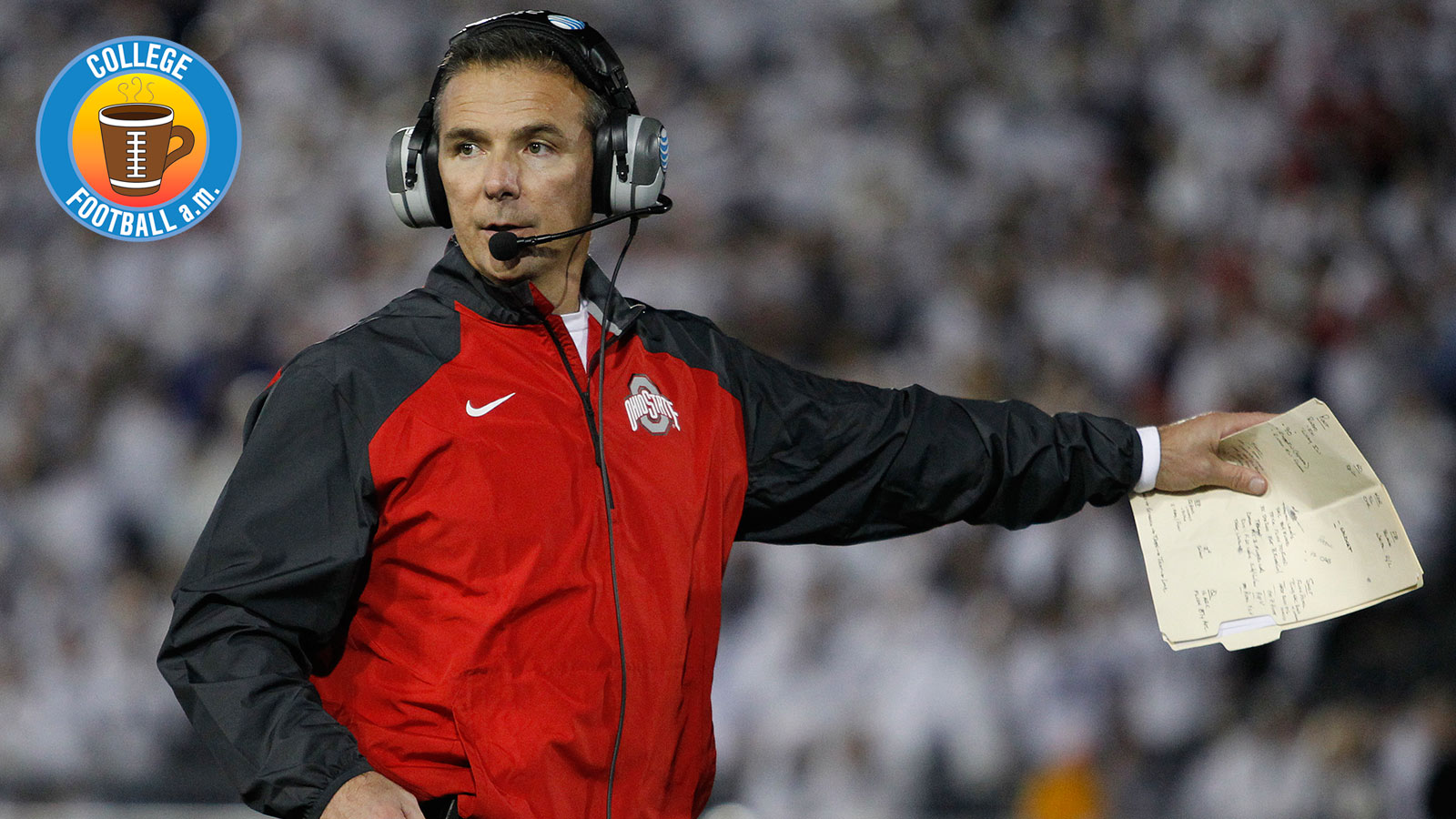 Last season, Ohio State running back Dontre Wilson and offensive lineman Marcus Hall were both ejected for fighting in the Michigan game and Hall ended up being suspended for the Big Ten title game, which the Buckeyes lost to Michigan State.
Urban Meyer is making sure there will be none of that this season.
Meyer has warned his players that there will be serious consequences to pay for fighting the Wolverines this week, which apparently could include dismissal from the program.
"He wants the game to be very intense, but if anybody throws any punches this year, we're dismissed," linebacker Curtis Grant told reporters. "You know he pretty much put it out there [Sunday], so there's no telling what will happen if you get into a fight this year. We've got to be on our best behavior."
Fighting comes with an automatic ejection from the officials, so it would seem Meyer isn't talking only about being dismissed from the game.
"I had a talk with our team about that, and absolutely no case for that," Meyer said regarding fighting. "Intensity? Absolutely. There's a certain mentality we need to take to this field, but that's not acceptable. That's not the way we play the game, and I think a lot of lessons were learned. We went without one of our key linemen in the [conference] championship game the following week, and we played a game without two or three good players. That was a very strong conversation in the team meeting."
Said senior Michael Bennett: "The biggest thing is to make sure that you play with emotion, but you don't let that trickle over and you [don't] throw a punch and jeopardize your teammates. We have to learn how to control that kind of stuff, channel that emotion that goes into that game because everybody wants to be in that next highlight video fighting somebody, but that doesn't help anybody. It's a fake tough-guy thing."
Curious: Will blasting LL Cool J's "It's Time For War" at practice help or hurt Urban's mission to keep his players from fighting?
Hey, just an honest question.
THREE THINGS YOU NEED TO KNOW
1. The new College Football Playoff rankings came out Tuesday night, and there wasn't much to discuss. The top seven stayed in the same order, with UCLA moving up to No. 8. The most notable thing is that two Group of 5 teams finally cracked the top 25 – Boise State at No. 23 and undefeated Marshall at No. 24.
2. The Biletnikoff Award – honoring the nation's best wide receiver – announced its three finalists for this year. Alabama's Amari Cooper, West Virginia's Kevin White and Colorado State's Rashard Higgins are the three names still in the running. Higgins leads the nation in yards (1,447) and touchdowns (15), while Kevin White leads this trio in catches (98) to go along with 1,270 yards and nine TDs. Cooper has comparable numbers to Higgins and plays on a much better team: 90 catches (13 more than Higgins), 1,349 yards and 11 TDs. I bet Cooper becomes the first Crimson Tide to win the award.
3. There's a report out there now that Oklahoma's Bob Stoops, Oklahoma State's Mike Gundy and Notre Dame's Brian Kelly are no longer candidates for the Florida job. This comes days after there was a report that Gundy was "pursuing" the job. Here's my general opinion on coaching carousel season: Not many people know much at all until a decision is imminent. Agents float lots of things to reporters to try to gain leverage for their clients in negotiation with their current schools, and schools float lots of things to reporters about who they may or not be pursuing to gain some leverage for themselves and to disguise who they are really going after. It's hard to know what's actually true among the rumors. So I really have no idea if Stoops and Gundy are no longer candidates for the Florida job – it would be seem to be pretty early to cross guys of that caliber off the list officially. But just passing along the report.
THREE THINGS YOU SHOULD KNOW
1. Ohio State defensive end Noah Spence has been ruled permanently ineligible by the Big Ten, meaning he won't play for the Buckeyes this year and has two years of eligibility remaining but may have to play those in a different conference. Spence was suspended from Ohio State for another failed drug test earlier this year.
2. Bruce Feldman and Stewart Mandel have a new edition of The Audible, where they discuss Mississippi State and why the Bulldogs will be the most talked about team in the next couple weeks, plus much more. Give it a listen at work or in the car today.
3. SB Nation's Spencer Hall spent 24 hours at Florida State for the Boston College game and tries to take you inside what that was like. Spencer is always a unique and entertaining read.
THREE THINGS YOU MAY WANT TO KNOW
1. The Big Lead's Ty Duffy runs through seven "stagnant" coaches. I'd agree with five of them but not Mark Richt or Les Miles. I understand their teams may not consistently deliver on fans' expectations, but consistently putting your program in contention for an SEC title doesn't classify as "stagnant," in my opinion at least.
2. A few Iron Bowl reads: Thomas Lake on last year's Iron Bowl now one year later. Aaron Torres on the Iron Bowl that launched Nick Saban's dynasty. Lars Anderson on the Nick Saban-Lane Kiffin relationship and how Kiffin is revitalizing his coaching career as Alabama's OC.
3. Because it's Iron Bowl week, an Auburn fan called into Paul Finebaum's show and ripped him about constantly talking Alabama this season, and then around the 4:00 mark Finebaum loops in an Alabama fan and the two fans go at it live. It's an amazing bit of talk radio, and it all works because of Finebaum's ability to remain almost subdued when callers are fired up. He's an emotional off-set to their insanity. Here's the clip.
LASTLY
* Here's my Tuesday radio hit on the Eric Hasseltine Show in Memphis talking a bunch of CFB stuff if interested.
* UCLA linebacker Eric Kendricks is nine tackles away from setting a new school record and has led the Bruins, either outright or tied with someone else, in tackles in every game this season. He's a Butkus Award finalist.
* Last week on Twitter I teased Rob Stone — FOX Sports' great college football studio host (among other sports) – that I'd give Colgate soccer a shout out in CFB AM, so let's see if he's paying attention. Colgate's season wrapped up a couple weeks ago, but the program is still doing the $25K Challenge to raise funds, which you can read about here. Rob played soccer at Colgate, and here's an interview from a couple years ago about his connection to the school. He also been a passionate voice in our FOX Four project this season and is among the very best at what he does.
* This hype video for the Ohio State-Michigan game is well done. Can't wait for Saturday.
Have a great Wednesday, everybody, and careful on the roads if you're getting out of town for the holiday.
Teddy Mitrosilis is an editor and writer for FOXSports.com. Follow him on Twitter @TMitrosilis and email him at tmitrosilis@gmail.com.