Michigan Football: Your Rooting Guide For Week 12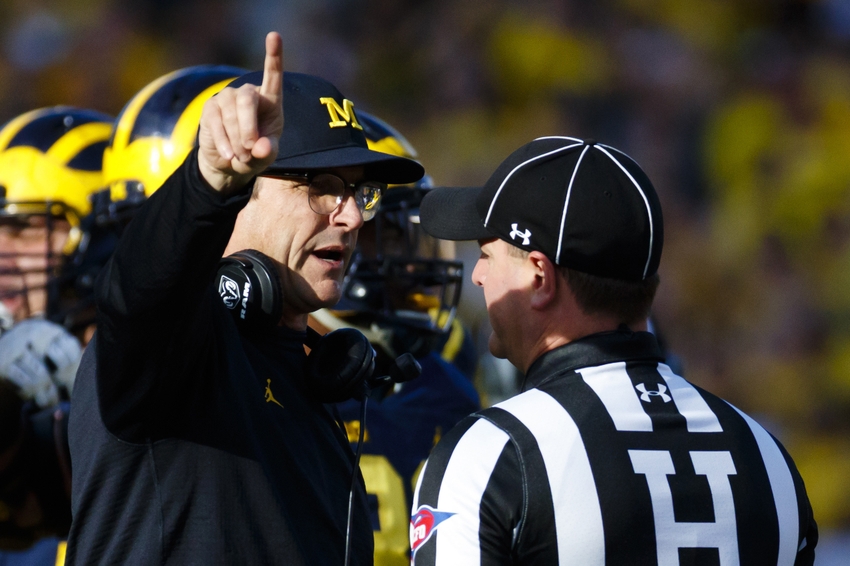 It's shaping up to be a complicated and possibly nerve-wrecking final two weeks of the regular season, so here are the teams you should be pulling for.
If you envisioned a world in which Penn State has the best chance to emerge from the Big Ten East with only two games to play in the regular season, congratulations, there's something wrong with you.
You picked Michigan State or Ohio State or Michigan.
Two of those names are still in the hunt. The Wolverines control their own destiny, while the Buckeyes are going to need some help from Penn State's opponents while beating Michigan on Nov. 26.
In order, according to ESPN's Football Power Index (FPI), here are the odds of Michigan, Ohio State and Penn State coming out of the East.
Penn State — 46 percent
Michigan — 43 percent
Ohio State — 11 percent
Just think of how different this might look had Michigan been able to beat Iowa last Saturday.
Anyway, the Nittany Lions' 3 percent advantage over Michigan is a nod to FPI's projection of Ohio State beating the Wolverines (the algorithm gives the Buckeyes a 57.8 percent chance of winning that game in Columbus).
Beyond the scope of the Big Ten, there are some interesting and pivotal matchups that will have an impact on the College Football Playoff picture. Just as a reminder, there are currently five one-loss teams in the top six, and West Virginia (No. 14) also only has one loss.
It's widely accepted that Michigan would be an automatic selection if it wins its next two games and then the Big Ten title game, but last week demonstrated that few things are so simple.
Big Ten
We'll start with the Big Ten because it's closer to home and impact will be felt sooner.
I'm seeing only one game that doesn't matter this week, and that's Northwestern at Minnesota. They're basically fighting to see who gets to finish at the top of that second tier in the West.
No. 2 Ohio State @ Michigan State (Noon EST, ESPN)
This is usually a tough one, but hear me out: Michigan would be much better served if the Buckeyes stomp on Michigan State. Actually, any kind of win would do, so perhaps an ugly 3-0 affair would do the heart good.
Iowa @ Illinois (Noon EST, BTN)
Now that the Hawkeyes have a win over Michigan, them looking like a team that's turned the corner all the sudden wouldn't be a bad thing. That shouldn't be too difficult of a task against the Illini. If Iowa can do that this week and then beat Nebraska next week, maybe the blow to Michigan is softened just a bit.
Maryland @ No. 18 Nebraska (Noon EST, ESPNEWS)
This is one that I almost considered saying doesn't really matter, but the Cornhuskers just need Wisconsin to slip up and then they're in pretty good position to represent the West in the Big Ten Championship. That's obviously significant to the Wolverines, who could very well be playing either Nebraska or Wisconsin.
No. 7 Wisconsin @ Purdue (Noon EST, ABC)
I'm not going to tell you how to lean here. On one hand, maybe you're comfortable with the matchup you saw between Michigan and Wisconsin the first time and just want the Badgers to keep winning. On the other hand, you might be nervous about Michigan slipping up somewhere. In that case, perhaps the Badgers beat Penn State in Indianapolis, and then many are saying that could lead to both the Badgers and Buckeyes getting into the playoff.
The play-it-safe hopeful thinker probably wants Purdue to win this one.
No. 8 Penn State @ Rutgers (8 EST, BTN)
So many things happening here. There's only one scenario in which Penn State loses one of its next two games and still goes to Indianapolis. If you want to play it safe, hope Penn State loses. The Wolverines absolutely have to go 2-0 if the Nittany Lions do. But if Penn State goes 1-1 or 0-2, Michigan's season wouldn't be automatically derailed by a loss this week.
The rest of the country
One of the immediate threats to Michigan's spot in the top four of the playoff rankings is No. 5 Louisville, which plays tonight against Houston. (This was supposed to be a very serious game; thanks a lot, Houston.) After that we'll have to wait until Saturday.
Thursday
No. 5 Louisville @ Houston (8 EST, ESPN)
There were some who thought Louisville should have jumped Michigan in the playoff rankings on Tuesday, but the Cardinals are still two spots away. Clemson is still in good shape to win the ACC Atlantic (and then the ACC title game) because of its head-to-head advantage over Louisville. However, should the Tigers slip up, the door is wide open for the Cardinals to swoop in and get a Power 5 conference title. You should be rooting for Houston here.
Saturday
Oregon @ No. 12 Utah (2 EST)
Utah is in on the race with USC and Colorado in the Pac-12 South. Michigan wants the Buffaloes to win that division and then the conference, given its 45-28 win over them earlier this season. Go Ducks.
No. 22 Washington State @ No. 10 Colorado (3:30 EST, FOX)
Colorado needs to keep charging forward in the Pac-12 to make Michigan's win look better each week. A win over Washington State would look nice.
No. 4 Clemson @ Wake Forest (7 EST, ESPN)
I thought Clemson was going to be ranked ahead of Michigan this week, in which case this game would be pretty substantial to the Wolverines. But since that's not what happened on Tuesday night, you can be hopeful a one-loss team loses without being devastated that it doesn't.
No. 9 Oklahoma @ No. 14 West Virginia (8 EST, ESPN)
The Big 12 is going to be really exciting to watch in these final two weeks. (Next week is Oklahoma-Oklahoma State.) Even though West Virginia is the only one-loss team in the Big 12, their path to the playoff is cloudy because of the Sooners being unbeaten in conference play.
You should probably be pulling for the Mountaineers.
This article originally appeared on