Michigan Football: Wolverines likely Headed to Rose or Orange Bowl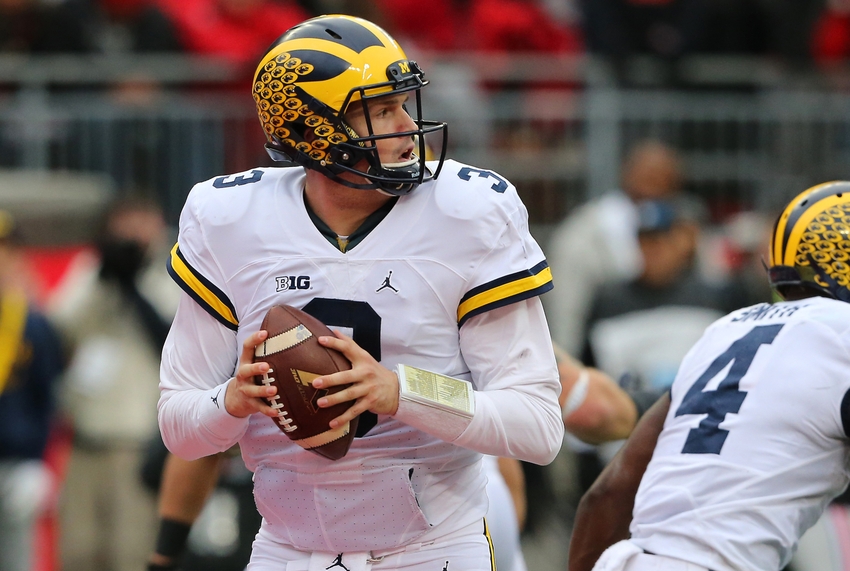 Michigan football still believes it's a top-four team, but more likely than not, the Wolverines will end up in the Rose Bowl or the Orange Bowl.
For the Michigan football and it's fans, the 30-27 loss it suffered to Ohio State Saturday will not be easy to get over. Simply put, It's the kind of defeat that tends to linger.
At 10-2, the Wolverines, who entered the game at No.3, are likely on the outside looking in of the College Football Playoff.
Even with a two losses, If you ask Michigan football players, as local reporters did after the game, they believe they are a playoff team.
Wilton Speight certainly thinks so, saying Michigan should "definitely" be a playoff team and after his team played Saturday, it's hard to argue.
There is no doubt, Michigan passes the eye-ball test. But when it comes to resumes, the Wolverines fall short.
Does Michigan think it deserves a playoff shot? Wilton Speight: "Definitely."

— Rachel Lenzi (@RLenziCMG) November 26, 2016
If Michigan had defeated Iowa and was 11-1, it might have an argument. But getting in over potentially three conference champs, doesn't seem likely.
However, Michigan football should still play in a major bowl, one of the so-called New Year's Six.
The best bets for Michigan are the Rose or Orange Bowls according to bowl tie-ins from collegefootballnews.com.
That information states that the Rose Bowl will choose a team from the Big Ten, if a team from the conference is in the playoff.
Assuming Ohio State is in the playoff, that means the Rose Bowl would choose between Wisconsin or Penn State — the winner of the Big Ten title game or Michigan.
Want your voice heard? Join the GBMWolverine team!
Since both of those teams have two losses and Michigan football beat them, it has a good argument. Yet, it's hard not to see the Big Ten champ in Pasadena.
Secondly, the Big Ten conference website specifically states that the Big Ten champion will play in the Rose Bowl.
That means, Michigan football is probably headed to the Orange Bowl. Things could change if Wisconsin or Penn State makes the playoff, but that seems like a long shot.
If the Wolverines do head to south beach, they will play a team from the ACC, possibly Florida State.
It may not be the result Michigan football fans wanted, but it's a chance for a marquee win — one the Wolverines desperately need.
This article originally appeared on