Michigan Football: Wilton Speight Getting Better and Better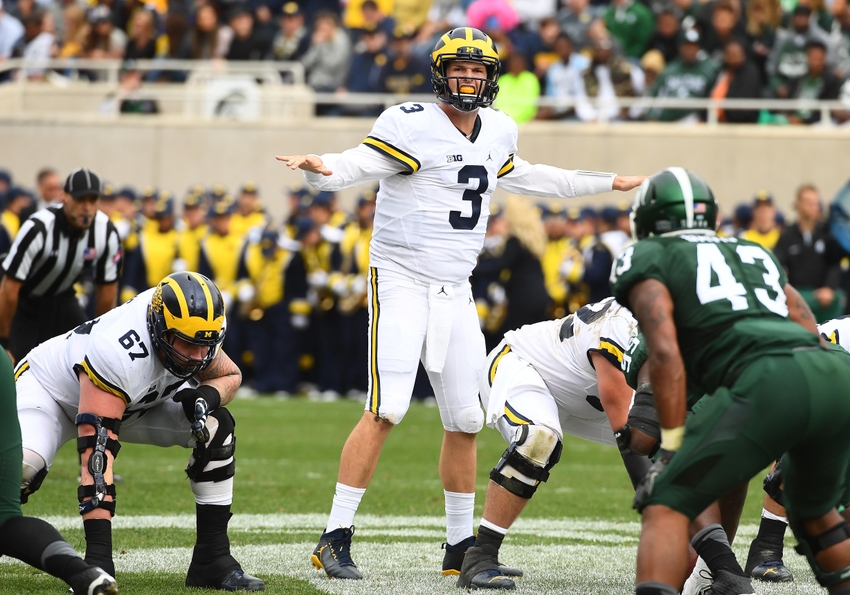 At the start of the season, there may have been question marks surrounding Wilton Speight. But each week, those questioning him, have less to say.
The Michigan football team did what it needed to last Saturday in East Lansing. The Wolverines got the win. It wasn't pretty or perfect. But one big takeaway: Michigan has a quarterback.
His name is Wilton Speight.
You see, Michigan football is blessed. Jim Harbaugh is the quarterback whisperer. Heck, he even made Colin Kaepernick look good.
And, Harbaugh is back at it with Speight, who had one of his best games in a 32-23 win over Michigan State.
In that video, Harbaugh compares Speight to former Michigan football quarterback Jake Rudock. The guy, who won 10 games as a starter for UM a year ago.
And in truth, Harbaugh is right. Speight does remind of Rudock. He's not flashy, but he's big, he's accurate and he doesn't make mistakes.
Speight can push the ball down the field and he's smart enough to get the ball to his playmakers. But yesterday, he made some eye-popping throws.
In all, he was 16-of-25 for 244 yards. He threw one interception and led the offense to just three second-half points, but he made NFL throws. At times, he looked like an NFL quarterback.
Speight didn't throw a touchdown pass against Michigan State, but he led four touchdown drives, including one down 7-0 on the road against his in-state rivals.
That was the first time this season we saw Speight under pressure on the road. He responded well at home against Colorado and Wisconsin. Now, UM knows he can do it away from the Big House as well.
But truly, the more I see of Speight, the more I like. I like his big frame and his crafty athleticism. His completion percentage is 62 percent and his touchdown-to-interception ratio is plus 10.
You can't ask for more than that.
It also made me think, for the first time this year, that maybe, just maybe, Michigan football has a quarterback, capable of beating Ohio State.
Four Saturday's from now, we will find out.
This article originally appeared on