Michigan Football: Wilton Speight and Jehu Chesson Critical for Title Run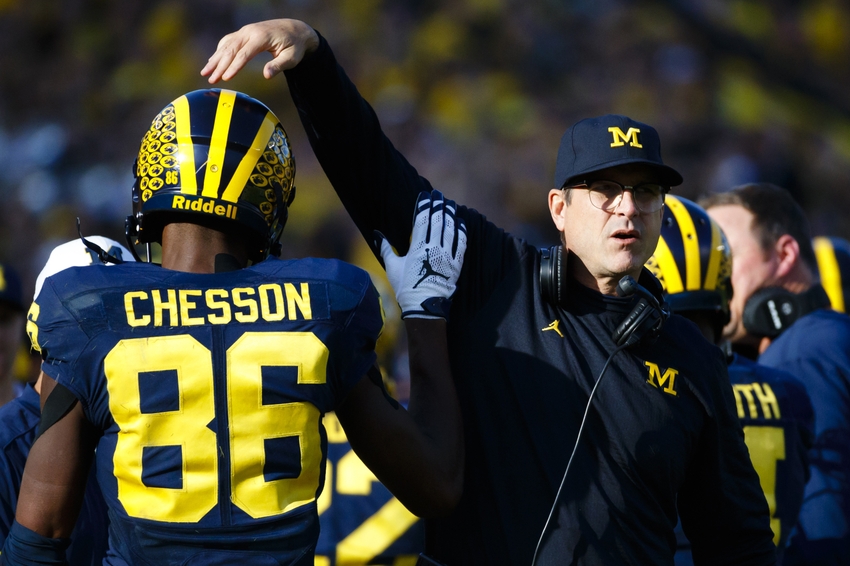 The month of November is crucially important in college football, and the relatively new playoff system does nothing to change that. Michigan football head coach Jim Harbaugh teams always seem to step up during this time, and yesterday's 59-3 drubbing of Maryland highlights how the team, particularly Jehu Chesson and Wilton Speight, will respond down the home stretch.
Harbaugh has built this Michigan football offense around a hard running game, quarterbacks who aren't afraid to get downfield, and always-open receivers.
In 2015, the Wolverines showed flashes of potential in all areas, but the passing game was a little concerning. In November, the team stepped up. Quarterback Jake Rudock threw for 1,396 yards in the eleventh month of the year, compared to the 1,443 he threw in the two months prior. Rudock also improved his decision making, completing 11 touchdowns against 2 interceptions.
Another major contributor for Michigan football during the run was Jehu Chesson. The Liberian-born, St. Louis raised, dabbing aficionado has been described as "being able to run like a deer" by teammate Joe Bolden (via Detroit News).
Despite this and good hands, Chesson was not making a complete impact on the edge. His numbers were alright (341 yards and 2 TDs), but with a possibility of a playoff berth looming, Chesson stepped up his game. He caught 6 TDs and 423 yards in the final four games, and looks ready for a repeat this year.
Of course, Chesson no longer has Jake Rudock throwing for him. Wilton Speight, the 6'7 behemoth from Virginia, had a much smoother transition into the role of starting quarterback than the Iowa transfer.
However, his targets fueled the emergence of Amara Darboh and the continued excellence of Jake Butt. Butt would pass Schembechler-era legend Jim Mandich for the most yards for a tight end, but Speight and Chesson were the main story.
In a game of records, Speight obliterated Michigan football's previous record for yards in a half by a quarterback, slinging 292.
ESPN's broadcasting team of Steve Levy and Brian Griese relayed how Harbaugh wanted to throw more "window dressing" at Speight. The coach wanted to see how the first year starter responded to the shifts and audibles. The result was clear, with Speight even managing to turn a few broken plays into positive yardage. He utilized rollouts and even showed off his feet, resulting in one rushing touchdown and one "Jumpman" celebration.
The unleashing of Speight proved to be a great thing for Chesson, who doubled his touchdown total on the season. His lone TD came when he slipped past a cornerback and safety late in the second quarter. He now has 416 yards on the season, with 27% of them coming in the Maryland game. His role opposite Darboh will be critical for the Wolverines going forward.
This time, the stakes are a little higher for the Wolverines. Only Iowa and Indiana separate Michigan from Ohio State, and a potential date with destiny. If Michigan gets to the Big Ten Championship, the continued emergence of Chesson and Speight will be a major reason. After all, Harbaugh brings out the best of his teams in November.
This article originally appeared on