Michigan Football: What are the Chances Wilton Speight Plays vs Ohio State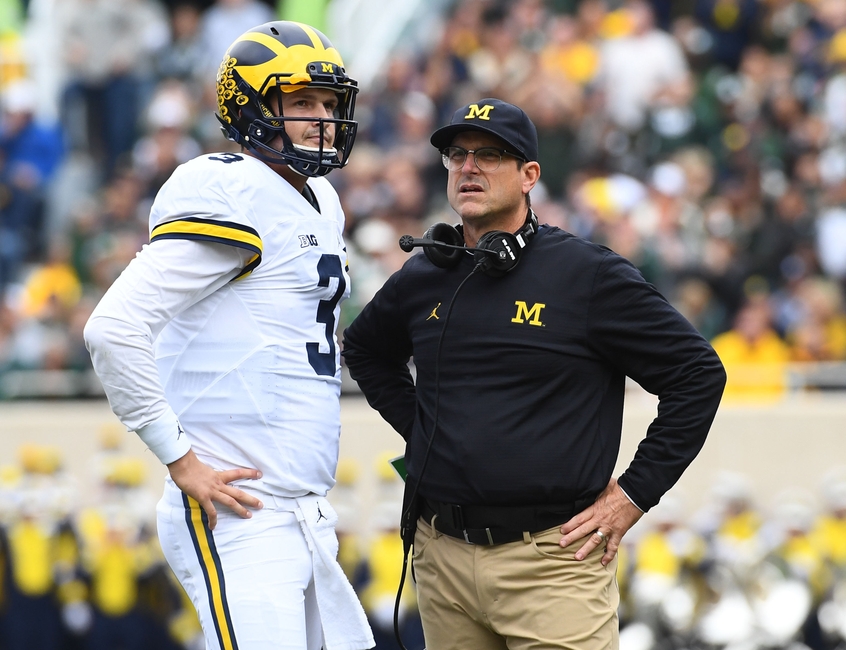 Michigan football head coach Jim Harbaugh keeps saying Wilton Speight is day-to-day, but is there really a chance he plays against Ohio State Saturday?
The biggest game of the year for Michigan football takes place this Saturday and right now, we have no idea who will start at quarterback for the Wolverines.
Certainly, Michigan football fans are hoping it will be Wilton Speight. In 10 games, the redshirt sophomore has thrown for more than 2,100 yards and 15 touchdowns. He also has just four interceptions.
Just as Speight was starting to turn the corner, he suffered a collarbone injury against Iowa. Some reports claimed it was broken, Jim Harbaugh said otherwise.
Speight practiced some last week and suited up against Indiana, but did not play. John O'Korn ended up starting and threw for just 56 yards. Although, he did have a key 30-yard run.
Yet, O'Korn's performance was poor, it made fans clamor for Speight, especially with Ohio State on the horizon and Michigan's playoff hopes hanging in the balance.
Tuesday, Harbaugh had this to say to reporters after Speight took reps alongside O'Korn at Michigan football practice: "He's gotten better every day, to my eye he's looked better every day."
Harbaugh made sure the reporters knew he wasn't a doctor, but still, his words give you hope that Speight could actually play.
Michigan Football Still Needs that Defining Win over Ohio State
The question is, should we trust him?
My first thought is no, probably not.
Speight has a chance to play. I just don't think he will. But Harbaugh doesn't want the Buckeyes knowing late until the last possible second.
Harbaugh also probably does want to give Speight every chance to play, so if he does prove healthy enough, he likely wants to make sure he's prepared.
Senior running back De'Veon Smith was also asked about Speight, but wouldn't say whether or not he took handoffs from him.
Amara Darboh said he couldn't remember if the snaps were even between Speight and O'Korn.
Taken at face value, all these comments make it look like Speight has a shot to start for Michigan football Saturday.
But the reality is, we will probably be seeing O'Korn, who is better than he showed last Saturday. But that's another story, for another day.
Hopefully more information will come out in the following days, but knowing Harbaugh, I wouldn't hold my breath.
The coach likes to play mind games and with Ohio State up next for Michigan football, don't expect him to let up at all on his physiological warfare.
This article originally appeared on