Michigan Football: Was Jim Harbaugh Too Cute Against Colorado?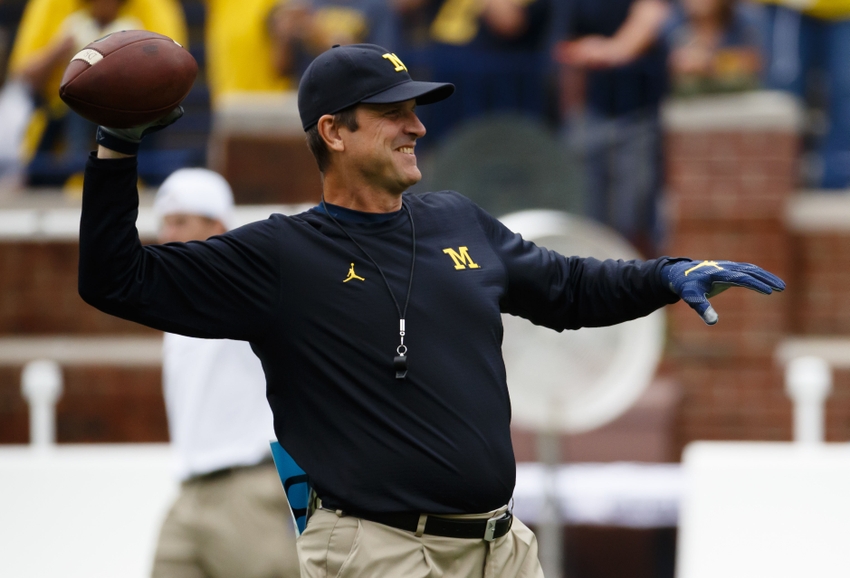 Scores determine storylines and narratives are written by the victors. It is no surprise that the talk surrounding Michigan football after Saturday is the comeback. A team that had cruised through two games found itself down 21-7 after the first quarter only to take control in the face of adversity. It is a worthy story but why UM was down 21-7 should be talked about too.
The offense in the first quarter contributed zero points. Michigan football's lone touchdown was a blocked punt returned to the endzone by Grant Perry.
Harbaugh was asked about the first drive in his post game press conference. Michigan lined up three different players at QB. Shane Morris inexplicably was used as a lead blocker on a toss sweep from under center. John O'Korn also saw a snap.
Speight was either pulled from the game or moved to a different position on the field twice early. It is not surprising that the sequence caused him to have trouble finding a rhythm. Even with a clean pocket, Speight had happy feet. He was needlessly throwing off his back foot. Then there was the pressure, punctuated by a bone-crushing sack and fumble. Speight was clearly hurting for a time after that with erratic throws.
Colorado's secondary is very good in pass coverage. Both Buffalo corners were able to blanket Darboh and Chesson downfield early. The only reliable weapon Michigan had through the air in the first half was tight end Jake Butt shallow across the middle of the field.
Then again, Michigan was very predictable early. Offensive coordinator Tim Drevno learned from the rushing struggles against UCF and went to the air often on first down. Take a Power Five defense and let them know what's coming, the result of those throws was rarely in doubt. On 2nd and 10 Michigan ran between the tackles, usually for little gain. Then Speight was stuck in 3rd and long, asked to carry Big Blue on his shoulders again.
Colorado could get pressure with four and for the first time this year you could see the game sped up on Wilton.
No In-Editor Preview for 120 Sports Videos
Video Details
ID: 202163302
Source: 120 Sports
It is a legitimate question if the early QB rotation package played a part in Speight's struggles? Rudock was never subjected to that at the beginning of last season and, if nothing else, it has to put some doubt into Speight's head about job security. Before you scoff, doubts are rarely rational.
If the plan was to have O'Korn or Morris see one snap only, why have them out there at all? Speight's start to this campaign has been better than Rudock's first three games a year ago. He has earned Harbaugh's trust. More importantly he has earned reps in the first quarter when even the best QBs are struggling to find a comfort level.
There are other reasons to keep trick plays and exotic looks out of the first quarter. Of the 70-80 offensive plays in a game, coaches usually script the first 10-15. Rarely is there a deviation from that script. Adjustments come afterwards when you see what worked and what didn't.
Given the bloated scripted set Harbaugh and Drevno went with due to the trick package, it wasn't until deep into the 2nd quarter that they got to repeating what was successful. The up tempo off tackle runs and jet sweeps (plus their pass counterpart the flanker screen) led to chunk plays in the comeback. It would have been preferable to get to those earlier in the game.
This article originally appeared on