Michigan Football vs. Penn State: Know Your Worth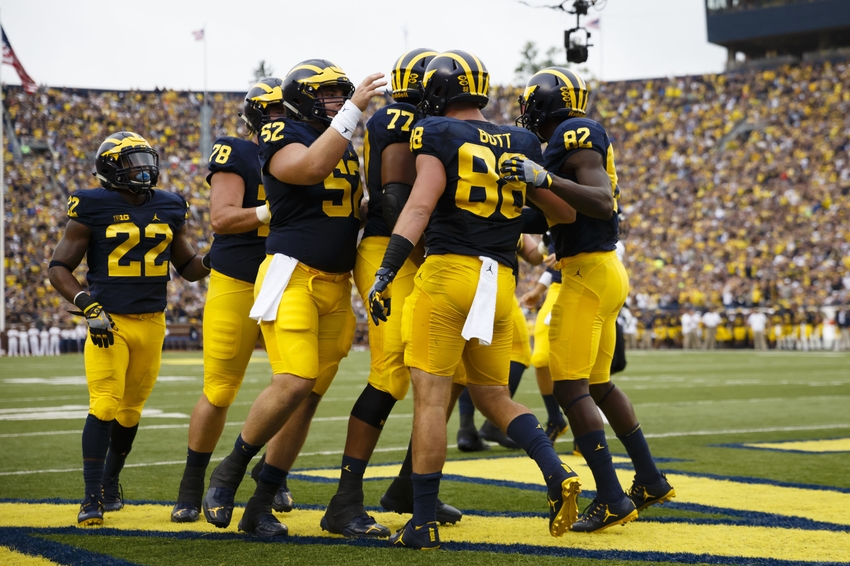 As has been the case so far this season, Michigan football doesn't stand to gain too much from a win, but a loss would be potentially catastrophic.
Welcome back to Know Your Worth, a look at the potential upside of a Michigan football victory and the downside in the case of a loss.
Last week it was warned that a victory may not help Michigan in the polls, even with losses for the teams ahead of the Wolverines. That proved true as Louisville routed No. 2 Florida State to vault ahead of UM.
Depending on the health of quarterback Sefo Liufau, it is probable that Colorado will end up being a better team than Penn State at season's end. Yet a win this week could be huge for shoring up Michigan's current status as one of the country's elite teams in 2016.
Penn State runs a spread offense like the one Colorado used effectively for a majority of the first half against Michigan. The Nittany Lions' offensive line remains suspect compared to Colorado's, but PSU has a wild card: sophomore RB Saquon Barkley is the real deal.
Michigan has shown an irritating habit of being unable to tackle in open space for much of the last two decades. That bugaboo popped up early against Colorado. Barkley's dynamism can't abide a similar performance this week by Michigan's defense. If the Wolverines can bottle up Barkley it would show that this year's team may be different. The return of Jourdan Lewis will help solidify Michigan's pass defense. There is no excuse not to have defensive coordinator Don Brown's talent and aggressive front seven key on Barkley.
Penn State is Linebacker U for a reason. Defense has long been the hallmark of PSU football, even in the probation era. But 2016 is an anomaly for the school. The run defense is especially putrid.
Unranked Pittsburgh cruised to 340 yards on the ground, averaging over 6 yards per carry. Michigan needs to run the ball effectively between the tackles this week.
The anemic rushing results during the second half of conference play in 2015 caused Michigan to scrap for wins against mediocre opponents. Four returning starters were supposed to return UM to its past identity.
We see that in fits and starts. Outside the tackle was effective last week against a pretty good Buffalos defense. In the second half, Colorado ran only 27 plays and had the ball for 12 minutes. That game was tailor made for a bruising ground game to salt things away. Michigan will be elite, its ranking on surer footing, when it has that ability.
The consequences of a loss are similar to last week. Florida State got pasted by 7 touchdowns and is still ranked No. 13. A loss to unranked PSU would put Michigan around No. 15.
The first few weeks of the college football season has had a ton of top-25 matchups and upsets. Preseason rankings have held more sway than they deserve in determining the effect of those losses. Oklahoma and Ole Miss remain in the top 25 with 1-2 records. It'd be amazing if a Jim Harbaugh-coached team didn't get similar leniency.
This article originally appeared on