Michigan Football vs Ohio State: 5 Predictions for the Wolverines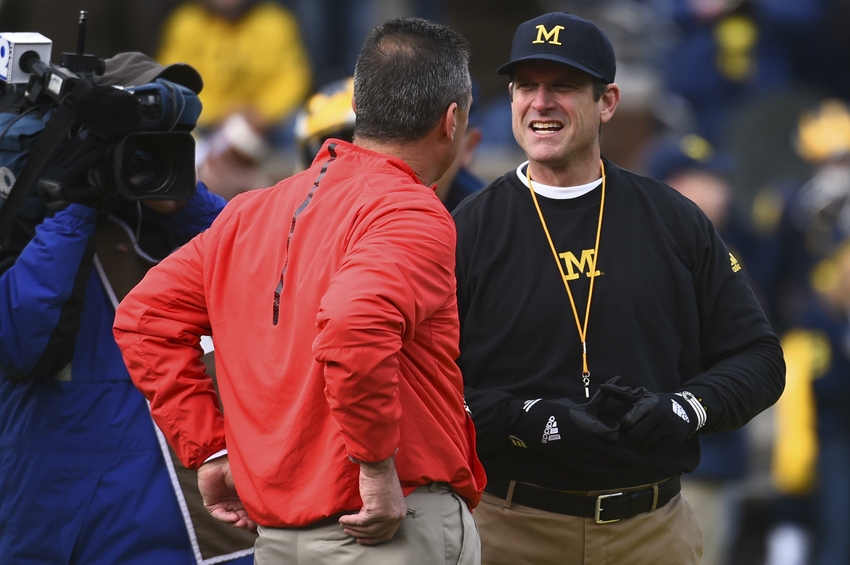 The Michigan football season has no doubt been a good one, but ultimately, it all comes down to what happens Saturday in Columbus against Ohio State.
Michigan football team 137 has a chance to go down as one of the greats. But to do so, it must beat Ohio State.
Under the direction of head coach Jim Harbaugh, Michigan football has re-emerged on the national stage. But to be considered a true power, the Wolverines must win games like this.
And as much as Harbaugh has done in his first two years, so far his best wins are over Florida, Penn State, Wisconsin and Colorado. He still needs that defining victory and this program needs a championship.
Michigan has a good season in 2011. The Wolverines won 11 games and the Sugar Bowl. But the last championship won by the Wolverines was back in 2004, when they shared the Big Ten title.
And to win championships at Michigan football, you generally have to beat Ohio State.
The 1997 team did it. So did the team in 2000, which earned a co-championship in the Big Ten and the one in 2003, which won the last out-right conference title for UM.
The 2016 Wolverines have been nothing short of spectacular. They have won 10 games and even with a loss to the Buckeyes, will play in the Rose, Orange or Cotton Bowl.
But if this Michigan football team wants to put its stamp on history, it needs to beat the Buckeyes.
A win would not only put the Wolverines into the Big Ten championship game, but also just one win from playing in the College Football Playoff.
"The Game" is as big as its every been and here are five predictions for how it will play out.
Speight will be a game-time decision
Right now, the biggest question heading into the Michigan-Ohio State game is whether or not Wilton Speight will start at quarterback for the Wolverines?
My answer to that question, as much as I would like it to be yes, is probably no.
I get that Speight is practicing and suited up last week. Maybe Harbaugh really did just want to save him against Indiana. I hope that's the case. But in my gut, Speight feels like a long shot.
The one thing I am sure of is that we won't know until just before kickoff. That's just how Harbaugh wants to play it. Here's what he said on his weekly radio show the other day:
"I have not decided yet, no," Harbaugh told the show. "And I'm not going to tell you."
Even though it shouldn't make a tremendous difference in the preparation for Ohio State, Speight and John O'Korn do have different talents. So that's one reason the coach will try keeping it secret.
Truthfully, Harbaugh may not know right now, depending on Speight's health.
Yet in the end, to me, it feels like Speight will be dressed but will be nothing but an emergency backup.
With Speight or O'Korn, the offense will make some plays
It would be nice if Speight was able to play for Michigan football Saturday, but if not, the Wolverines still have to find ways to move the ball and I think they will.
For starters, I don't believe O'Korn is as bad as he looked against Indiana. The weather was horrid and the playcalling was incredibly conservative.
Harbaugh really uses the one-game mentality and I think with the conditions and his defense, he felt like playing it close to the vest was the best way to win. He didn't want to blow his championship hopes by being foolish against Indiana.
That game was all about survive and advance.
So O'Korn was limited to a lot of short passes. He did convert to key third downs late in the game and notched a hugely important 30-yard run to get Michigan going, showing he's capable.
With weapons like Amara Darboh, Jehu Chesson and Jake Butt, Michigan can find ways to succeed. A running game would be nice too, but nothing will come easy against a Buckeyes defense that ranks second in the Big Ten with just 279 yards allowed per game.
Michigan doesn't want to get into a track meet with the Buckeyes, so it should focus on time of possession. The Wolverines may not score tons of points, but the offense will be more effective than it was against Indiana.
Jabrill Peppers will make his mark
One of the reasons that Peppers ultimately came to Michigan was to play in this game against Ohio State.
He said so in a blog post he did for the Players Tribune leading up to last year's version. Unfortunately, last year's loss was forgettable for him and the entire Michigan football program.
The Wolverines got rolled and in part because key players like Peppers didn't make the kind of impact needed to win.
I don't see the same thing happening this year. I just have a feeling that win or lose, Peppers is going to do something special Saturday.
Whether it comes on offense, defense or special teams, Peppers will do something that will make you say "Wow!"
The junior understands the importance of this game and how it impacts his legacy at Michigan, which I can guarantee you, he has thought a great deal about.
His idol Charles Woodson became a legend for what he did against Ohio State and if Peppers has a big game and Michigan finds a way to win, he will too.
The Wolverines defense won't repeat last season's embarrassment
Last season, few Michigan football fans expected the defense to be completely dismantled by Ohio State to the tune of 369 rushing yards and 42 points.
Ezekiel Elliot ran for 214 yards and two touchdowns, while J.T. Barrett added 139 yards and three scores of his own on the ground. The Buckeyes owned the Wolverines, plain and simple.
Michigan's defense may not be able to completely stop the Buckeyes, who have the best offense in the Big Ten at 493 yards per game, but UM should be able to do a much better job of containing them.
For starters, Ryan Glasgow will be in the middle this year, after being absent from last year's game due to injury. The front-seven as a whole is better, especially with Peppers, Ben Gedeon and Mike McCray playing so well at linebacker.
Barrett is still going to give Michigan football fits. He has more than 722 rushing yards this season in addition to averaging 209 passing yards per game.
Mike Weber, who is fourth in the league in rushing with 1,046 yards, has scored eight touchdowns. and limiting his explosive runs will also be key.
I think UM defensive coordinator Don Brown will have some tricks up his sleeve, especially with Peppers and I think Michigan has enough athletes, it can limit some of the big plays.
In order to win the game, Michigan will probably need to hold Ohio State under 20 and while I don't know if the Wolverines will do that, I think they will keep OSU under 30.
Michigan will lose, but it will have a chance
As much as it pains me to say it, when it's all said and done, I think the Buckeyes will emerge victorious Saturday.
I truly think O'Korn is better than he looked last week, but I don't think he will be good enough to win the game.
Barrett is an elite player and he has been a nightmare for Michigan football. He will be the difference in the game. He will make just enough plays and convert just enough third downs to turn the tide.
Guys like Peppers, Jourdan Lewis, Jake Butt and Chris Wormley will play well, this team and these seniors want it bad and they will play like it.
Michigan Football: How To Navigate Thanksgiving Political Talk
The Michigan defense will redeem itself in part from last season and will keep the Wolverines in it until the bitter end.
On the same note, I think the offense, thanks to a trick or two from Harbaugh, will put some points on the board, while at the same time, trying, at least a little bit, to take the air out of the ball.
Urban Meyer will want to turn this into a track meet, while Harbaugh wants to make it a back-alley fist fight.
If it's an old-school slobberknocker, Michigan football has a chance. UM is good enough to turn it into that, but on the road, I'm not sure the Wolverines will be able to get over the hump.
I have never wanted to be wrong more in my life, but my biggest prediction is that we will all be proud of team 137 when the clock hits triple zero.
Prediction: Ohio State 23, Michigan 17
This article originally appeared on