Michigan Football vs Iowa: Wolverines Should Be On Upset Alert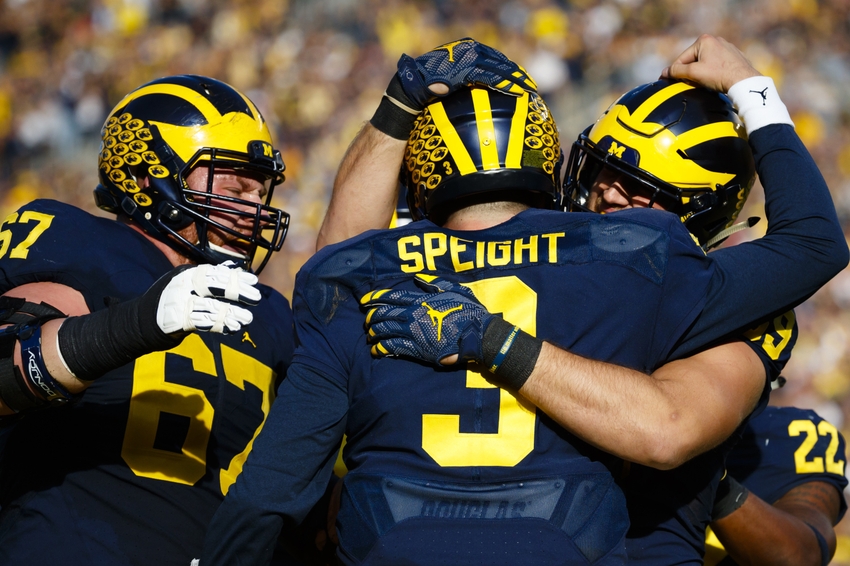 The Michigan football team has had few challenges this season, but one may come Saturday night in Iowa City.
At the start of the season, there were three road games that worried Michigan football fans: Michigan State, Iowa and Ohio State.
Obviously, Michigan football took care of number one on that list. But this week, it will be time for the Wolverines to take on the next team — Iowa. And getting a win there will not be easy.
Michigan leads the all-time series with Iowa by a comfortable margin, 41-14, but the Wolverines have dropped four of five to the Hawkeyes and three straight at Kinnick Stadium.
Of course, no of those teams were coached by Jim Harbaugh. And even though Michigan was ranked in the top-15 in 2011 when it lost to Iowa on the road, that team was no juggernaut.
This one is.
The Wolverines boast a dominant defense. The best in the Big Ten (246 yards allowed per game) and maybe even the nation. Michigan football also has a darn good offense.
Wilton Speight has turned into one of the Big Ten's best quarterbacks. After all, he has won or tied for offensive player of the Week in the Big Ten, two weeks running. He's also coming off a 362-yard passing day and three total touchdowns against Maryland.
Jabrill Peppers also adds another element to this team. With his ability to impact the game in all three phases, he's a bona fide superstar.
With its collective strength on offense and defense, you'd think Michigan would easily overwhelm Iowa. The Hawkeyes did just lose to Penn State 41-14. Yet two weeks ago, Iowa lost to Wisconsin by just eight points.
Making matters worse for Michigan is the fact that it's a night game, which will make the home crowd and likely the home team, even more engaged.
At 5-4, this is a season-saving game for Iowa. The Hawkeyes have been terribly mediocre in just about every category. They are barely going to make a bowl game and that's why the game is so dangerous.
College football is crazy and Michigan football is due for a poor game at some point. That doesn't mean they will lose or that they will even struggle Saturday.
The Wolverines may be sharp as ever and if they are, they will roll. However, if Iowa plays beyond its ability, which seems likely and UM has some difficulties in a tough environment, it could easily be a competitive game.
Certainly, an Iowa win would be a surprise. But remember, it's November and it's college football, so anything is possible.
This article originally appeared on