Michigan Football vs Iowa: Three Predictions for the Wolverines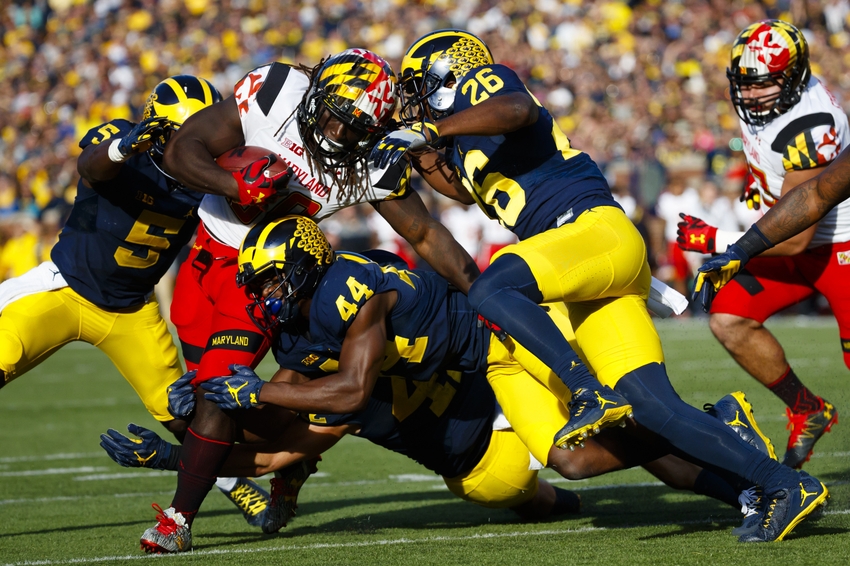 The Michigan football team may be big underdogs for Saturday's game at Iowa. But the Hawkeyes will not go down without a fight.
Nine games into the 2016 season and Michigan football has been as good as advertised. In fact, better.
But the Wolverines have three games to go and when you play in November, especially on the road, no wins are easy. And even though Iowa (5-4) has struggled recently, losing 41-10 to Penn State last week, it won't lay down.
Besides, Penn State is playing pretty good right now, particularly in Happy Valley. But two weeks ago, when Iowa hosted Wisconsin, the Hawkeyes lost by only a touchdown.
Now, with four losses and their season going down the tubes, the Hawkeyes are going to looking for a season-saving win. And beating Michigan football would provide it.
The stakes are equally important for Michigan. The Wolverines are trying to defend their perfect record and maintain their ranking in the College Football Playoff.
Ultimately, the Wolverines could probably lose this game, beat Ohio State, still win the Big Ten and make the playoff.
But, Michigan can't afford to take anything for granted. And no matter what happens against OSU, wins this week against Iowa and next week against Indiana, probably at least gets UM into the Rose Bowl at the very least.
There will be plenty on the line for both teams Saturday night and considering how Iowa City has been a house of horrors for Michigan (three straight losses there), an easy win is anything but guaranteed.
Here are three predictions for Michigan this Saturday vs Iowa.
Expect Iowa to start fast
Whenever Michigan is on the road in the Big Ten, my concern level rises. But when the Wolverines go to Iowa City, it always puts me in a panic. Especially when Iowa isn't very good.
When the weather turns cold, Iowa generally starts to play better. That's not what we saw against Penn State, but at home and at night, expect Iowa to come out fired up.
Much like Michigan State, Iowa is mediocre across the board statistically. The Hawkeyes are ninth in the Big Ten in rushing yards and 10th in passing offense.
Yet, the Spartans were much in the same boat and like Michigan State, Iowa at least has a competent ground game.
Iowa will lean heavily on Akrum Wadley (99 carries for 664 yards) and LeShun Daniels Jr, who has also for 642 yards this season. Daniels Jr. averages five yards a carry, Akrum averages 6.7.
C.J. Beathard hasn't been bad (1,584 yards, 13 TD's, 5 INT's), but I expect Iowa to try and lean on the running game. If the Hawkeyes can establish it and control the tempo, it might just have a chance. And early on, I expect Iowa, thanks to an emotional lift, to have a little success.
Michigan's quarterback will continue to play well
For much of the year, Michigan football fans have been talking about the amazing play of Jabrill Peppers and he has been amazing, but Wilton Speight is becoming the new talk of the town.
Speight threw for 362 yards in the Wolverines win over Maryland, with 292 of them coming in the first half. The redshirt sophomore has thrown for 2,053 yards and 15 touchdowns compared to just three interceptions. He is also completing 64.5 percent of his passes.
As the season has progressed, the guy who was just supposed to be a game manager, has become one of the Wolverines best offensive players.
His 6-6 frame has proven difficult for defenders to take down and his accuracy down the field is impressive. He also has Michigan leading the Big Ten in passing efficiency.
The Wolverines are also facing an Iowa defense that allows 225 yards per game through the air, 12th in the Big Ten, meaning Speight and Michigan should air it out.
Iowa will play tough early, but fade late
Because of the emotion in the air and the importance of the game, I expect Iowa to hang with Michigan for the first half, maybe even into the third quarter.
The Hawkeyes aren't terrible and Kirk Ferentz knows how to coach. He will have his team ready and he knows how to win with less talent.
But at the end of the day, the Hawkeyes just don't have the talent to hang with Michigan for four quarters, at least they shouldn't.
There is a reason why Michigan leads the conference in a bevy of defensive categories. The Wolverines are downright nasty and I while I expect Iowa to generate a little offense early, it won't last.
Michigan football will make Iowa throw the it and that's a tough ask against the Wolverines secondary. And unless there are a bunch of UM turnovers, the offense is too good and too balanced to be stopped.
In some ways, I expect this game to be similar to the Michigan State game. I don't expect Michigan to blowout the Hawkeyes, but the Wolverines should still be able to control the game and win it handily.
This article originally appeared on