Michigan Football vs Indiana: 3 Predictions for the Wolverines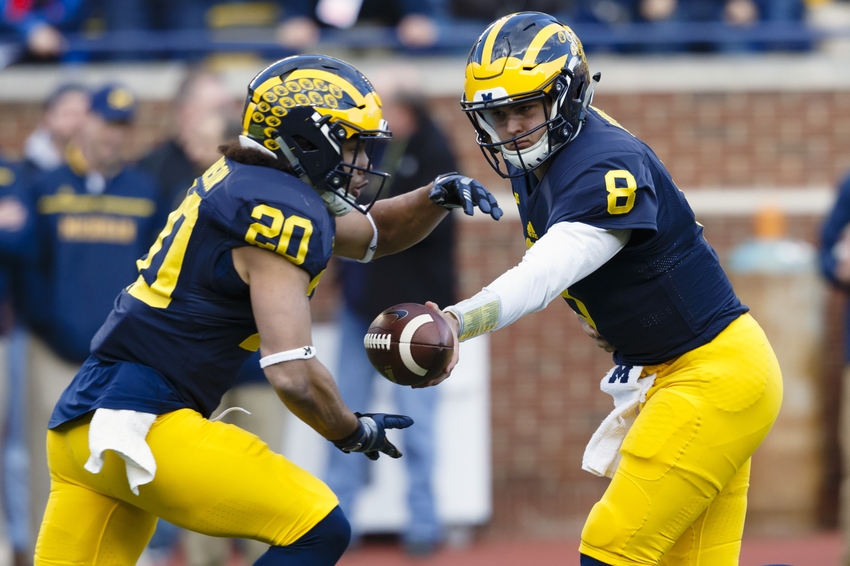 The Michigan football team will need to be in must-win mode against Indiana, a team the Wolverines should crush. But will they? Here are three predictions.
For Michigan football, all the goals from the start of the season are still attainable. And that's why when the Wolverines take the field against Indiana, you should see a renewed sense of purpose.
This Michigan team wants to be great. And in order to earn that consideration, the Wolverines will need to win three games, starting with Saturday's home game against Indiana.
At 9-1, Michigan controls its own destiny in the College Football Playoff, despite its loss to Iowa last week.
Thankfully, in today's world of college football, one loss doesn't do you in and it certainly won't be the end for the Wolverines.
But Michigan football no longer has any room for error, yet the math is still simple: win and you're in. In August, the Wolverines would've taken that scenario and that's why the loss to Iowa doesn't really matter.
It could hurt, but in truth, the most important thing for Michigan football, is how it reacts to it and that's where the game against Indiana takes on added importance.
The Wolverines are on a quest to prove they are among the elite in college football again and a loss against Indiana would greatly hurt that objective.
Not only would it eliminate Michigan from the CFB playoff, it could mean the loss of a New Year's Six bowl berth.
So while The Game is obviously season-defining, Indiana's visit to the Big House is pretty important too.
Here are three predictions for the Wolverines
When Michigan starts fast, it tends to win easy
Starting fast is obviously important is any sport, but in football, it's especially key. And this season, Michigan football has been great at it.
The Wolverines first-quarter scoring has also been a great indicator if the game is going to be competitive.
In Michigan's 10 games this season, the Wolverines have scored 14 points or more in the first quarter six times, you can look through all of these box scores if you don't believe me and in those games, the point differential has been an average of plus 50 in favor of UM.
Outscoring six points opponents by just over 300 points is pretty insane. But that's exactly what Michigan football has been able to do.
Yet, in its four other games, three of them wins (Colorado, Wisconsin, Michigan State) and one of them a loss (Iowa), the first quarter scoring has been a much different story.
In those four contests, Michigan scored just 17 points in the first quarter, which is an average of 4.25. Not coincidentally, the Wolverines have a 3-1 record in those games with an average point differential of plus eight.
That's still a strong number, but pales in comparison to the plus 50 average achieved in the other six games, all wins. The average points scored in the first quarter of those games is 15.8.
That being said, I'd expect Michigan to start fast this week. But if it doesn't, it could mean a more competitive game than we are all hoping to see.
John O'Korn will perform better than expected
If there is any anxiety about the Indiana game, it has more to do with the worries about the quarterback position, than it is about the talent of the Hoosiers.
Don't get me wrong, Indiana is a decent team. The Hoosiers rank 66th in the football outsiders overall efficiency rankings, but they are by no means a juggernaut.
Yet, they can move the football and actually have the third-best offense, yardage wise, in the Big Ten. That means that John O'Korn, should he start Saturday, will need to put points on the board.
However, I don't feel that we should be that concerned about O'Korn. In all honesty, before the start of the season, I wanted him to start, I even advocated for him, twice.
Now, I'll admit, Wilton Speight is much better than I expected him to be. But, I still have confidence in O'Korn.
The junior, who transferred from Houston, where he was 2013 American Conference Freshman of the Year, has a strong arm and is very athletic.
In spring ball, he was prone to turnovers, but with some elite skill players surrounding him and Jim Harbaugh coaching him up, I expect O'Korn to thrive Saturday and alleviate a lot of fearful Wolverine fans.
Michigan will have a point to prove
This Michigan football team has an abundance of leadership and not just from coach Harbaugh. This is a veteran team and it's one that has big aspirations.
The Wolverines can't be happy about how they played last week and even though the defense allowed just 13 points, it could have done more to win the game and I think its ready for some redemption.
The Hoosiers run the ball well, but their offense is really predicated on the pass. Their quarterback, Richard Laglow is second in the conference with 286 passing yards per game, but matching that output against Michigan will prove difficult.
The Wolverines allow just 151.6 yards per game through the air, second only to Ohio State, which held Laglow to 14-of-28 passing for 182 yards, two touchdowns and one interception earlier this season.
At the end of the day, I don't expect Indiana to get much traction offensively and I'm looking for the UM offense to return to its machine-like efficiency.
It may seem optimistic after what we saw last week, but there are still plenty of reasons to have faith in this Michigan team and it will remind us of that with a blowout win over Indiana Saturday at the Big House.
This article originally appeared on